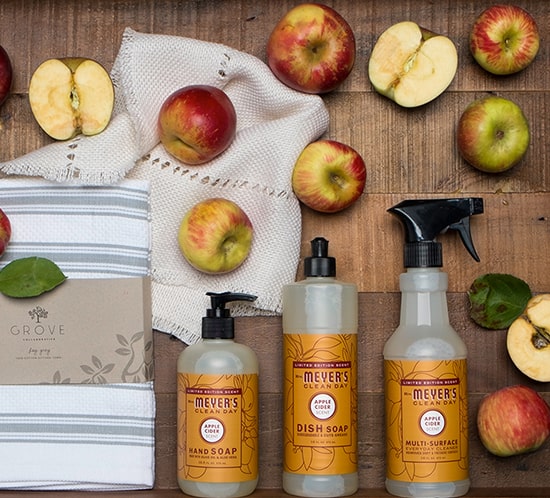 My Secret Weapon to a Healthier Home
Do you find yourself spending more and more time checking ingredients not only on food, but on your cleaning supplies and beauty products?
Over the last year Eric and I have become more aware of what's actually in the products we use, and it's a bit unsettling. Now we try to use options that are healthier for us and the environment, at least when it's convenient. It's something we're passionate about, and while we're not perfect, we figure baby steps is the easiest way for us to implement changes.
Do I really want formaldehyde in my hand soap? Do I have to use toxic chemicals to clean my home? Is washing my face or brushing my teeth with the same ingredient used to degrease engines really a good idea?
Nope.
My Secret Weapon to a Healthier Home
Not gonna lie though, finding healthier home products isn't always easy, and I've realized it's even more difficult now that we're traveling. Sometimes I'll stand in the aisle reading the back of so many products that I become overwhelmed and just leave with nothing. Have you ever done this? I'm sure it drives Eric bonkers, haha.
To be honest, I'm tired of trying "natural" products that are expensive yet don't seem to work so well, or don't smell so great.
Luckily I now have a secret weapon that makes finding healthier products a whole lot easier. Grove Collaborative.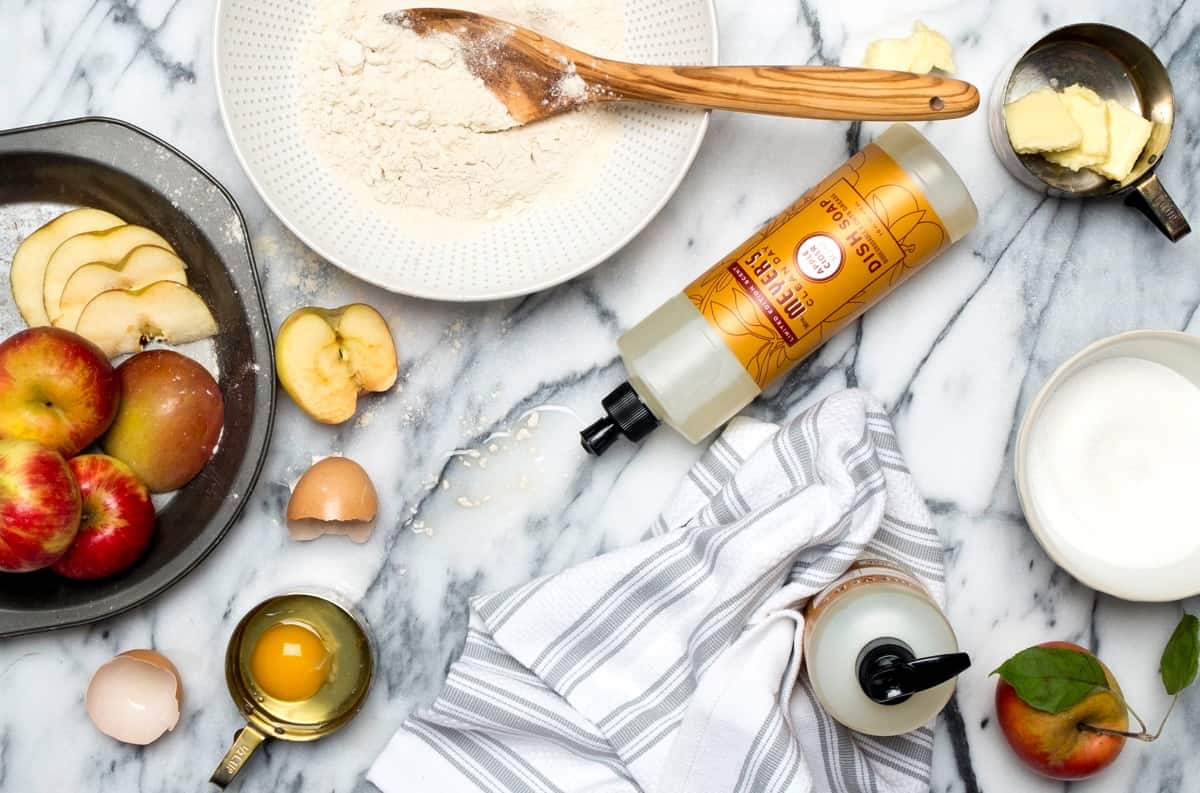 I don't gush about too many companies, but since discovering Grove, I no longer have to worry about when or where to buy healthier home products that are affordable and effective, because they take the guesswork out of it.I first came across them last Spring and was instantly smitten. Not only do they offer awesome products, but they're passionate about the environment and it shows.
They truly are a company I can stand behind and that's why today I'm so excited to share with you a special offer they having going on!
With Grove's exclusive offer for my readers, you can experience Mrs. Meyer's seasonal scents for FREE!
This week only, new Grove Collaborative customers will receive an awesome FREE Mrs. Meyers Fall Kit, when you us my link to place your first order that totals at least $20! This is similar to the deal I took advantage of last Spring, when I was first introduced to them, and I think you'll see why I'm such a fan 🙂
You can get the set below for free, in your choice of Apple Cider or Mum scent, when you sign up for Grove Collaborative using this link. The Apple Cider smells just like real apples and is perfect for Fall. It's tart and juicy, with just enough spice. The Mum is a leafy, warm floral scent that reminds me of a fall garden.
● FREE Mrs. Meyer's fall seasonal hand soap
● FREE Mrs. Meyer's fall seasonal dish soap
● FREE Mrs. Meyer's fall seasonal multi-surface spray
● FREE Grove Collaborative Kitchen Towel
● FREE 60 Day VIP trial
To take advantage of the offer, your order needs to total $20. Here's what your first basket might look like:
● Grove Collaborative 70+ hour all natural soy candle $12.95
● Grove Collaborative walnut scrubber sponges $3.95
● Yes To Coconut protecting hand and cuticle cream $5.99
You can change any of the suggested items that are in your basket, just as long as they equal at least $20. I LOVE the walnut scrubber and scour sponges so much that we order those in bulk because I can't find anything like them anywhere. If you want to try a new toothpaste, Dr. Bronner's Peppermint is one of my faves. Or you may even want to double up on the fall scents because they're only available for a limited time.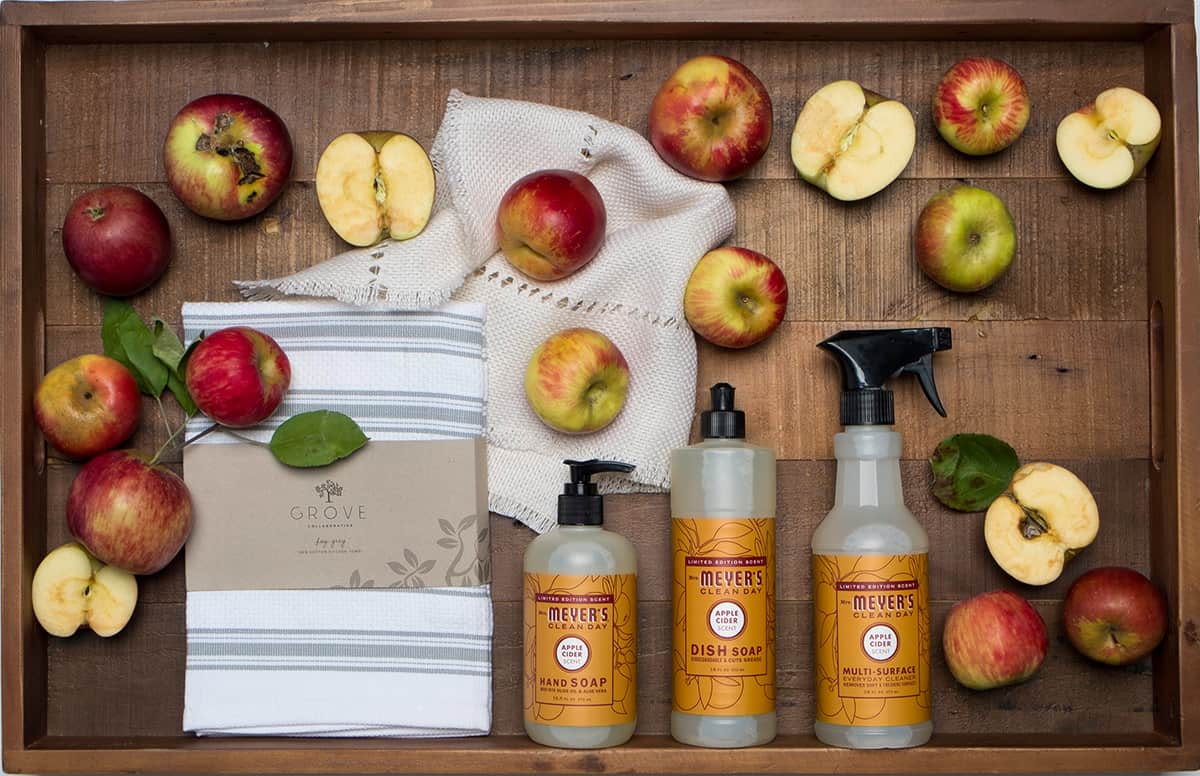 What Makes Grove so Great Anyway?
I like the fact that I can stay cozied up next to our fireplace or enjoy a hike with the hubs, rather than rushing around at the store (which right now would be a pretty long drive since we're currently staying in a small town).
They deliver the best natural products (carbon offset) on my schedule, and I can easily change my next shipment date since we don't always know where we'll be traveling in our RV. Before we left our sticks and bricks home I loved knowing that every month a box full of goodies would arrive and our home would be all set.
If you're already a Grove Collaborative customer, you'll get the set at 50% off when you use my link. Don't forget to take advantage of the free 60 day VIP trial! My VIP membership has paid for itself with free shipping alone, but I also get perks like price matching, exclusive sales, personal service, and free gifts!
This offer ends October 23 and there are only a limited number of sets available and they always go quickly! Here's how to get yours:
1. Sign up for Grove Collaborative here. You'll receive the Mrs. Meyer's offer for free when you sign up!
2. Answer 4 quick questions about your home that Grove Collaborative will then use to customize your first basket (this takes less about a minute).
3. Once you've answered the questions, you can finalize your basket of products to suit your household needs by adding or removing items.
4. To receive this offer, your order needs to be a minimum of $20. Choose the combination of products and scents you love and receive in your first box.
5. You made it! Click Finish & Pay and place your order.
---
Tip to save: Once you've submitted your Grove order, be sure to sign up for the free 60 day VIP trial. You'll get free shipping, free gifts, price matching, exclusive sales, and personal service.
Do you have any favorite natural products? If so we'd love to hear about them!
*Please note that Grove currently does not ship to Canada, Hawaii, or Alaska
Disclaimer: This is a sponsored post by Grove Collaborative and includes affiliate links. All opinions are my own & I only recommend products or services I use personally and believe my readers will enjoy.