I recently shared my FREE ebook, Why Starting a Blog could Change Your Life, and I'm guessing you're here because you're ready to experience your own blogging journey, amiright?
I hope so, and if you got to this page by accident you should know I don't believe in accidents.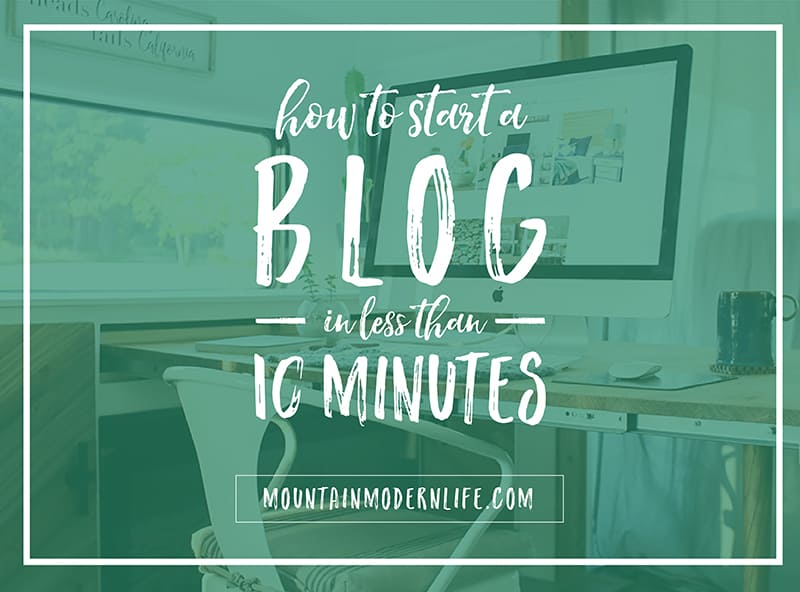 This post may contain affiliate links for your convenience. View our full disclosure here.
How to Start a Blog in Less than 10 Minutes
This post will explain how you can start a website with BlueHost, which I recommend if you're just starting out and want something SUPER affordable.
When I was first starting out I used HostGator but had a horrible experience with them. I later switched to RFE but didn't like that they didn't have 24/7 support so I then switched to BlueHost which worked well until my site grew and I wanted a managed VPS server. I then switched to WiredTree, which I LOVED, but they were later bought out by Liquid Web and I didn't have the best experience with them, and was going to have to spend a lot more money to get what I needed. That's when I switched to WPEngine, and while it's pricey (we have the business plan), it has been well worth it! After 4 years of blogging, and trying out different hosting companies, they are my absolute favorite! If you can afford to pay a little more, I highly recommend checking them out! Click here to save 20% on their plans!
One crucial step to starting a blog is setting it up in a way that you can make it profitable later on down the road. What's better than making a profit from your passions, and creating the life you want to live? Blogging has done just that for us, and it can do that for you too!
The best way to do this is to create a self-hosted website, which means you'll need to sign up for a web hosting plan.
Why Sign up for a Self-Hosted Website?
Not to confuse you, but there are actually 2 types of WordPress websites:
• WordPress.com (NOT Self-hosted): This is where you sign up for a free blog, which is for personal use only. WordPress will own your blog so you won't be able to monetize it, you are limited to customization, and it won't look as professional. Your domain will look like this: yourblog.wordpress.com <—- I do NOT recommend doing this.
• WordPress.org (Self-Hosted): This is where you self-host your own WordPress blog, and this is the BEST option in my opinion. You'll own your own blog, you can monetize it, there are more customization options and it looks much more professional. Your domain will look like this: yourblog.com. <— MUCH better, I recommend doing this!
By the way, you don't actually go to WordPress.org to sign up for a blog. All you need to know is that setting up your new WordPress site is easy, takes less than 10 minutes, and you can do it ALL from one website, Bluehost. Don't worry though because I'm going to walk you through the steps below.
What the heck is web hosting?
The main thing you need to know about website hosting is that in order for other people to see your website, you'll need to have it hosted (or stored) on a server, which is provided by a web hosting company, such as BlueHost or WPEngine.
To do this, you'll need to purchase a hosting plan. Over the years I've used several hosting companies, but can't stand behind most of them due to my site constantly going down or poor customer service. I later switched to BlueHost, and when my traffic increased I had to switch to a different hosting company that offered a managed server, something BlueHost didn't offer at the time.
I love my current hosting company but their monthly plans start at $35/month (click here to save 20%), and go up from there. If you're just starting a blog you definitely don't need to spend that much on web hosting. Instead, you'll pay around $5/month with BlueHost. 
Update: I have since switched to BigScoots and recommend them!
I think BlueHost is awesome for beginners because they offer a 30-day money-back guarantee, 24/7 support (I used their online chat feature most of the time), and their prices are super competitive. They only offer annual plans, but you'll save money by paying for a year in advance, and as a new blogger it's nice to have one less thing to worry about so you can focus on building content and relationships.
The next 10 minutes could be the stepping stone to a completely different future. Are you ready? Great, let's get started
---
Registering your Domain and Choosing a Hosting Plan
---
First things first, head on over to Bluehost by clicking here, and then click on "Get Started Now". You'll get a discounted rate by using my affiliate link!
You can open this up in another browser window so that you can follow my directions as you go.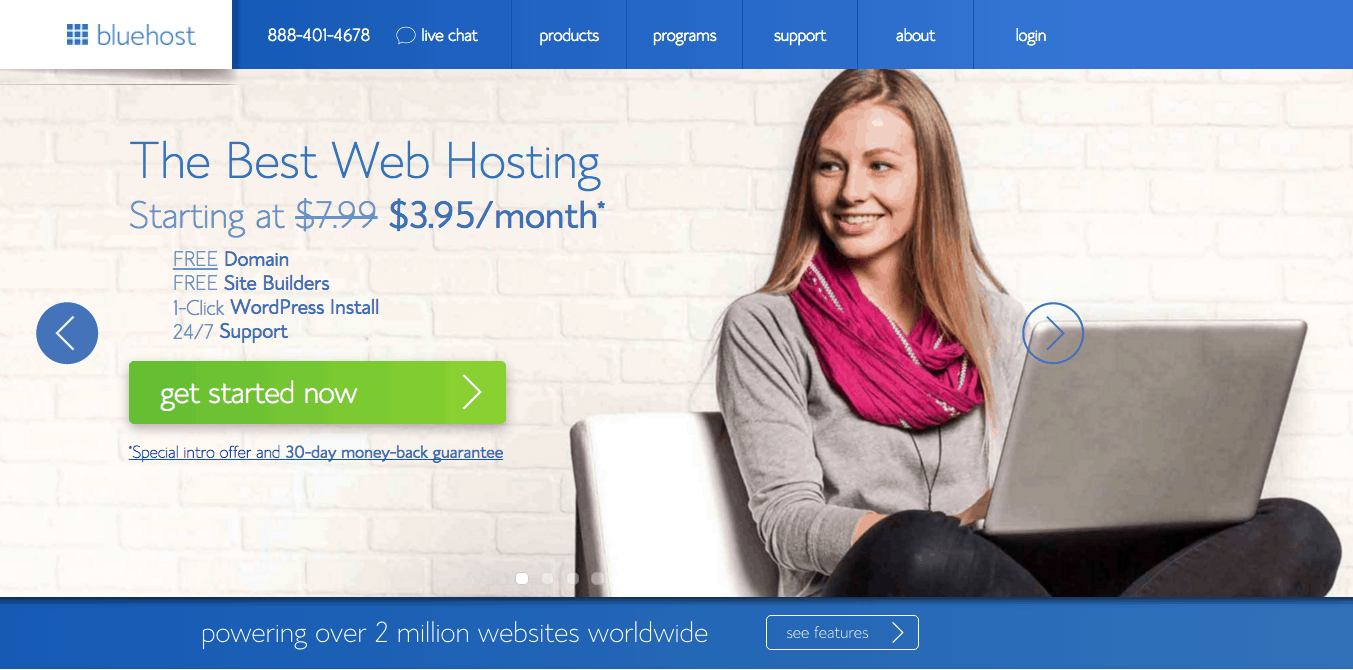 Next, you'll need to select a hosting plan. I'd recommend basic or Plus. You can always start with basic and upgrade later if you want. BlueHost only offers annual plans, but you save by paying for the year upfront. You'll also get your domain name registered for free for a year by signing up with one of their plans.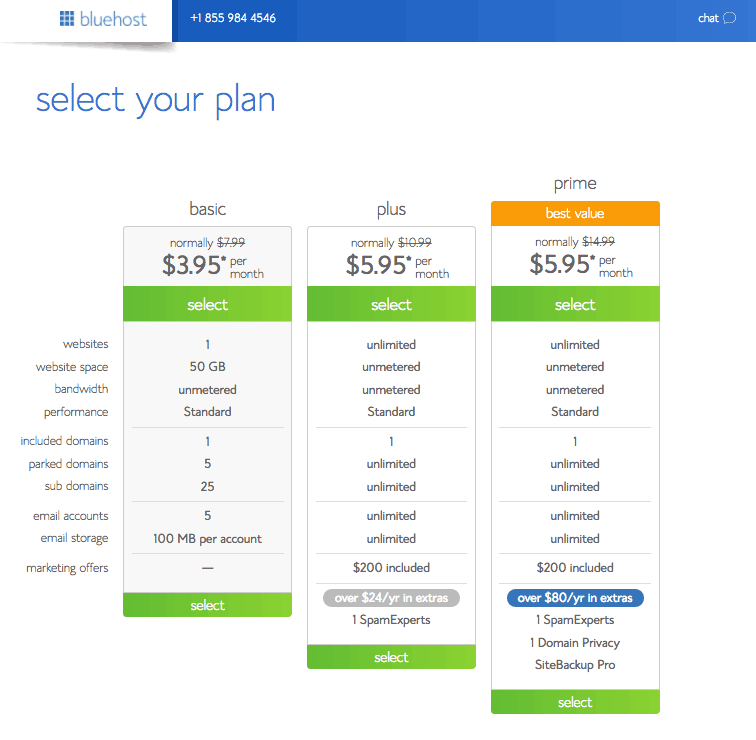 From here you can register your domain name. This is what people will type into their browser to get to your blog. For example, our domain name is "mountainmodernlife.com". This is essentially your "brand" so put some thought into it. You'll want it to be relevant to your topics and easy to remember. You can do a quick google search to see if the name you want, or one similar, is already taken. If you need some more time to brainstorm blog topics or name ideas, you can download my free eBook and Blog Brain Dump worksheets.
If you already have a domain name, that's okay too, you'll just need to enter your existing domain name into the "I have a domain name" field and follow the extra steps provided by Bluehost.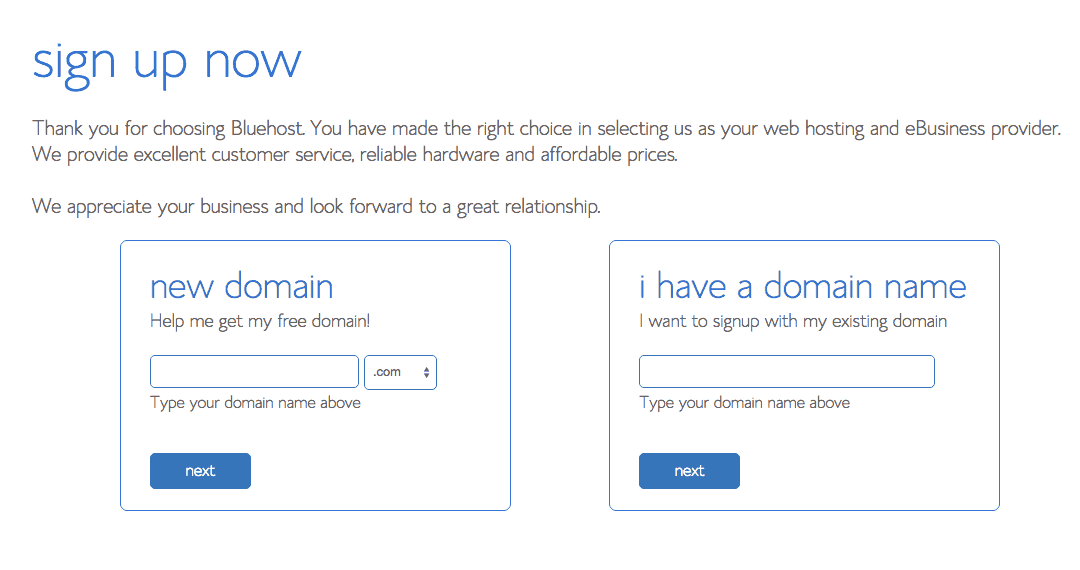 Enter your personal information and select the account plan you want (1, 2, or 3 years). I'd recommend signing up for a year plan so that you get a great discount without having to over-commit. However, you can certainly save more money by selecting a 2 or 3-year plan.
I'd leave all of the boxes unchecked with the exception of "Domain Privacy Registration", otherwise your name and address will be made public.
After you've filled out your personal information, selected your account plan, and entered your payment information, you'll hit "Submit".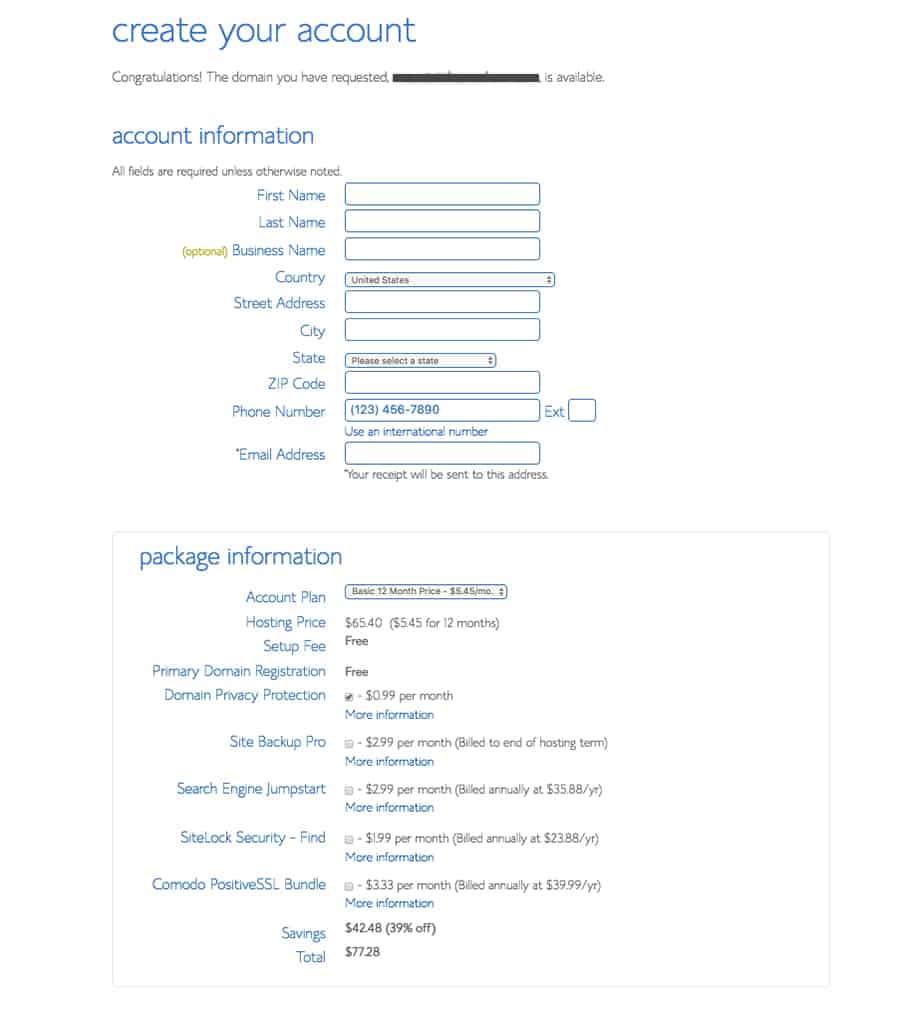 Congrats, you just bought your hosting plan, woo-hoo! Now you'll need to create a password, make it a good one.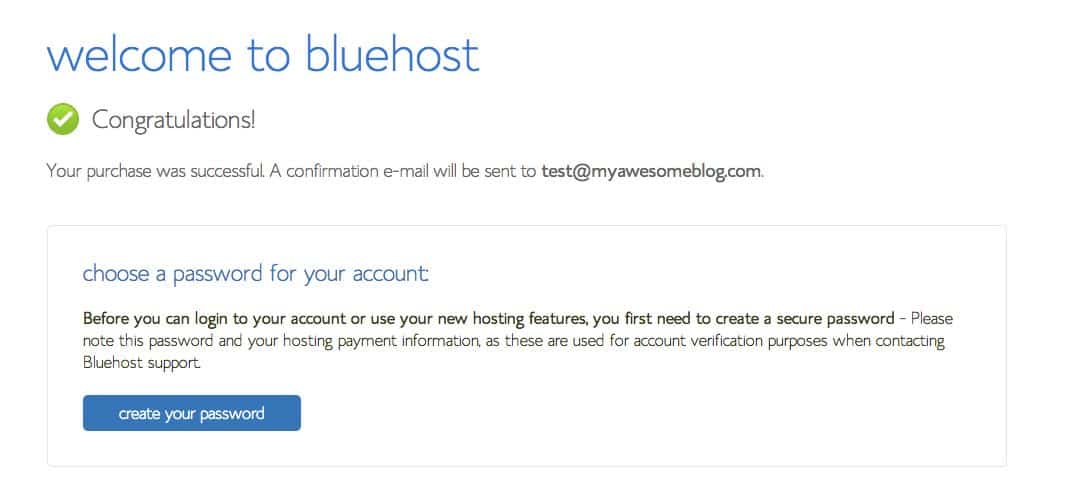 ---
Time to Install WordPress!
---
Now that you have your domain registered, and your hosting package selected it's time to install WordPress. From the homepage dashboard you'll want to navigate to the "cPanel" tab, located to the right of the "Home" icon. Or if you select the "Hosting" tab, it will be the first icon in the top left.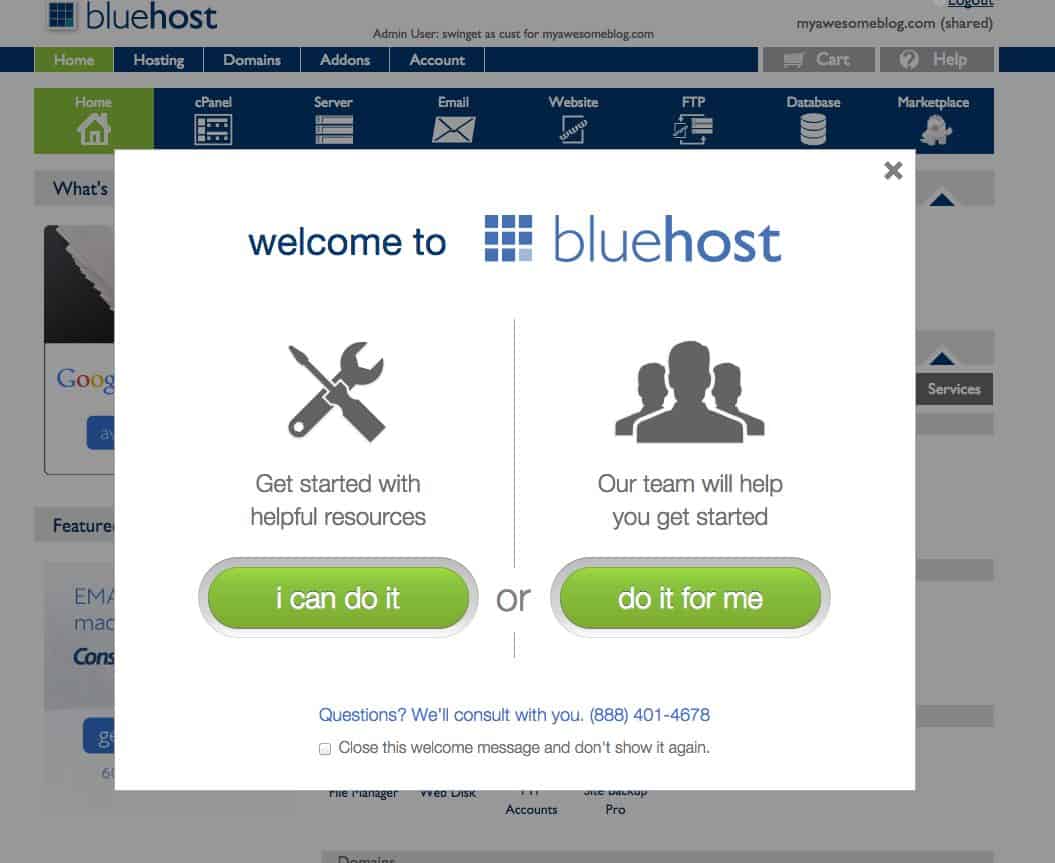 This is what the cPanel page will look like. From here you can easily install WordPress, which you'll notice is located under the "Website Builders" menu.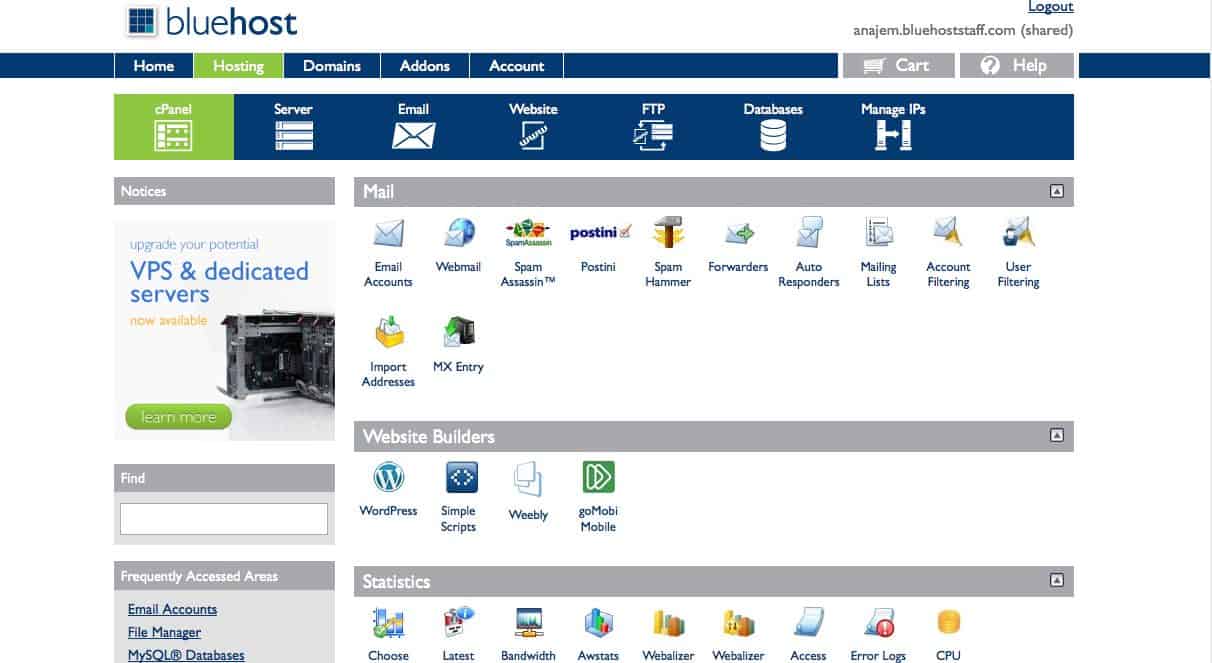 After you click the "WordPress" icon you'll be taken to the screen shown below. Select "Start" to install WordPress.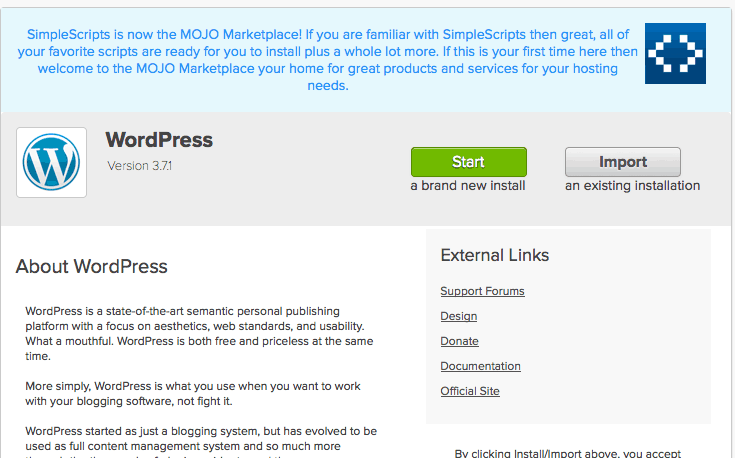 Then select your domain name from the drop-down menu.

Enter your website name and create a username and password, which will become your WordPress login information. Make sure you create a VERY strong admin password, then hit "Install Now".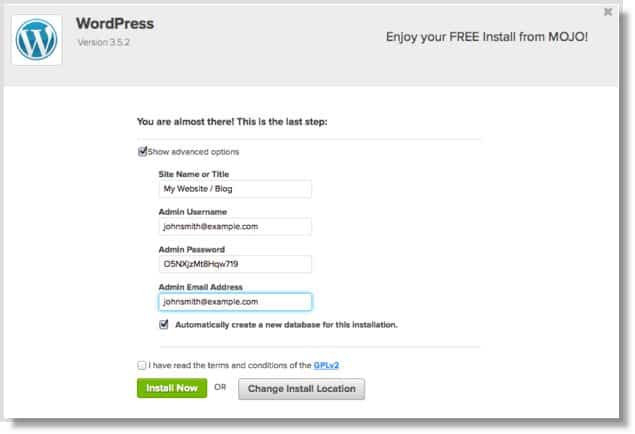 Your install is now complete and you have WordPress installed, woohoo!

Now you'll see a screen with the link to your WordPress Dashboard and login information.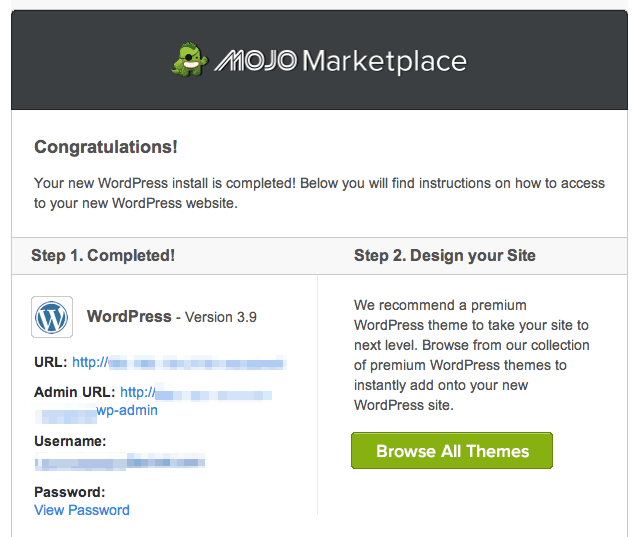 This is what it looks like when you go to log in to your new WordPress page: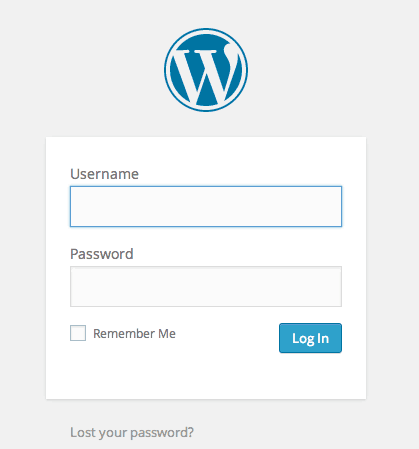 And this is your WordPress dashboard will look like once you log in: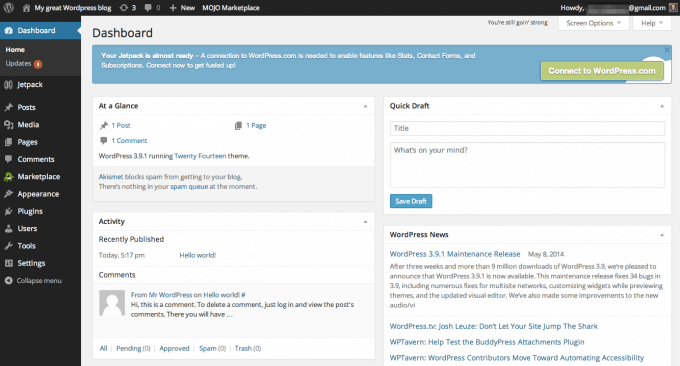 That's it, you just installed WordPress!
You did it! You now have a place on the web to call your own. Aren't you excited?!
Okay, okay, your site won't look like much right now, but you just took a HUGE step and are on your way to a future filled with opportunities. Congrats!
---
What's Next?
---
I may share a more detailed post on this later, but now you'll essentially need to customize your site and create content, all of which you can do from within the WordPress Dashboard.
To customize your website you'll want to choose a theme, which is the design of your website. There are tons of free themes available, as well as premium paid themes.
I recommend paid themes because the code will be cleaner (in most cases) and you'll usually have access to better tech support. With that said, you can certainly start with a free theme and change it later on, it will just create a bit more work. Just remember that the design is the first impression your readers will have about your blog, so make sure it represents you and your blog.
I highly recommend going with the Genesis Framework from Studiopress, and then selecting a child theme. The theme will be your overall blog design. We've used child themes from Restored 316 Designs in the past and LOVE their themes, plus they have fantastic support! After you buy one of their themes you'll have access to their step-by-step instructions on how to get your theme to look like the sample theme. They even have a free Facebook group you'll have access to after purchasing, which can help you out in a few ways:
You'll be able to connect with other bloggers
You'll be able to search for similar questions you have or ask questions in the community
You'll be able to find inspiration for your own blog design
It wasn't until we re-branded this past year that I switched to a theme from
ThemeForest
, mainly because I loved the design so much, but the specific theme I purchased was a bit more work to setup. I  enjoy tweaking our website so I've always done everything myself, but you may want to pay someone to setup and design your site for you.
In my opinion, Restored 316 Designs is a great option even for someone with zero knowledge for setting up a theme because they have awesome tutorials and support. 🙂
---
I plan to share more blogging tips in the future, but I hope you found this post useful. If so I hope you'll share it with any of your friends or family that may be thinking of starting a blog as well.
Don't forget to check out some of my favorite blogging resources here, and if you have any questions feel free to leave them below, or contact me directly here.