This RV remodel will leave you speechless!
Disclaimer: This post may contain affiliate links, meaning, if you click through and make a purchase we may earn a commission. This is at no additional cost to you. View our full-disclosure here.
I struggled with writing an into for this post because, if I'm being honest, this RV remodel has me speechless.
In fact, I even considered just pasting a paragraph full of hearts because I'm in love with everything this couple creates, and have a mad crush on their tiny home. I'm pretty sure you will too…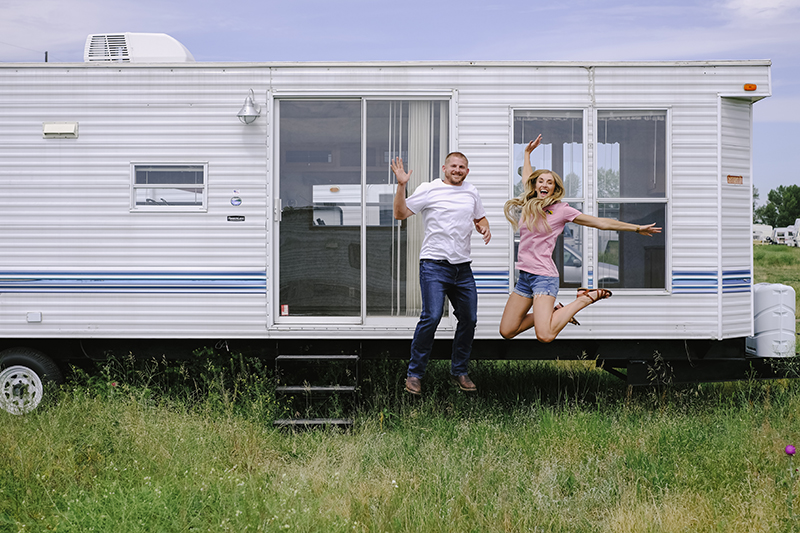 Meet Ashley and her husband, Mike, who purchased and renovated a park model RV in an effort to live simpler, be closer to family, and save money.
They aren't new to tiny living either. The day after they got married, they purchased a 5th wheel and lived in it for 2 years while paying off 70k in student loans!
They eventually rented an apartment and then purchased a house when Mike's job relocated them to Bozeman, Montana.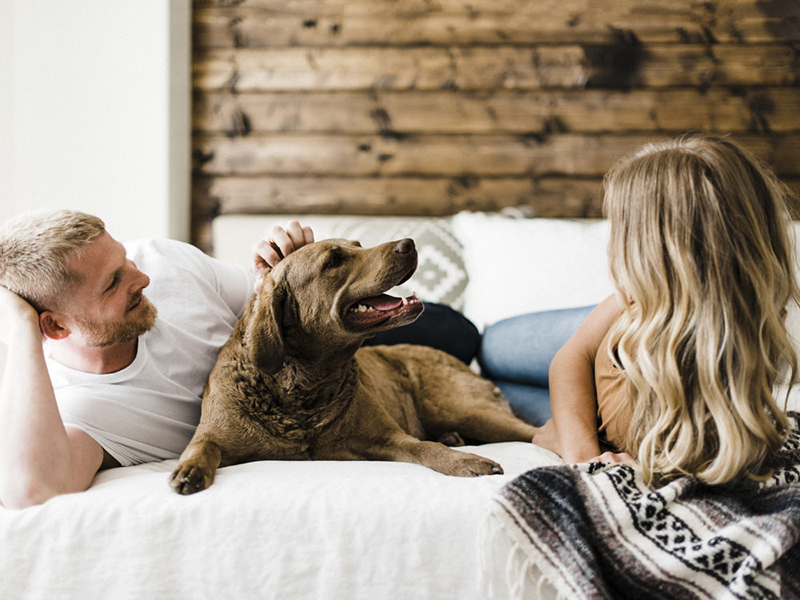 One of their biggest goals has been debt freedom, so when an unexpected opportunity came up that would help them achieve this AND be closer to friends and family in Oregon, they jumped on board!
They sold the home they had renovated, paid cash for their RV, and are currently living debt-free on their friend's land (which just so happens to be super dreamy!).
If you're considering living stationary in an RV, I think Ashley and Mike prove that this lifestyle can be more than worth it, even if you don't plan to travel.
While they would like to pay cash for land (or a fixer-upper) in a couple of years, for now, they're enjoying each day and throwing timelines out the window.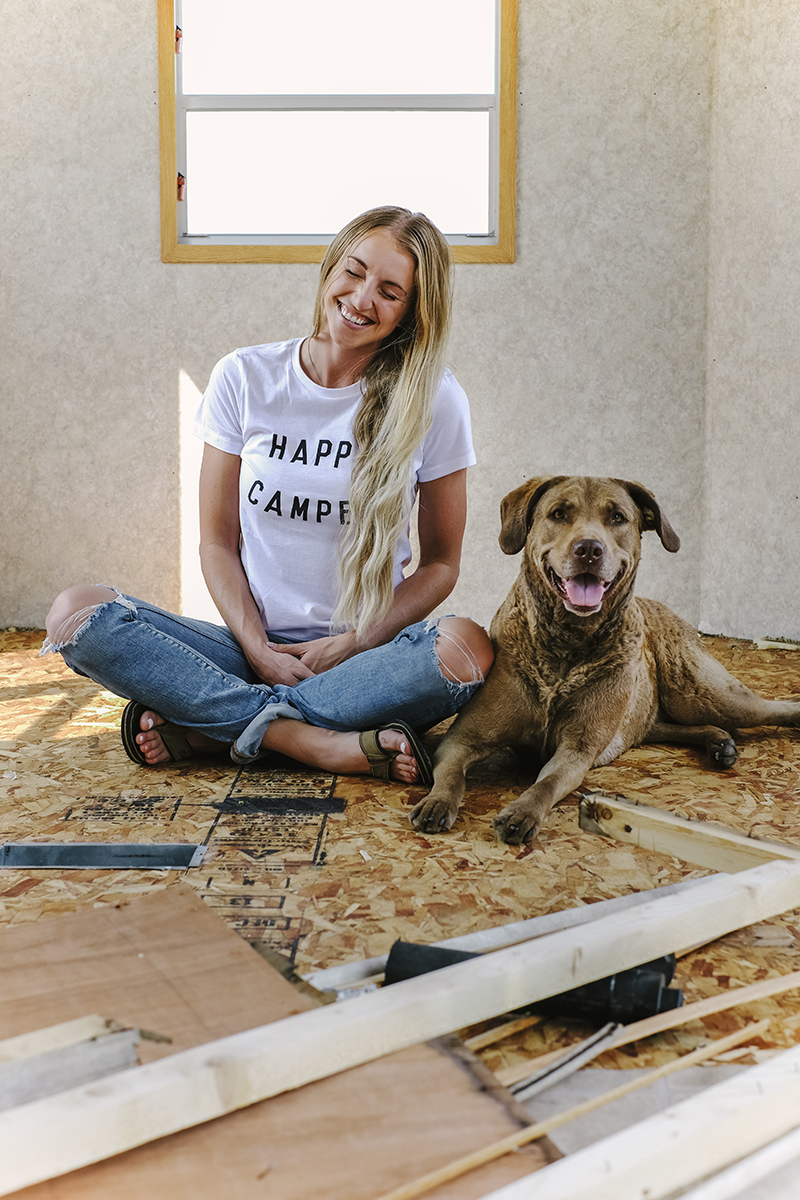 As I mentioned earlier, their RV is a park model, so it's meant to be parked for longer periods of time and doesn't have typical RV tanks. They went this direction because they didn't plan to travel and wanted a larger layout, extra space for an office, and residential appliances.
They share their RV with their sweet dog, Sage, and recently announced they're expecting their first baby in August!! I'm excited to see if they make any changes or modifications once the baby arrives, and can I just say how fitting their Joyfully Growing blog name is?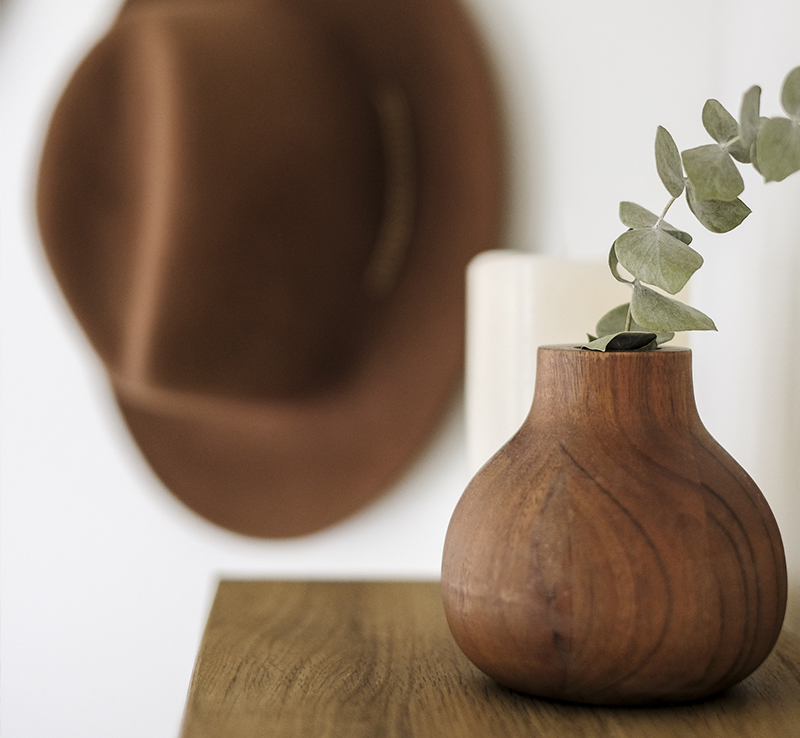 One of my favorite aspects of this remodel is Ashley's style and the fact that she was able to incorporate several items from their previous home into their new one, including their leather sofa, and decorative pieces.
Chances are, you've never seen a camper remodel quite like this one. And if this remodel doesn't convince you tiny living may be for you, I don't know what will.
Enough gushing, let's dive into the tour!
RV Remodel from Joyfully Growing
What kind of camper do you have?
2005 park model trailer, the model is Damon Bayridge
How long did the renovation process take?
6 months
How much did it cost?
$15,000
What made you decide to go "tiny"?
3 main reasons: debt freedom, moving closer to friends/family, and living a simpler life.
Do you travel or are you stationary?
Stationary
How would you describe your decorating style?
Mid-century modern meets boho with a dash of rustic 😉
What are you most inspired by or is there anything specific that inspired your reno?
We love to DIY and make our home reflect our personal style – after living in a house for 2 years, we were ready for a challenge and we're excited to see how we could turn an RV into a perfect tiny home for us.
Where's your favorite place to shop for décor?
World Market, Target, Thrift Stores, HomeGoods, Ikea
What was most challenging about your renovation?
The timeline being longer than expected – we were so ready to move in!
What project made the most difference?
Oh man… all of them! if I had to choose one, I would say streamlining the kitchen layout and getting rid of bulky overhead cabinets made a huge difference!
Do you have any future projects or changes planned for the interior?
Nothing major, maybe some simple decor changes here and there. We want to build a deck this summer!
What piece of advice would you give people starting an RV renovation?
Do your research and expect things to go wrong. DIYing a camper is nothing like doing DIY projects in a sticks/bricks home.
What's your favorite aspect of tiny living?
Living with less! I love that I can see all of my belongings in one space and am encouraged to not buy the latest and greatest because there's simply no room!
What's your least favorite aspect of tiny living?
Being forced to sleep in a queen, instead of a king.
What is something you've learned in general or about yourself since going tiny?
We accumulated way too much stuff living in a 4 bedroom home; I never want to acquire that many unused things again.
What has been your favorite place to explore so far during your journey, or a place you are excited to explore in the future?
We are stationary, however, we are just excited to be moved over to Oregon where our friends/family are. The housing market here is insane, so we are so thankful that RV life has given us the opportunity to move back without having to get a huge mortgage.
Favorite Product Sources:
Paint color: Sherwin Williams Alabaster
Flooring: Urban Floors from their Cascade Series in the color Yellowstone
Sinks: Sinkology
Shower hardware: Signature Hardware
Cabinets: Home Depot
(All sources are linked on my blog, including decor items!)
---
Thank you soooo much Ashley for inspiring others (and hopefully the RV-industry) with your beautiful and well-thought-out designs!
Follow Joyfully Growing!
You can learn more about their RV renovation and planning process over on their blog, Joyfully Growing. They also share DIY projects, beautiful decor inspiration, and even have a free design quiz to help you narrow down your style!
Don't forget to follow Ashley on Instagram where she shares behind the scenes photos and videos of their tiny home on wheels!
Interested in being featured on Design Vibes?
Submit your RV renovation here!
Find additional RV inspiration from our Design Vibes series here.