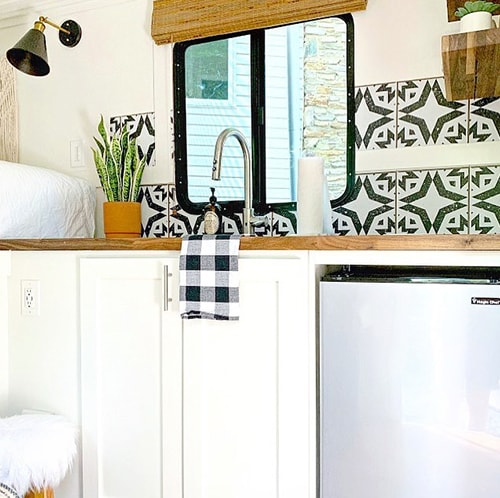 This may be the most stylish cargo trailer conversion you've ever seen!
Disclaimer: This post may contain affiliate links, meaning, if you click through and make a purchase we may earn a commission. This is at no additional cost to you. View our full-disclosure here.
This cargo trailer conversion is the perfect reminder that anything is possible!
Kristi and her husband, Roger, have always enjoyed camping on their time off, and even met and fell in love while camping with their families. They've previously owned an RV and pop-up trailer but sold both over the years as they moved from one state to another.
After settling in North Carolina they were ready to get back into the RV lifestyle, only this time they wanted to create exactly what they wanted through a custom build.
They eventually decided to custom order a cargo trailer. This way they could add a door and windows, yet have an empty shell to let their imaginations go wild. They now own the perfect tiny home to take on weekend getaways, and Kristi has documented most of the process over on her website.
What they've come up with is not only stylish and functional, but it's been executed beautifully! Let's dive into the tour!
Stylish and Modern Cargo Trailer Conversion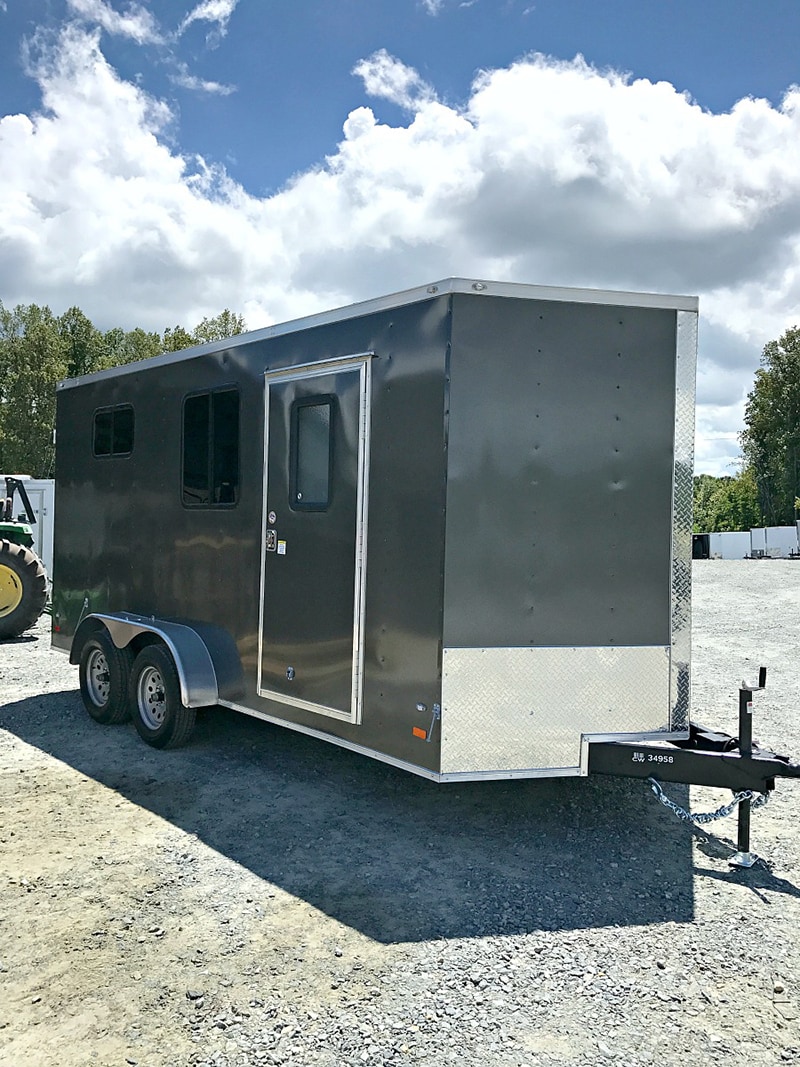 What kind of RV do you have?
We converted a 7'x16'x7′ cargo trailer into a tiny RV
Do you travel or are you stationary?
Travel!!!
What made you decide to go "tiny"?
We met and fell in love while camping with our families when we were younger so camping is something we both love to do. We wanted to get back into camping again, after a 5 year hiatus, but we wanted to build our own this time around. We only had a small space for storage so we had to go tiny.
Do you work on the road? If so, can you share what kind of work or how you're able to work while traveling?
No, we don't work on the road, except for the occasional Instagram. We try to unplug and enjoy our time away.
Why was it important for you to update the interior?
We had to update our cargo trailer because it was an empty box when we brought it home. I wanted it to feel like a real RV with a bathroom and a comfortable bed so we built everything with our comfort in mind.
How long did the renovation take?
18 long months!
How much did it cost?
We paid about $4000 for the trailer and about $4000 for all of the materials and supplies
Where you do draw your inspiration from?
I find inspiration on Pinterest and Instagram and, of course, Mountain Modern Life.
How would you describe your decorating style?
Simple, modern farmhouse.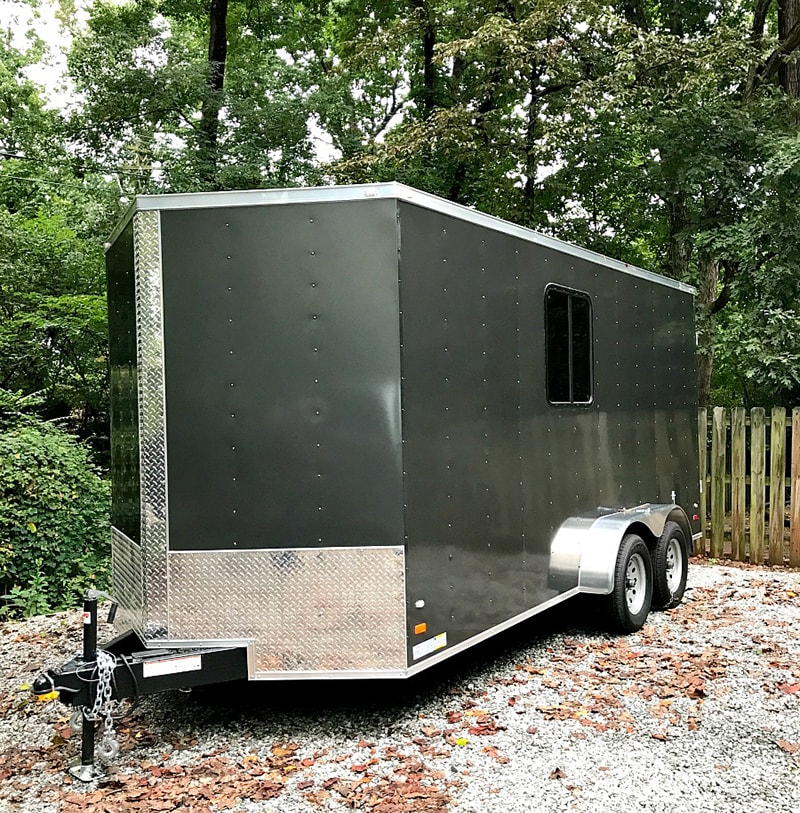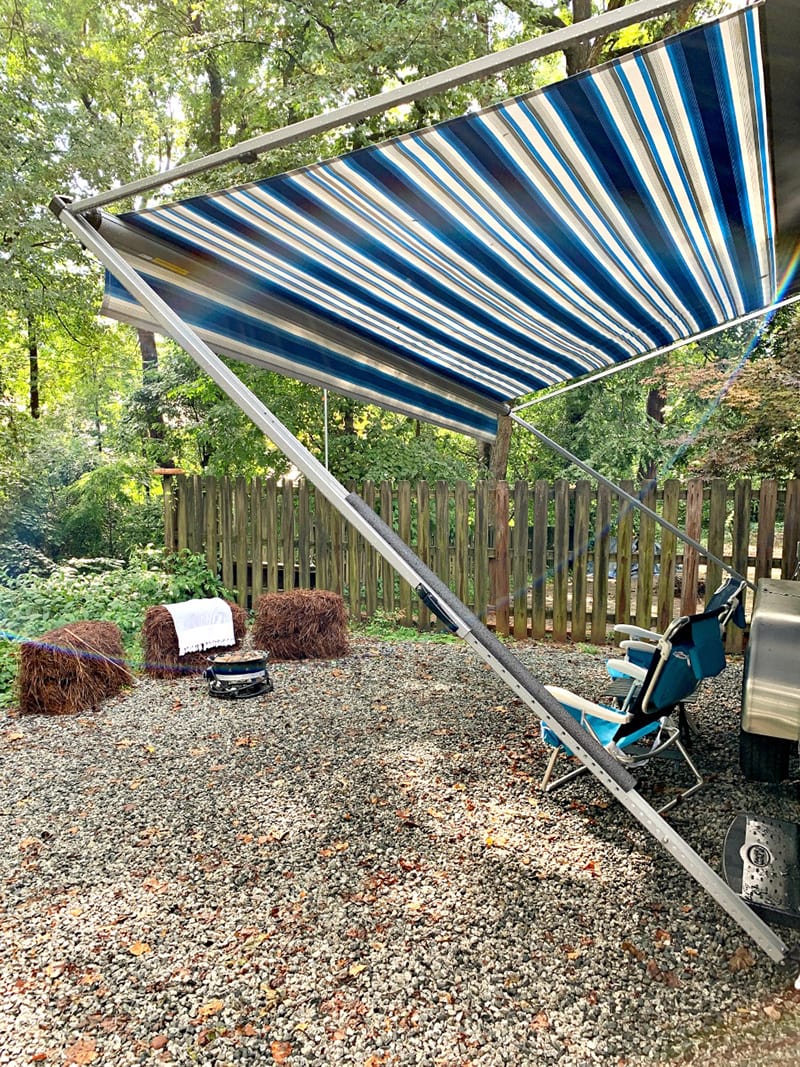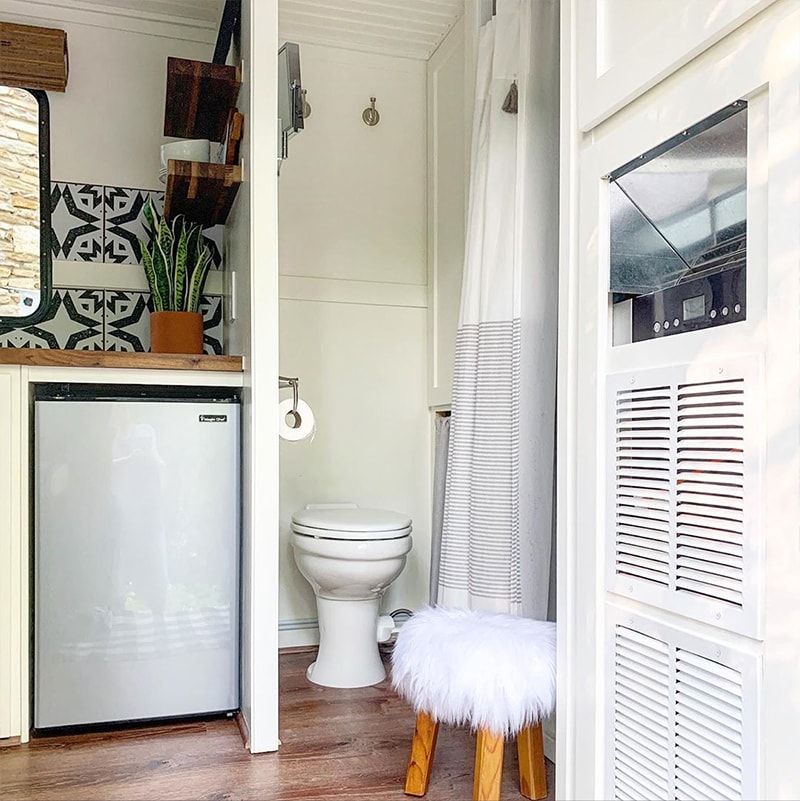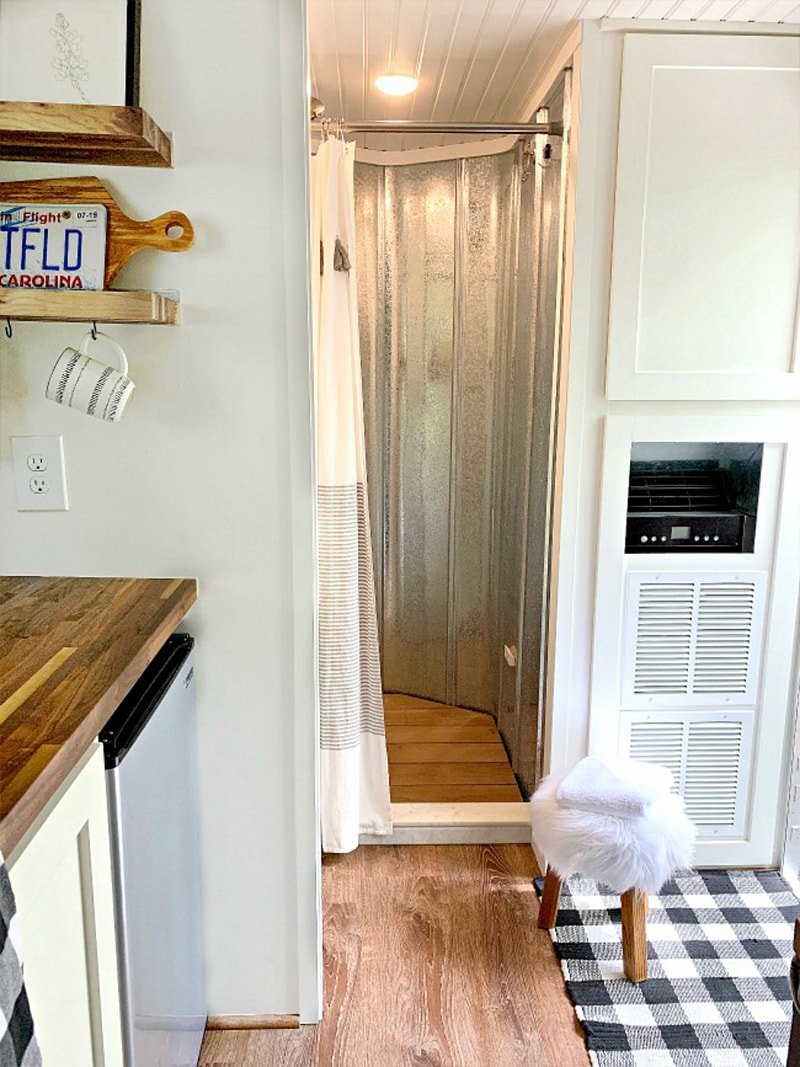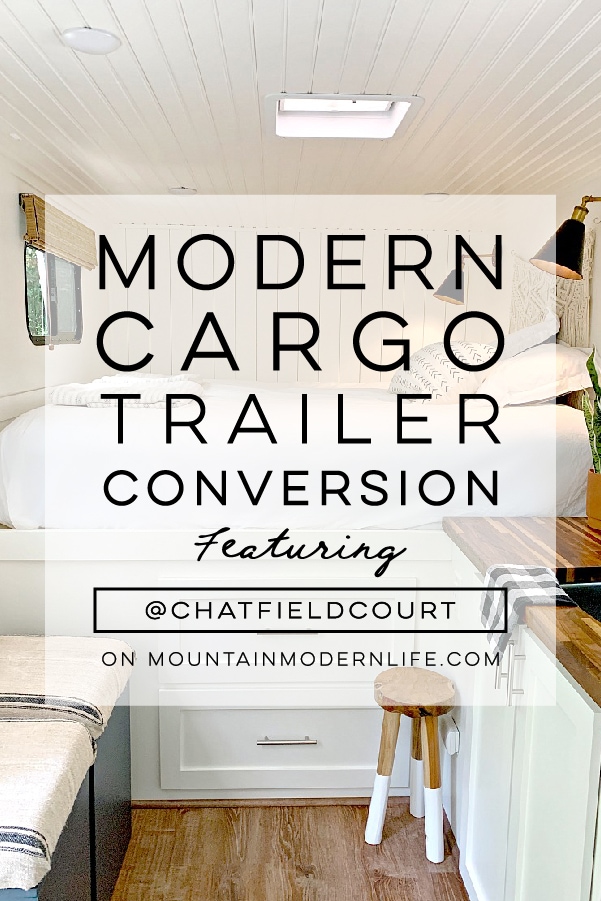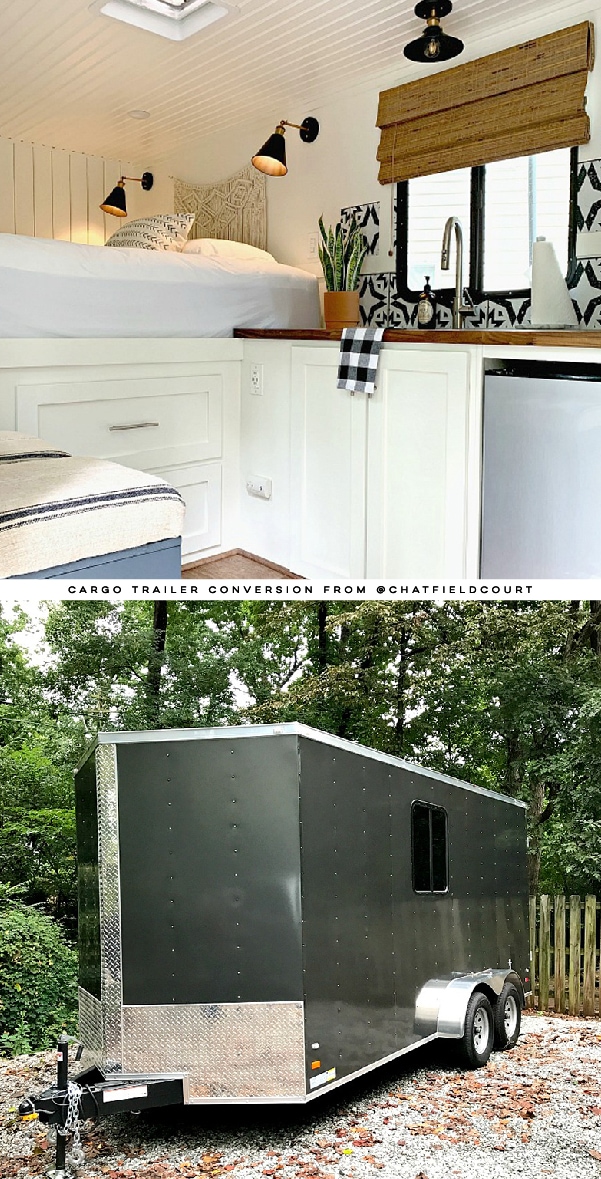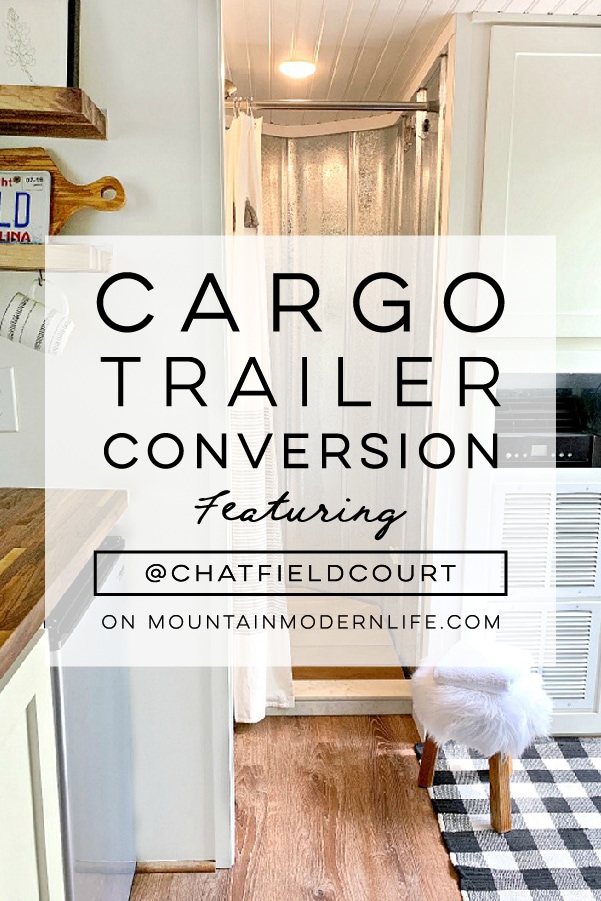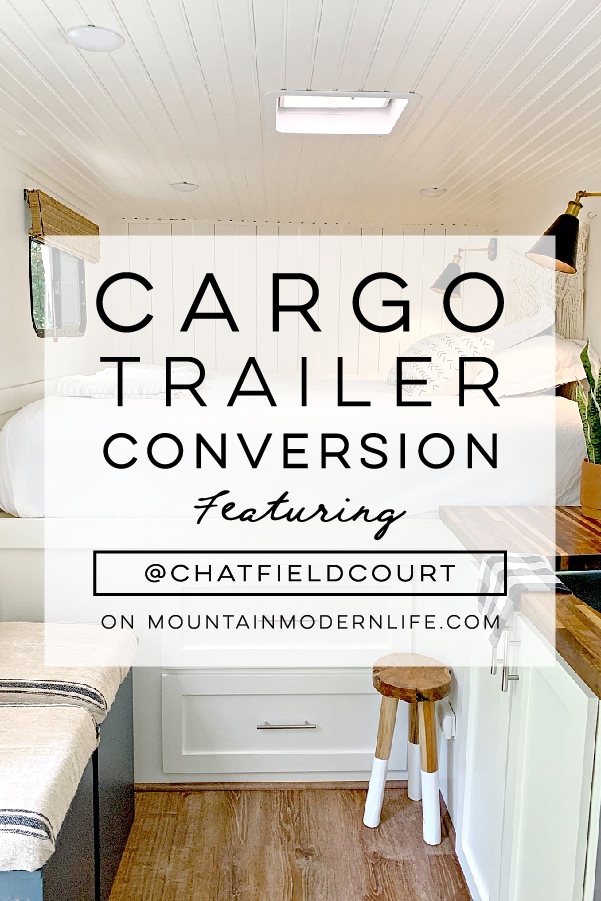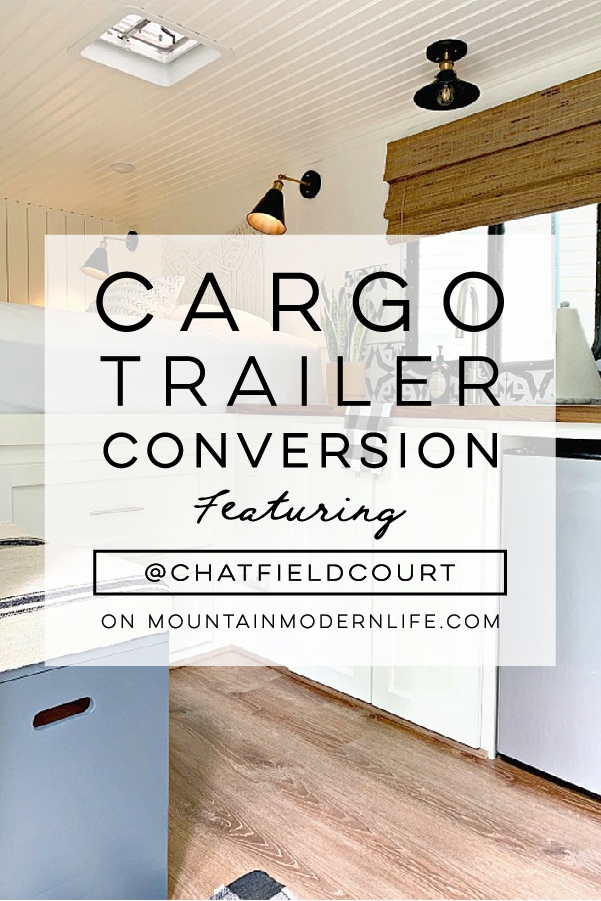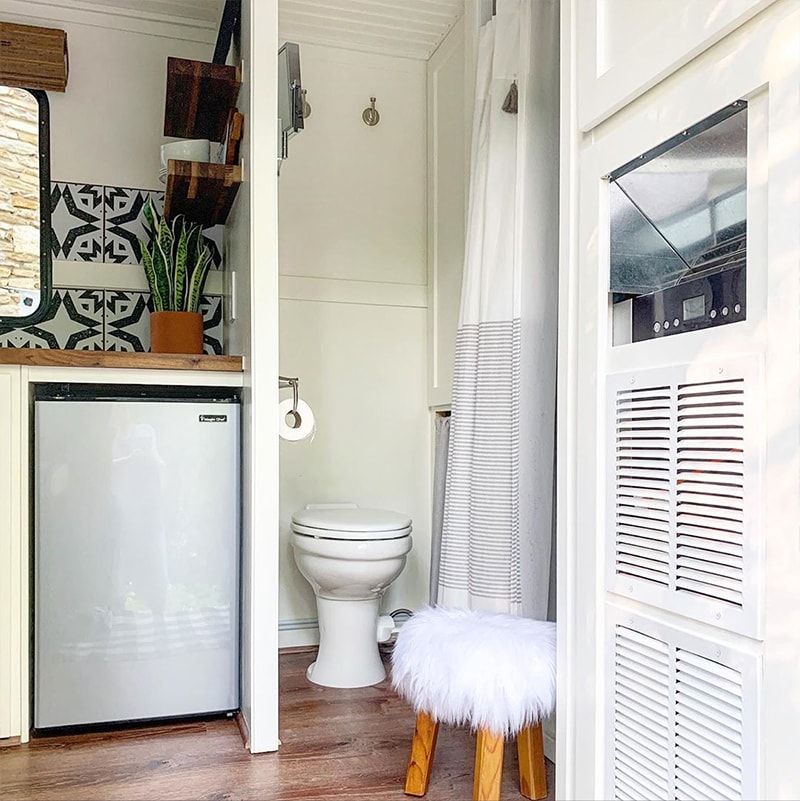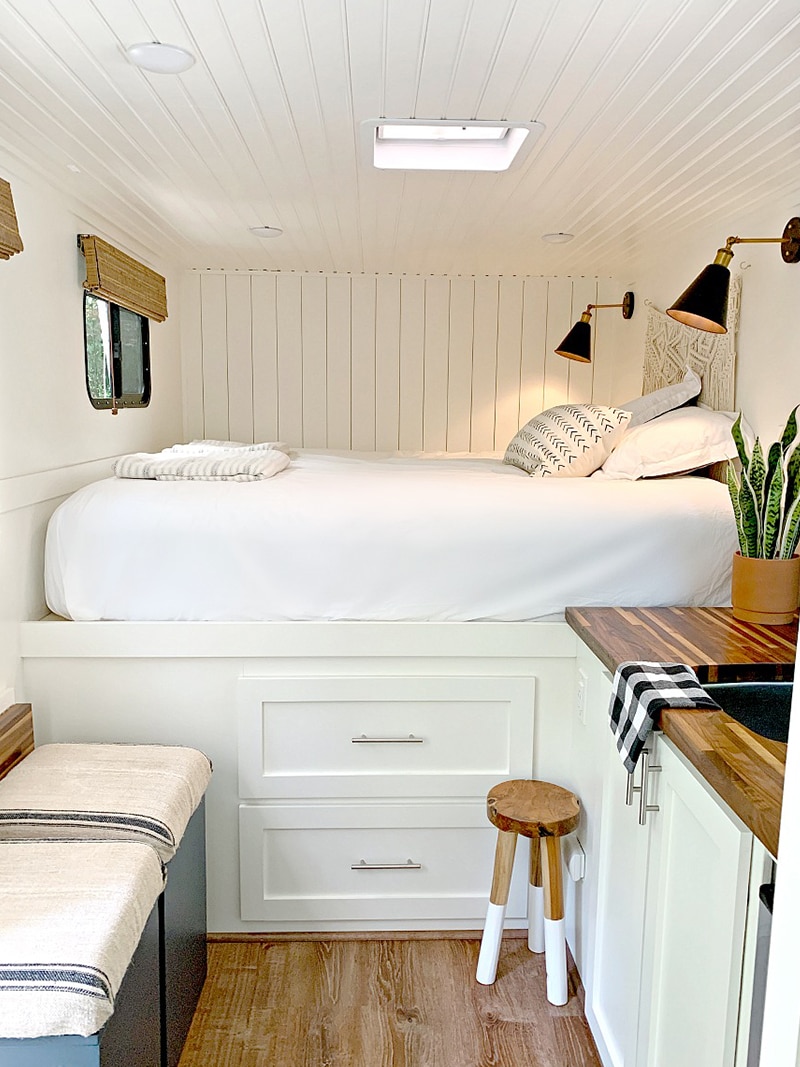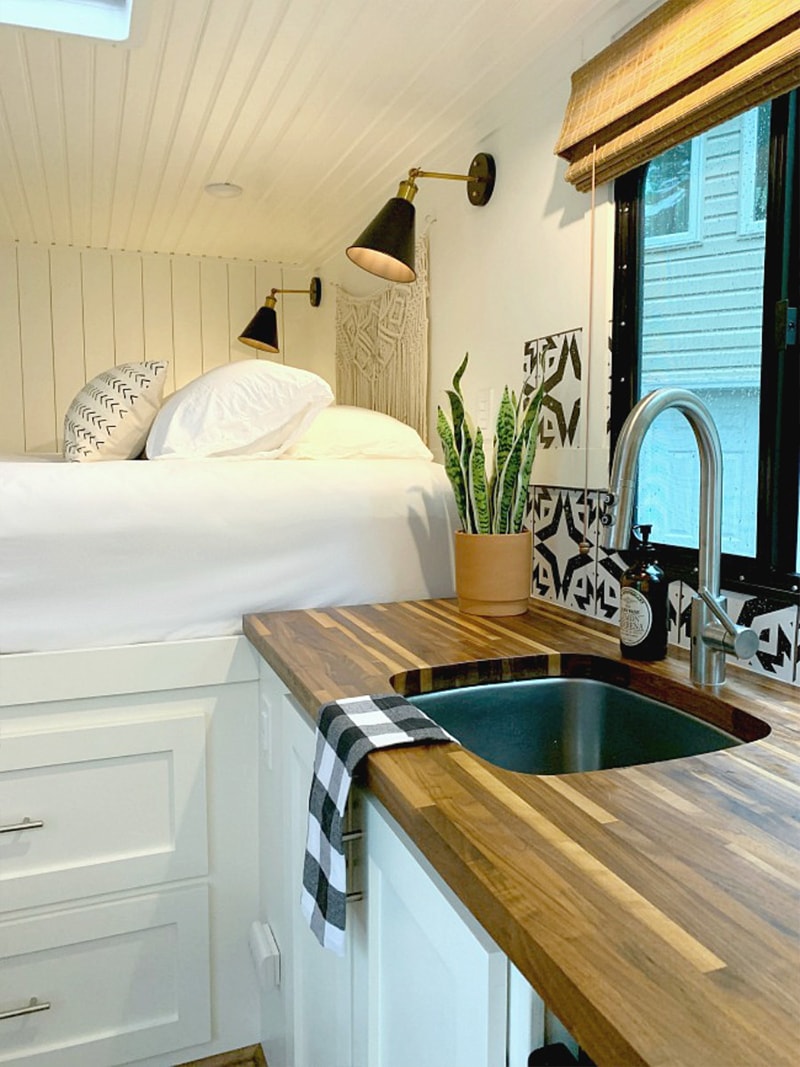 Where's your favorite place to shop for décor?
Etsy, Target, HomeGoods
What was most challenging about your cargo trailer conversion?
The most challenging aspect of our build was…everything! We started with an empty box so we had to plan everything out and built everything custom, plus install all of the electric and plumbing.
What project made the most difference?
Paint made a huge difference but almost every project made a difference because we started with an empty box.
Do you have any future projects or changes planned for the interior?
I think we're done with the interior for now. Maybe I'll play with different paint colors down the road.
What piece of advice would you give someone about to embark on a renovation?
Plan, plan, plan! Have all of your plans in place before you start working. Also, try to be open to changes in those plans because they will happen.
What's your favorite aspect of tiny living?
I love that we can just hitch up and take our tiny camper to the mountains or beach whenever we want, plus we have our very own bed to sleep in.
What's your least favorite aspect?
Coming home after a great weekend away.
What is something you've learned in general or about yourself since going tiny?
We've learned that we make a great team and that we loved every minute of this build. We're even talking about our next one, and it will be bigger!
What has been your favorite place to explore or a place you are excited to explore in the future?
So far we have visited the mountains in North Carolina and the beaches in South Carolina. Our dream trip is to take a 3 week trip out West and explore.
Most asked about products:
I get asked about our light fixtures a lot. I just bought regular fixtures off of Amazon and used 12 volt bulbs. I also love our new kitchen backsplash. It's a self-adhesive removable wallpaper. It was easy to install and I can remove it without damaging the walls.
Follow Kristi (Chatfield Court)!

Interested in being featured on Design Vibes? Submit your RV reno here!
Find additional RV inspiration from our Design Vibes series here!