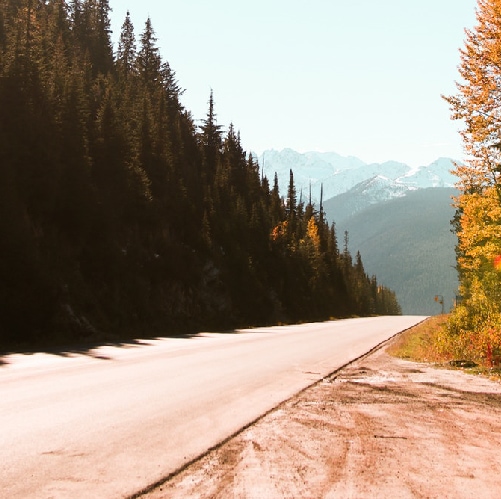 Obstacles are Detours in the Right Direction
True confession, this "RV Adventure" has not been anything like I expected.
Back in 2015 when we first made the decision to buy a motorhome, renovate it, and travel the country in search of a place to settle down, I envisioned a simplified life filled with mountain views, campfires, and clarity in my business that would help alleviate overwhelm and stress.
I was basically daydreaming of an Instagramer's perfectly curated, wanderlust-worthy collection of photo squares. I didn't expect life to be perfect by any means, but I expected to explore and share more than we have.

Wherever you go, there you are
The overwhelm I carried only seemed to intensify after we hit the road in the Fall of 2016, and the anxiety I never even knew I had prior to RV'ing, began to show up. Then came the battle of self-love.
There are days I'm in awe of the majestic places we've visited and the RV community that has welcomed us with open arms, but traveling in less than 300 square feet has turned out to be more of an inner journey than an outer one.
Don't get me wrong, I don't regret our decision to go tiny, in fact, it's turned out to be the adventure I didn't know I needed.
Life happens regardless of where and how you live
Sharing an RV with your spouse, 2 cats, and a dog is not always easy. Far from it. I know this lifestyle can be romanticized in some ways, but life happens regardless of where you live.
Most days I'm blissed out thinking about how happy I am we chose this unconventional way of life, and other days I'm cursing the unreliable internet connection, our tiny kitchen, lack of privacy if we're staying at an RV park, annoying flying bugs that manage to sneak in every so often, and that our house is a disaster 5 minutes after we clean it.
The truth is, you take the good with the bad, the challenges with the victories and at the end of the day, you decide what ultimately makes you happy.
Our original travel plan was to spend a couple of weeks visiting family in the midwest before heading to the PNW, an area of the US we had never been and were excited to explore. Then we'd head to Canada and Alaska and it would be amazing!
However, life had other plans in mind…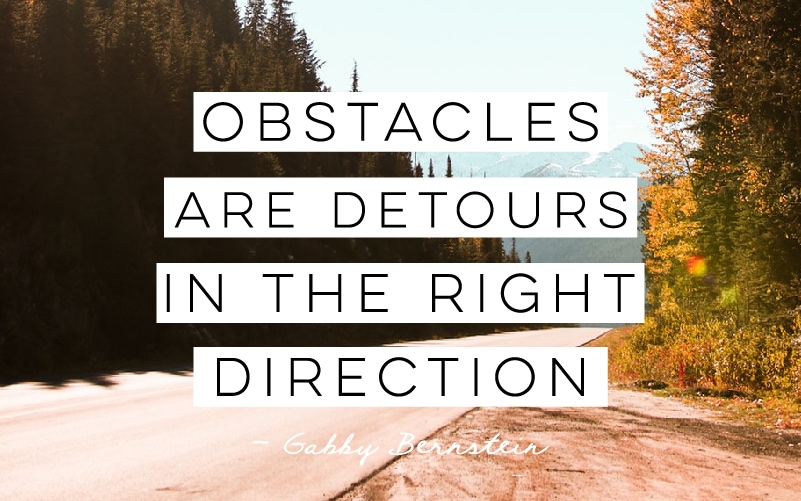 Obstacles are Detours in the Right Direction
I still laugh when I think about the time we finally began to head West (a year after we officially hit the road), only to end up stuck at a repair shop for several months because our RV was hit by a semi-truck at a rest stop (we wouldn't have McNally if it wasn't for that detour!). Or how Eric somehow managed to camp host for an entire year instead of the 3 months we had planned. And how by the time we finally did make it to Washington, it was nearly winter and we only stayed a couple of months because the dreary weather took a toll on me mentally, and I found myself missing family more than ever.
I had spent 2 years practically begging Eric to visit the PNW, trying so hard to control our itinerary, which by the way only made me feel like a failure when it didn't pan out the way I wanted, and then I was the one asking if we could head back to Georgia before Christmas.
Yup, I never saw that one coming. (We'll be back someday, the timing just wasn't right!)
This RV adventure has had more detours than I can count, but looking back it's easy to see they were all opportunities. Opportunities to learn, to grow, to deepen relationships, to improve our health, our marriage, to practice resilience, forgiveness, self-love, and to learn when to let go.
I recently listened to a podcast from Gabby Bernstein, that was recorded back in 2017 but re-published last week and it resonated with me in a new way. I had listened to her audiobook, The Universe Has Your Back, in December 2016 and have enjoyed her teachings ever since.
In this specific podcast, she talks about 5 Steps to Spiritual Surrender and seeing the opportunities in life detours. I don't remember what I was going through the first time I watched the video, but this time around I felt overcome with emotions (in a good way!) and it reminded me of this quote from Deepak Chopra,
"The most important thing you can do in your life is what you are doing now."
Don't let Your plans get in the way of Life's plans
There's a reason Eric and I now joke that we're on "Nomadic Standard Time", and it's because we've learned to stay flexible with travel plans, or any plans for that matter.
Back when we originally hit the road in our RV, what was supposed to be a couple of weeks in Wisconsin with Eric's extended family somehow turned into several months.
We parked our RV on the farm while we acclimated to "RV life", and I learned to appreciate the beauty of the rolling hills and grassy fields, despite a lack of mountain views. We even decked our RV out for the holidays, and it was awesome!
Naturally, we did run into some hiccups during that visit, the biggest being uninvited guests…mice!
For about a week I was freaking out, unable to sleep, and wondering if moving into a motorhome was the best decision after all.
That was not a fun week.
Yup, life in Wisconsin wasn't what I had in mind for our first  RV adventure, but that unfortunate turn of events transformed into something we never could have imagined!
Eric and I really wanted to avoid poison or toxic chemicals, so we had attempted "natural" solutions to repel the mice instead. Unfortunately, nothing seemed to work.
That same week, Eric's cousin, Michael, was grabbing some of the farm's Peppermint Essential Oil for his wife and offered to give us some to try and repel the mice from our RV. To our amazement, it worked! This is when we wrote a post and shared a video about how we kept mice out of our RV and recently dove deeper into why peppermint oil naturally repels mice here.
We later found out his family has been using the Peppermint Essential Oil to keep mice away from their storage vehicles and farming equipment for generations – they've been farming since 1857 and distilling mint since the 1950's!
Those turn of events led to conversations with his family and before long…
Grandpa's Good Earth was born.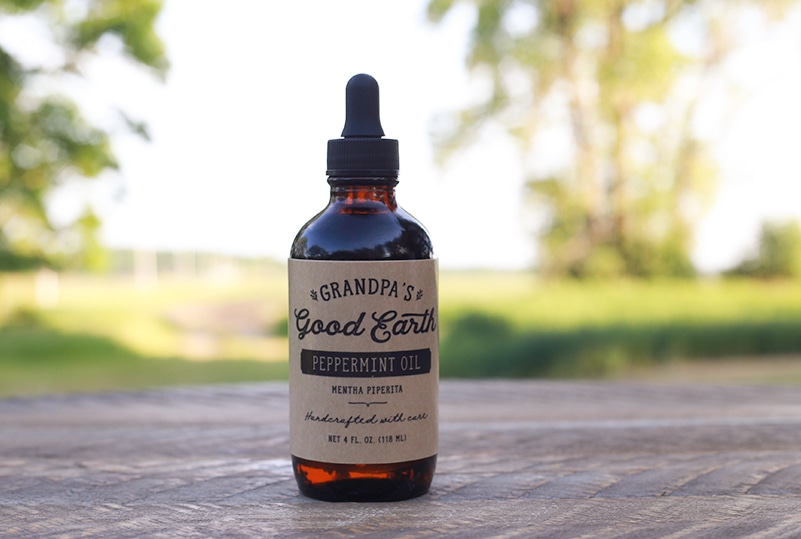 It's been over 2 years since we first had that conversation and slowly began to get the ball rolling, but everything has finally come together and we are officially pre-launching our first batch of Grandpa's Good Earth Peppermint Oil!
I can't tell you how excited I am to be a part of something larger than myself, where I'm able to collaborate with those I care deeply about and share a product I use almost daily and can easily stand behind. I've ordered peppermint essential oil before and this is the good stuff!

Be at Peace with the Path You're on
The other day I was walking McNally and had this overwhelming sense of peace and gratitude as I thought back to before we moved into the RV. At the time, I was trying to decide what type of creative projects I would work on since space would be limited. One of my ideas was to learn more about essential oils and use them to make natural products and create editable labels for our shop. It was something I was super excited about, especially as I began to use more essential oils, but somehow that never happened because ya know, life. Yet here I am years later and I finally see these types of fun projects unfolding. I still don't know when they will happen, but I know all I have to do is create the time and space if that's what I want.
For the first time in a long time, I'm not overly concerned with what other RV'ers are doing, what other bloggers are doing, or even what I'm not doing because for the first time in a long time I feel like I have clarity.
Most importantly, I feel like the passion has been reignited inside me.
The passion that helped me launch this website years ago has been slowly drifting away during our travels as I've become overwhelmed and confused with the direction we were going. But that passion has been been slowly creeping back in and it feels so good!
I could feel my soul coming back to me. And that's when I felt at peace with the path we are on.
Taking time to re-listen to Eckhart Tolle's teachings in A New Earth has certainly helped me get here (he's also helped me work through my CRPS pain back in 2012). We absolutely plan to continue sharing DIY ideas, decor inspiration, and RV-related content, but this side project has re-ignited the passion inside of me, something I've been struggling with for a while now.
2 years ago I wouldn't have been able to enjoy these moments because I would have been wishing I was somewhere else. A lot has changed since then, the most important being that I'm now able to be content wherever we are.
I feel like I'm exactly where I'm supposed to be at this moment in time, and everything feels full circle. That's a great feeling, let me tell ya!
Eric and I plan to spend a few months here in Wisconsin, so we can work closely with his family during the launch phase and document the distillation process. The best part is being surrounded by so much love, support, passion, and positive energy, and we're super excited to see where it goes!
We have several other projects bouncing around our heads so who knows where we will go when we leave here, but for now, we're enjoying life on the farm. We currently have full hook-ups, privacy, and views of the fields, so I'd say life is good!
If you're considering the transition to RV life, are currently in thick of it, or are simply going through a difficult time, I hope this post will serve as a gentle reminder to give up some of the control you may be holding onto and instead see the obstacle as a detour in the right direction.
Remember to enjoy your path even if it doesn't look like anyone else's. Especially because it doesn't look like anyone else's.
Update: Grandpa's Good Earth Peppermint Oil is now available
Whether you're new to essential oils, have been using them for years, or are simply looking for a natural way to deter mice, I really hope you'll visit Grandpa's Good Earth to learn more about the company, the benefits of peppermint oil, and snag a bottle or two for yourself! We're also working on additional peppermint-infused products that will be available in the upcoming months.
Thanks for following our journey and encouraging us along the way!

This information has not been evaluated by the Food and Drug Administration and is not intended to diagnose, treat, cure, or prevent any disease or medical condition. Links to external sites are for informational purposes only.