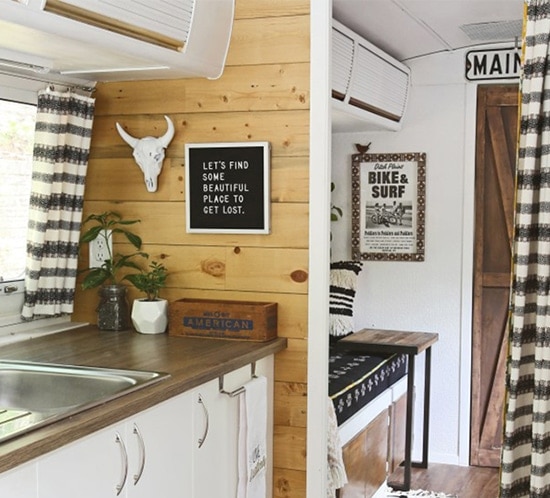 The Dreamiest Rustic Camper Remodels
Got a major case of wanderlust, or planning to renovate your own tiny home on wheels? If white paint, various wood tones, and lots of texture is your thing, I think you'll feel inspired by these rustic camper remodels.
Back when we started our RV remodel I found it challenging to find rustic A-Class motorhome makeovers, which honestly surprised me.
Even now when searching for rustic camper remodels, the majority of what excites me is vintage airstreams, 5th wheels, bus conversions, and tiny homes. Then again, this is one of the main reasons I leaned towards those options before we decided the A-Class was the best decision for us. The truth is, you can draw inspiration from anywhere and can make any place feel like home with a little (errr a lot) of elbow grease and imagination.
I hope these photos of various rustic camper remodels will inspire you to tackle your own reno, or maybe pick that paintbrush back up for yet another coat of paint…
Some of these campers lean more vintage, others more modern, but all are pretty amazing! Be sure to check out the source below the image as most link to tours with additional photos and information.
The Dreamiest Rustic Camper Remodels
Side note: Kate and Ellen from The Modern Caravan also renovated the Airstream below, and now run a business renovating Airstreams!

Do you have a favorite rustic camper remodel? Let us know in the comments below!
---
Looking for RV or travel inspiration? You can find all of our RV-related posts here and don't forget to check out our RV tours, Decor Resources, and YouTube Channel!
---