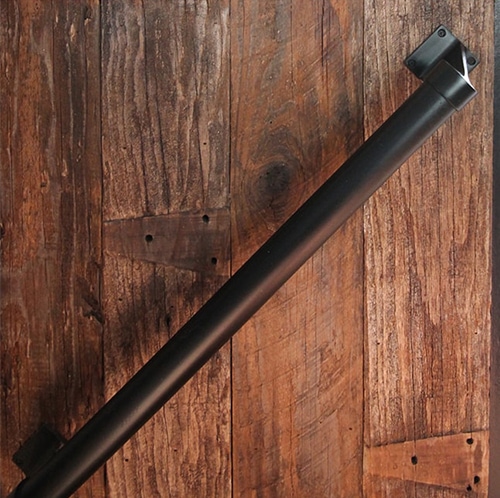 DIY Reclaimed Wood Kitchen Cabinets
Disclaimer: This post may contain affiliate links, meaning, if you click through and make a purchase we may earn a commission. This is at no additional cost to you. View our full-disclosure here.
True confession. I'm somewhat of a germaphobe but that all goes out the window when I'm visiting a lumber yard and digging through old, reclaimed wood or anything with a really cool, rusty patina at an antique shop.
As soon as we visit places with these items Eric becomes a helicopter parent asking me to be careful every 2 minutes. It's kinda funny.
And maybe I should be, but I just get so excited thinking about the stories behind these items! (In my defense, I do carry hand sanitizer so I don't mind getting a little messy first).
If you've been thinking about renovating your camper, today I'm going to share photos of our updated RV kitchen using reclaimed wood.
DIY Reclaimed Wood Kitchen Cabinets
If you follow our blog or social media channels then you may know that I originally wanted to use reclaimed wood for at least the lower cabinets in our RV. We worked on the kitchen renovation nearly 3 years ago, which is crazy when I think about it.
The problem I had at the time is that our kitchen, while outdated, was in decent condition and the cabinet doors and drawers were made out of real wood.
This website was previously called "Upcyced Treasures" and I felt challenged to make things work or repurpose them when possible. Truth is, I was worried people would judge me for removing cabinets that were in good shape.
I know this probably sounds silly to some people, but I let what I "thought" people may think, affect my decision. Please don't make the same mistake as me.
In fact, even after deciding to paint our kitchen cabinets many people were skeptical of the two-tone design and told me painting the lower cabinets black would make the RV look too dark and was a bad idea.
So I painted them gray, but after a water leak I painted them black and was so happy I went with my gut.
I guess in many ways this RV has been a guinea pig for us to find our style and confidence, haha.
It's actually funny to see how many others have also painted their camper kitchens in not only a two-tone design but using black and white. What I like about keeping the uppers white is that it allows the cabinets to almost disappear into the ceiling.
If I've learned anything over the last 3 years, it's to listen to the opinions of others without letting it weigh too heavily on what you really want. It's your home and you should love it!
Don't get me wrong, I love how our kitchen turned out, but I can't tell you how many times I've wanted to change it.
I'd be sitting on the sofa, enjoying a cup of coffee and thinking about how much I love our RV…. then look at the kitchen and feel like it didn't flow with the rest of the RV.
In an attempt to push desire out of my mind, I'd go over all the things I loved about our tiny kitchen instead of focusing on what I didn't like. Then I'd snap a couple of photos that would make me fall in love with it again.
I've been telling Eric we would eventually change it (ya know, gotta mentally prepare him), and almost let my impatience get the best of me by painting the cabinets again just to have something different. I knew that wasn't the answer and that it would only prolong doing what I really wanted while wasting more time and money. So I fought the urge… on multiple occasions.
Fast forward to two years on the road and I finally convinced Eric it was time to add some reclaimed wood to our RV kitchen, yay! We decided to keep the bottom framing black (at least for now) and just replace the doors and drawers. There's a lumber yard/sawmill in Auburn, CA called California Hardwoods that I've been visiting randomly and that's where we purchased our wood (it's also where I picked up the whimsical tree carving you can see in our hallway).
I wanted to buy local but if you're looking for reclaimed wood to use in a similar project there are so many more options out there these days, which means the prices have also gone down some.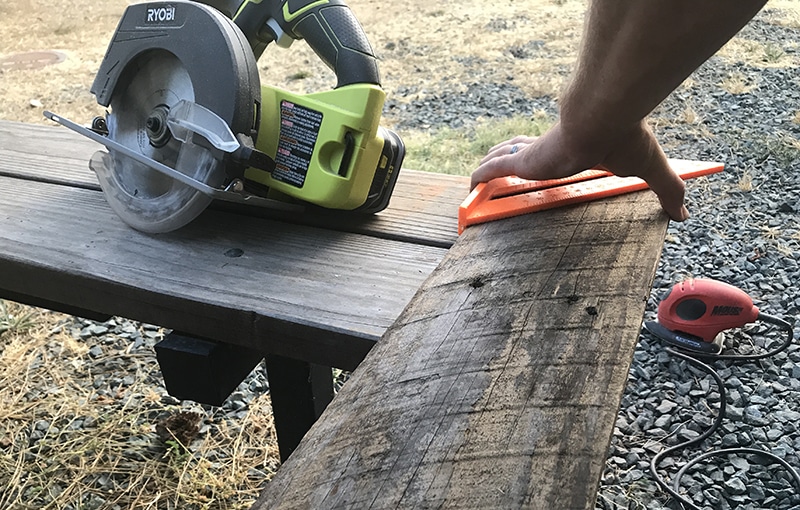 You can even find reclaimed barnwood on Amazon or through Home Depot (similar to Stickwood) that has been milled down and kiln dried so you can feel good knowing it's cleaned up.
The owner of the lumber yard milled the wood down for us to help us save on weight (which is important in an RV) and then we cleaned it up with a wire brush and our steamer.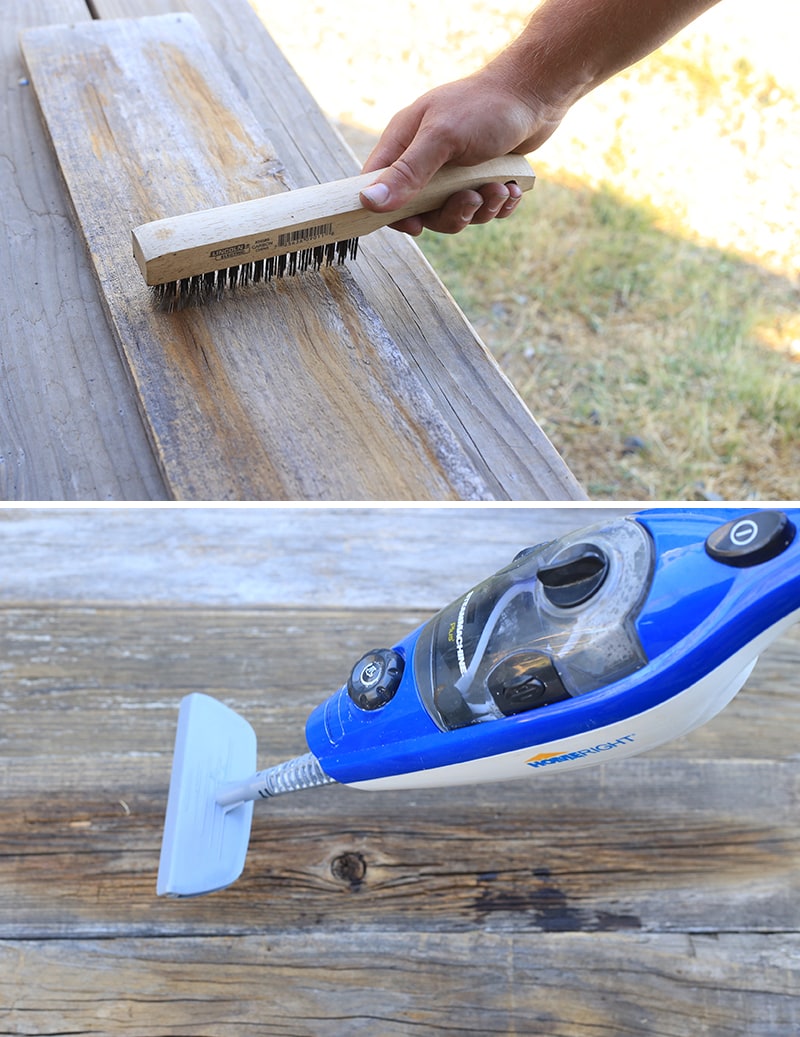 Watch the Video:
We did try to document the process which you can watch in the video below: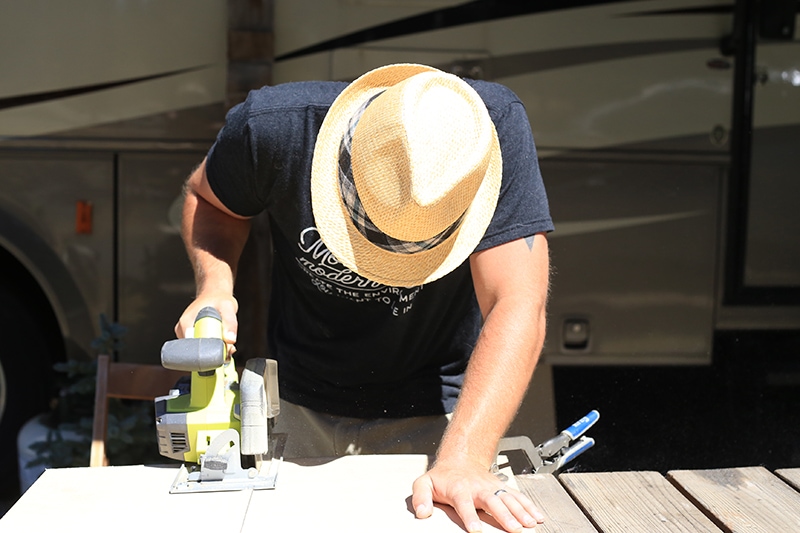 Without having our compound miter saw or table saw, I'm impressed with how Eric cut all the pieces with the circular saw. We are both embracing the imperfections of the wood and the not-so-perfect lines. I personally don't mind them.
This post is more for inspiration in case you're thinking about doing something similar, or at the very least a reminder to follow your gut and create a home YOU love!
Keep in mind that each design decision affects other decisions down the road. For example, when we planned to use reclaimed wood cabinets we were going to use either white or faux concrete counters. Then when we decided to paint the cabinets I considered using reclaimed wood as the countertops or backsplash. We ended up using wood flooring for our counters (we didn't have enough reclaimed wood at the time), and painting the tongue and groove backsplash white.
Now that our lower cabinets are made with reclaimed wood, I'm not so sure about the counter. For now, we're going to keep it as-is but may change it down the road. The rounded counter trim probably bothers me the most though. I wanted to have square edges but Eric really loved the rounded trim and he rarely gets excited or over-opinionated about design decisions so I let him have that one, haha.
And while I'm sure many of you will prefer the black/white two-tone look, I'm okay with that because we love it! And while it's hard to tell from these photos, I think the wood actually flows better with the rest of our RV now.
When it comes to design I think it's important to spend time learning about your own personal style and aesthetic and be confident in the decisions you make, regardless of what other people think! I'm inspired by the imperfections in nature, by cabins and mountain homes, and by old materials that have a story to tell.
Here are some more photos of the reclaimed cabinets in our rustic modern RV kitchen:
(It was a overcast the day I took photos so the cabinets look a bit darker than they do in person).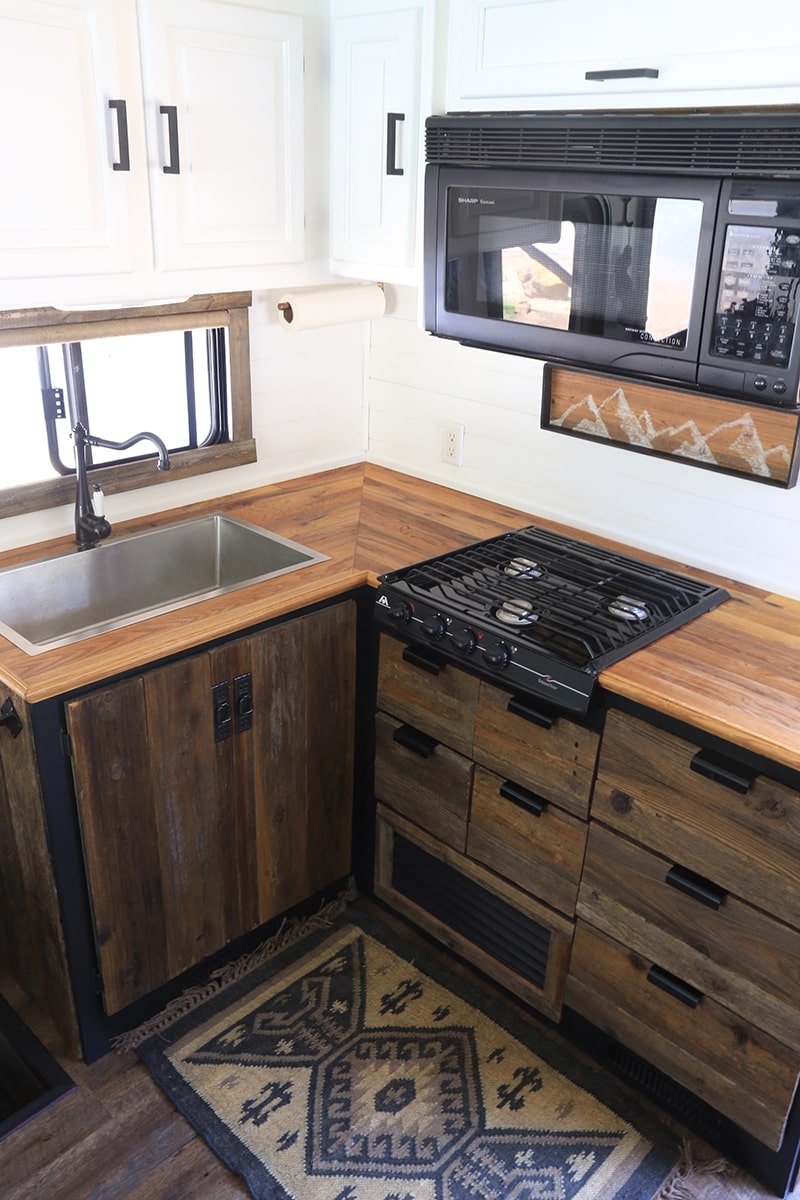 I was even able to use some of the leftover reclaimed wood to make a cookbook stand. In case you're wondering, we didn't stain the wood and just used General Finishes High-Performance Top Coat in Satin. It did slightly darken the wood a tad, but not too much.
You may notice that I also switched out the upper hardware to these. To be honest, they aren't the best quality but are pretty light, which can be a good thing for inside the RV.
I hope this post has inspired you in some way, and at the very least shown you how a typical RV can be transformed into your very own tiny home on wheels!
Kitchen Update:
We did end up staining the countertops black, which flows much better with the reclaimed cabinets. This is something I had planned for prior to updating the cabinets, and now I love the overall look of our tiny, rustic kitchen!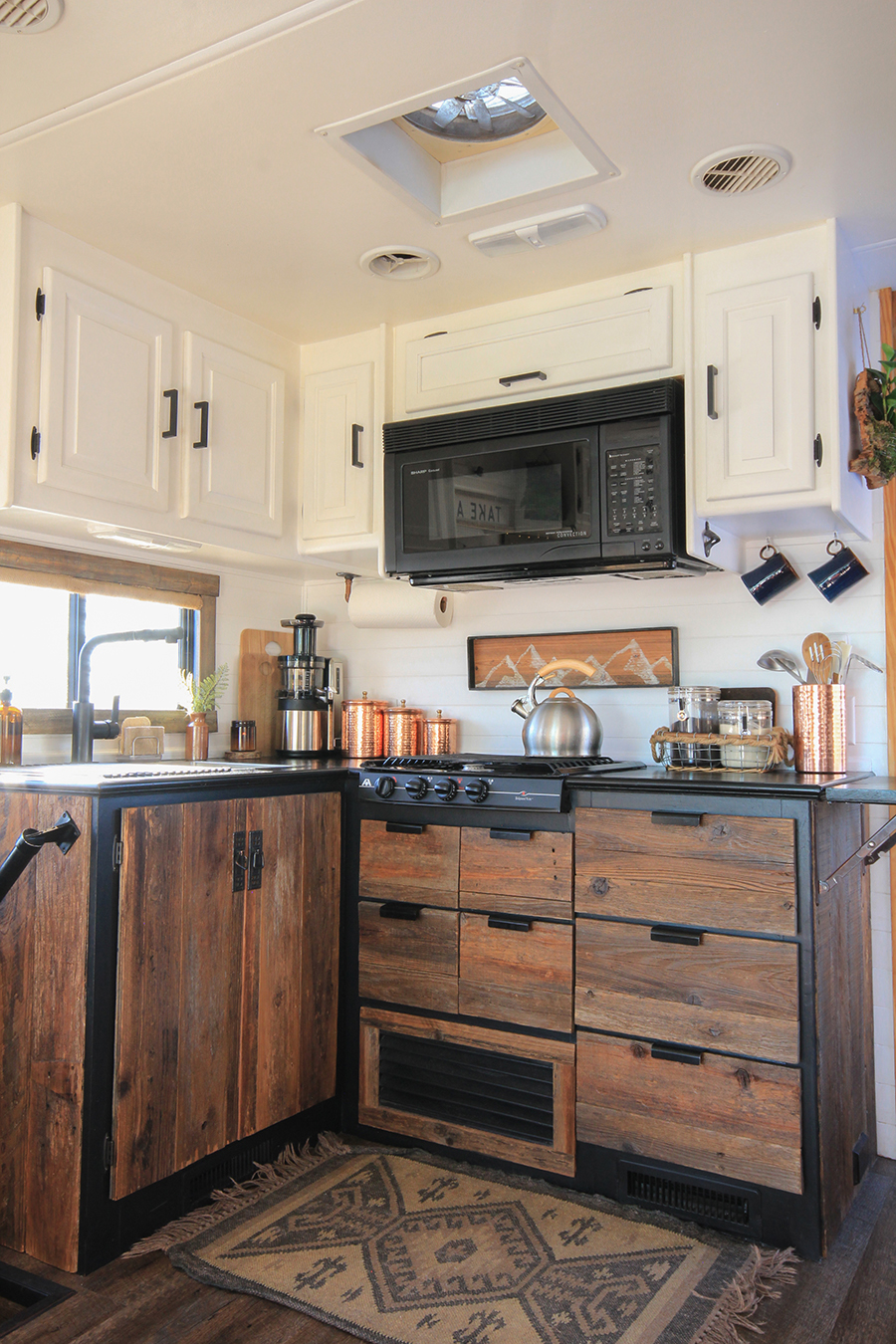 Painted Tongue and Groove Backsplash
How to Make Wood Counters from Flooring
---
Have you renovated your RV kitchen or have plans to do so in the future? Tell us about it in the comments below!
---