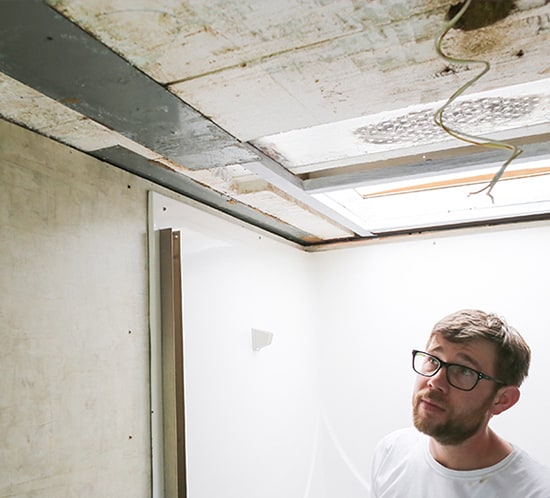 How we Replaced the Ceiling Panel in our RV
One of the biggest projects we tackled last month was installing the new ceiling panel in the RV. This was the suckiest project to date and yet possibly the most gratifying.
As you may know, a few months after we purchased our RV last year, we discovered a water leak coming in through the skylight. This really freaked us out because while we were planning to renovate our motorhome, we hadn't planned on tackling such a daunting task. We're just happy we found it before we started any big projects.
For those that are new here, we purchased a 2008 Tiffin Allegro OpenRoad 32LA , which we are transforming into a rustic-modern motorhome. You can read more about that here. 
We had spent quite a bit of time cleaning up the damage, re-caulking everything to prevent future water issues, and installing the new skylight. However, the massive ceiling panel we had to have delivered on a freight truck just sat in our garage for months intimidating us every time we walked past it.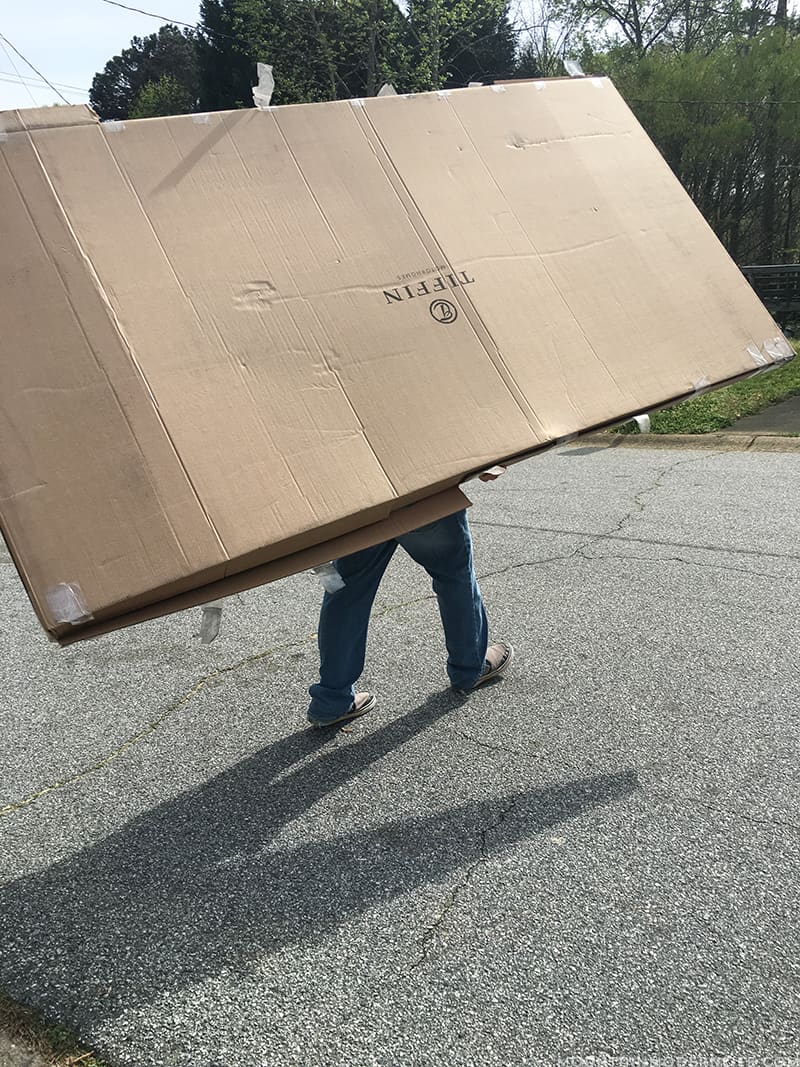 It was probably our scariest project to date just because we've never replaced a ceiling panel, especially one inside a RV that just so happens to be located between the kitchen AND bathroom with a nice pipe going through the wall. Fun stuff.
There was lots of measuring, then re-measuring, then re-measuring again before cuts were made, and there may have been a number of swear words even Abraham of The Walking Dead would be proud of. Needless to say, we are super stoked to finally have it up, woo-hoo!
Eric was a champ and did most of the hard work so I'll let him explain how we replaced our ceiling panel. It may not be the most exciting project, but we are excited to have it done, that's for sure!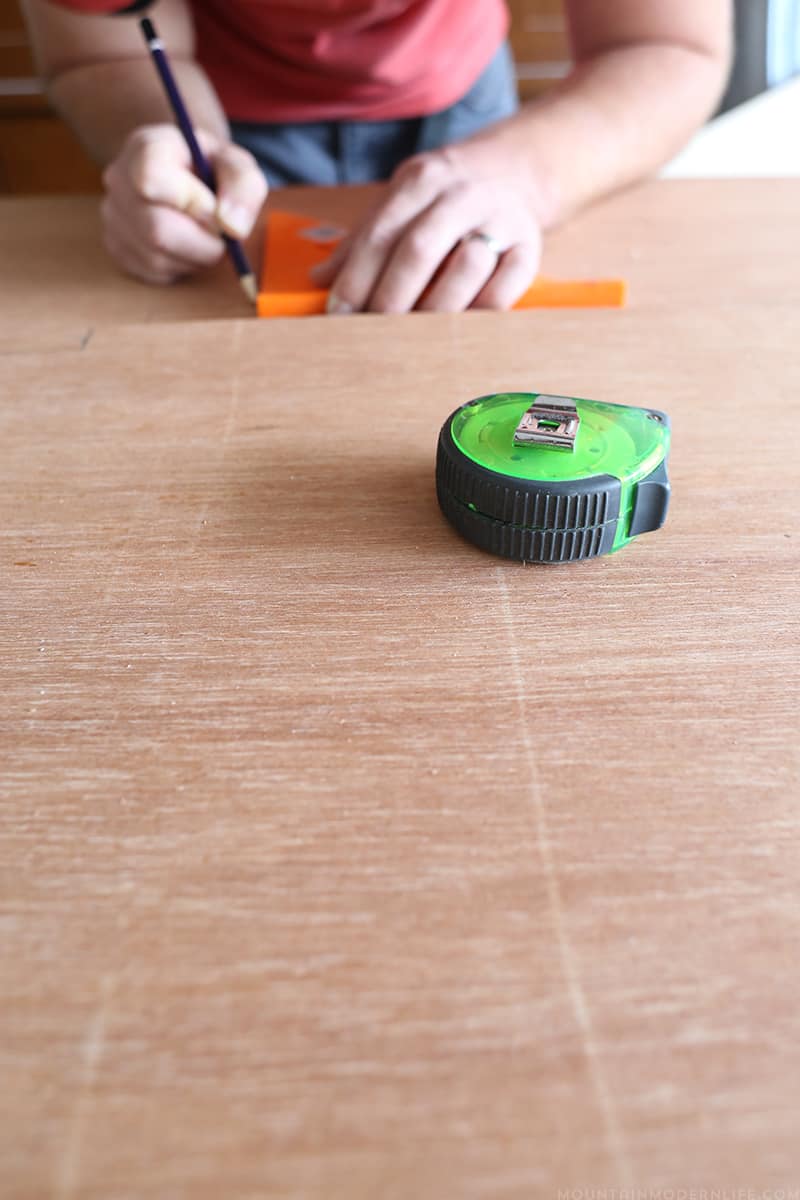 How we Replaced the Ceiling Panel in Our RV
Below we will explain how we replaced the ceiling panel in our motorhome. We are not professionals and replaced our ceiling panel to the best of our ability with the guidance of our manufacturer. As with any RV project we recommend you check with your manufacturer for best practices, this way you will at the very least get information straight from the horses mouth so to speak. Also it is important to understand that all RVs are created differently and some aspects may be different for your unit. With that said we hope the information below is helpful for you and your project.
You can watch our short video below:
---
Some Useful Tools:
This post may contain affiliate links for your convenience. View our full disclosure here.
---
Once we realized we had water coming in through our bathroom skylight we immediately placed a tarp over the roof and called Tiffin, our RV manufacturer. They were very helpful in walking us through how we could go about replacing the panel, but there is only so much you can do over the phone.
Once I was done with the call Katie and I stood in our bathroom, looked at the damage and considered our options.
Option 1:
Have it repaired professionally. Considering our damage was not covered by our insurance or warranty it ended up being a bit out of our budget.
Option 2:
Leave all of the walls and furniture in place and cut the new ceiling panel into various pieces, then put them in place.
Option 3:
Take out all of the walls and cabinets then place the new ceiling panel in place as a whole sheet.
Option 4:
Create our own option by mixing together options 1 and 2.
I wasn't a big fan of cutting the panel into many pieces and fitting them around the walls that were in place. I couldn't convince myself it was the best option, it may have very well been the easiest, but I felt either of the other options would be more secure.
So, we stood back and looked at it again, realizing there were a lot of items we were going to be redoing, such as the bathroom sink and linen closet. As we stood back and looked we decided it was going to be best to remove the walls and fully replace the panel in it's entirety.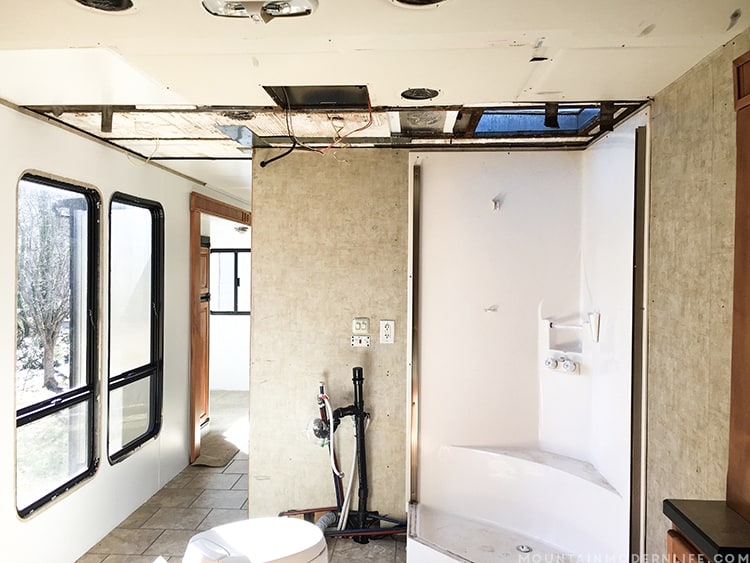 Once we arrived at the main kitchen wall (the wall still up in the photo above) we hit a couple of snags, namely the water heater, and heater were both installed against the wall in the lower kitchen cabinets. We looked at the situation and decided we could cut the panel into two pieces and still have it seem as if one full sheet had been replaced.
When looking at our ceiling with the old panel removed we realized we had two walls that could essentially cover both the cuts we would have to make. One wall being the main kitchen wall, the other being the hallway/bathroom wall.
Side-Note: We knew we would not be removing the kitchen wall, however we thought we may be able to slide the new panel (still in one piece) above the wall while it was still in place. Turns out though we have a pipe running all the way up into the ceiling, so we were not able to do it that way. We decided to make the two cuts.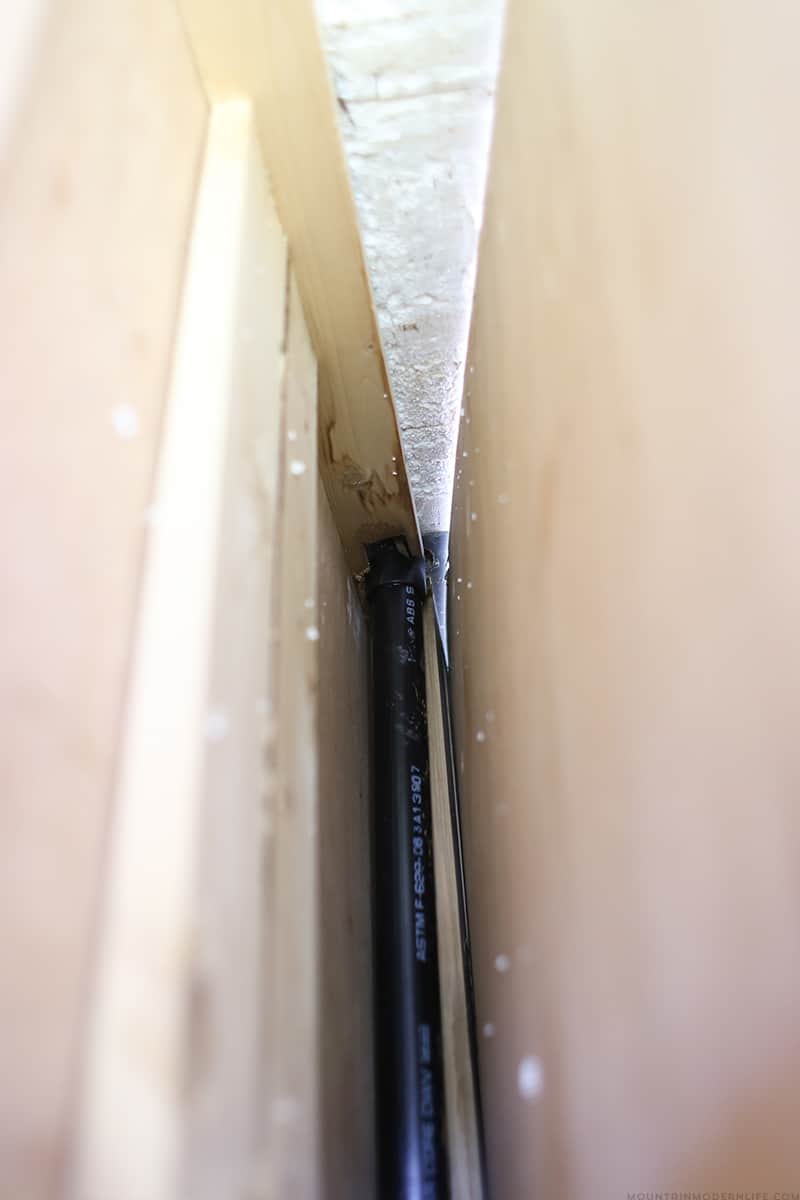 Let me say that if you are replacing any panels that are not sandwiched between walls, this task will be MUCH easier for you. The damaged panel in our RV just so happened to be located in the most difficult spot. Go figure.
I went ahead and measured the distance from the edge of the panel to the middle of the kitchen wall (insuring the cut would be hidden under the wall). I also chose to do this because the wall would help act as a brace for the two pieces of paneling we would have after the cuts.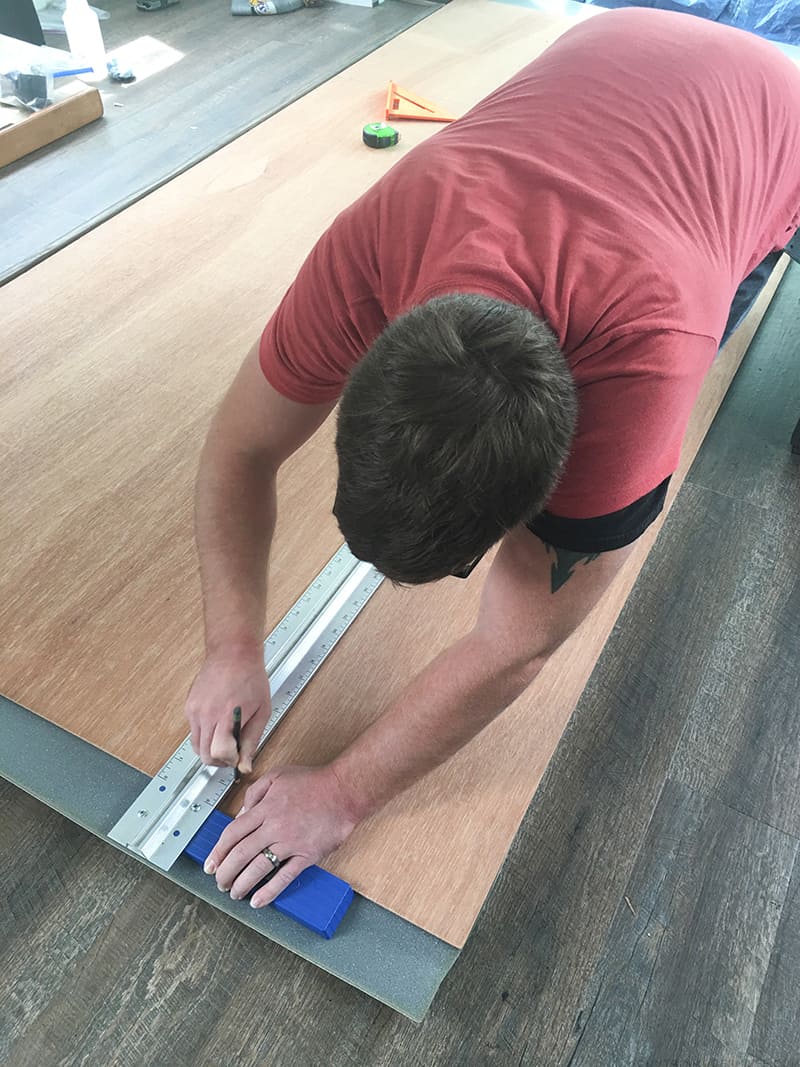 Now I measured from the outside wall to where the hallway wall will be once we put it back in place. Same reasoning behind this cut as the other, to make sure when the hallway wall was put back in place it would line up directly with the cut we made in the ceiling panel.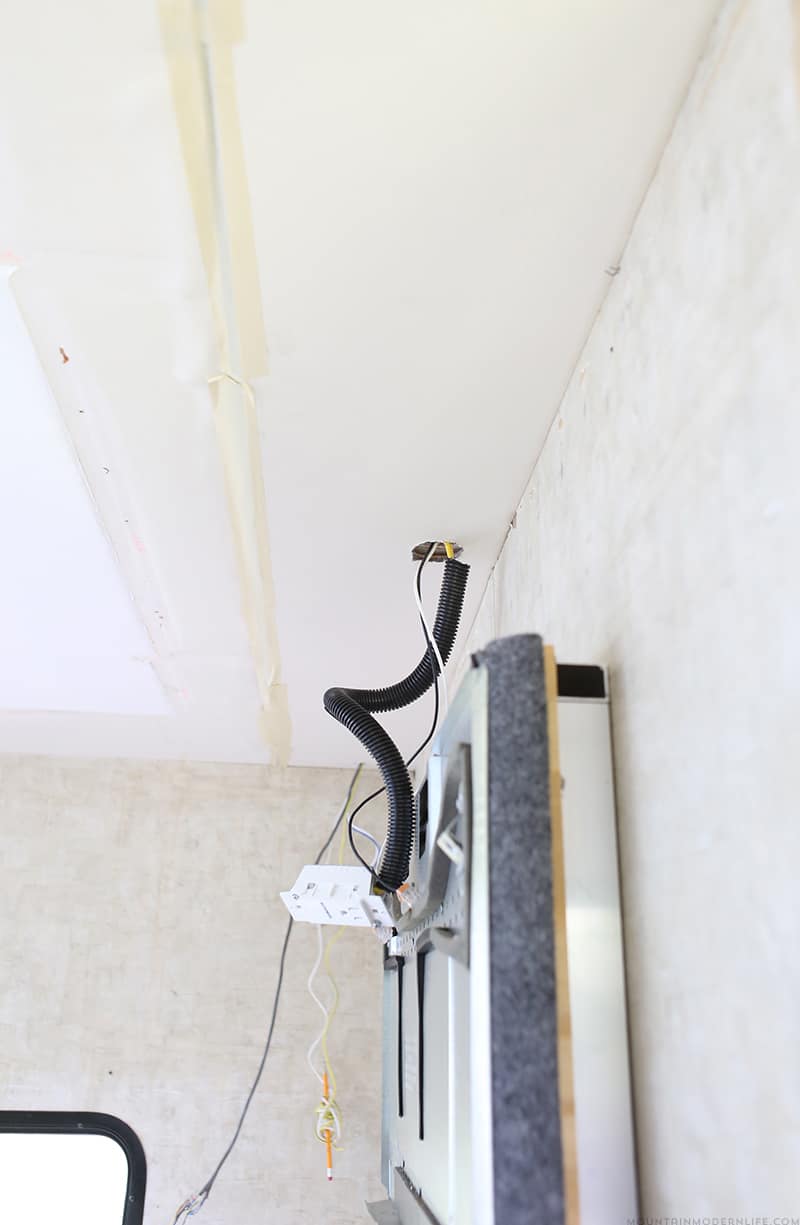 (in the above picture you can see that the panel goes underneath the kitchen wall, creating support while also hiding the cut we made)
So now we have two pieces of panelling and we know where they are going to go, but what about the vents, skylight opening, and wires that need to come through the ceiling panel?
It is best to get those spots measured and pre-drilled before you put the panel up. When I was going through this step I choose to always measure from the panel edge that I did not cut, insuring that it is straight edge. I also followed the old adage to measure twice and cut once, but to be honest I probably measured every spot 4 or 5 times maybe even 10 times, haha.
I marked my measurements on the wood panelling side of the ceiling panel so as not to make a mistake on the white vinyl side.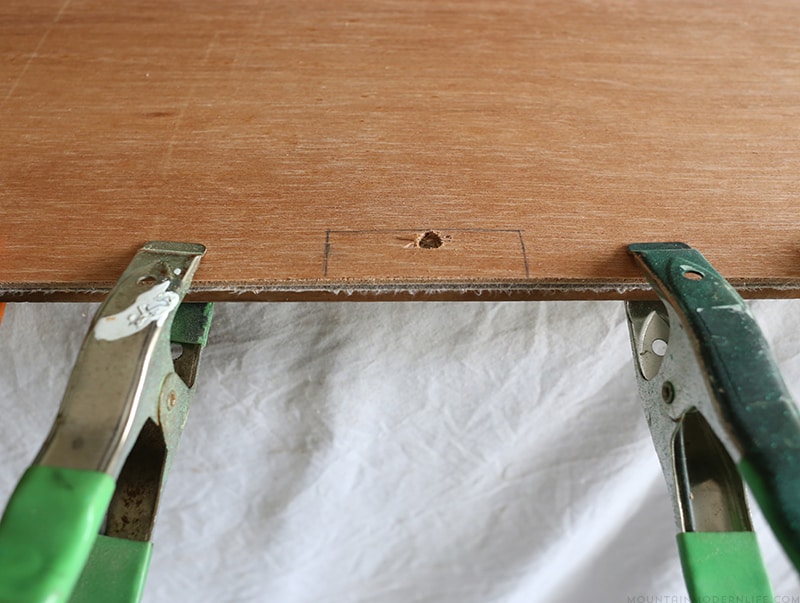 Side-Note: There were a couple of wires that came through the ceiling and went into the wall. Instead of disconnecting the wires, I made a simple cut with my circular saw to the pre-drilled hole so that I could slide the wires into place. You may want to disconnect the wires first, and that would be perfectly fine, I would say use your best judgment and do what seems right to you.
Once my measurements were good to go, I used a drill bit that was smaller than the actual size I needed for each hole. I did this so that I could put the panel up and make sure my marks were right with the thought that if they were wrong I could then use the right size bit and correct one way or another if necessary. Good fortune was on my side and all the measurements were correct.
For the spots where wires needed to come through I used a bit big enough to slide them through.
For the vent covers and skylight openings I used a drill bit large enough to allow my JigSaw blade in. I opted to get the panel in place and secured before cutting out the larger openings, I did this because I didn't want to pre-cut then come to find out it wasn't lined up correctly.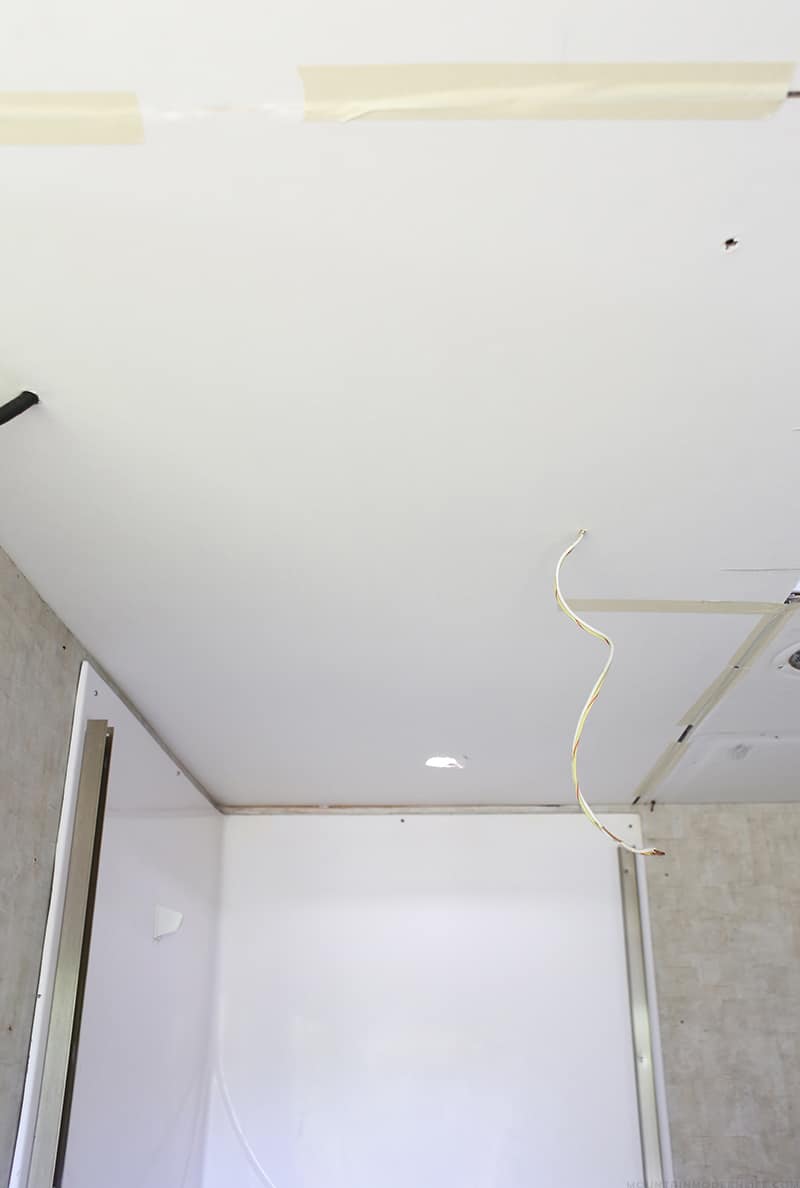 In order to secure the panel to the ceiling we used 3M 90 Grade Spray Adhesive, along with the kitchen wall putting pressure on the edges. Before we put the adhesive on and placed the panels we actually needed to cut a very slight of the edges off. Once we had that accomplished the panels slid up into position, and we knew they would fit.
We took our spray adhesive and covered both the ceiling and wood backing of the panel, gave it a minute to become tacky then pushed the two pieces together.
Once up and secure I used our jigsaw to cut a bigger circle, then used the reciprocating saw to get closer to the edges. Looking back on it I would probably  not use the reciprocating saw if I did it again, I would use a Dremel Router tool, or even just continue on with the Jigsaw.
Once I was closer to the edges I went back to the jigsaw and cut the panel nice and close to the openings.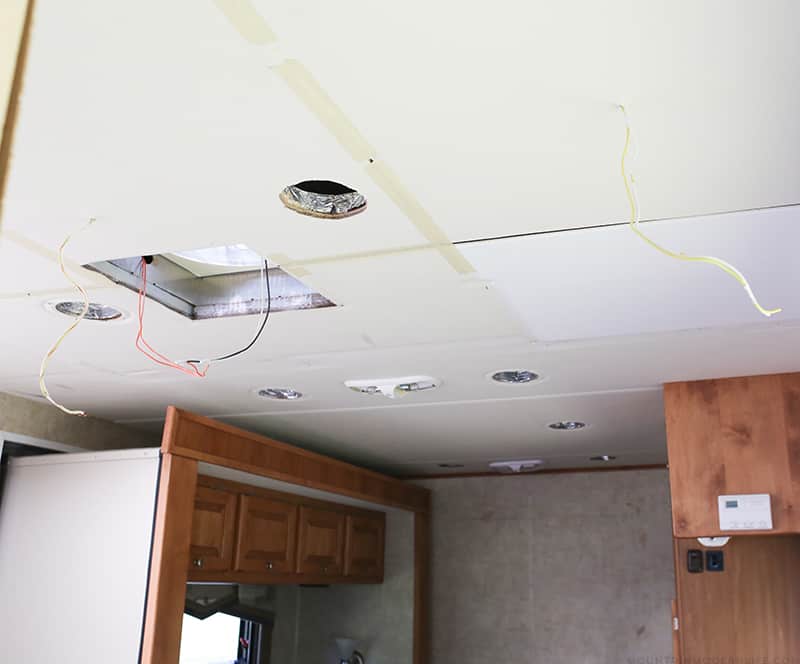 The ceiling panel is now in place, YAY!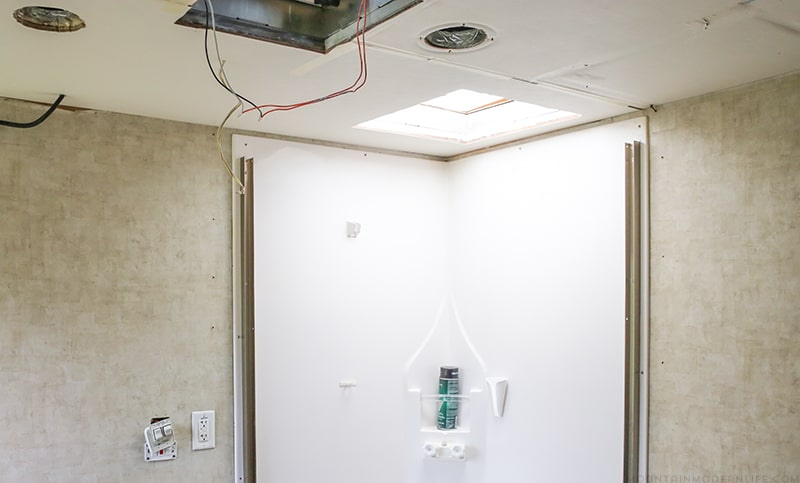 As you can see in the above two pictures, we have tape over where the vinyl strips snap into place in between the panels. We put the tape up until we had the vinyl strips painted and ready to be put back in place.
We actually replaced the ceiling panel back in early April, but were kind of busy with other renovation projects. But we have had a little time to get all of the vents back in place. Below you can see a picture of the panel up and ready for the walls to be put back.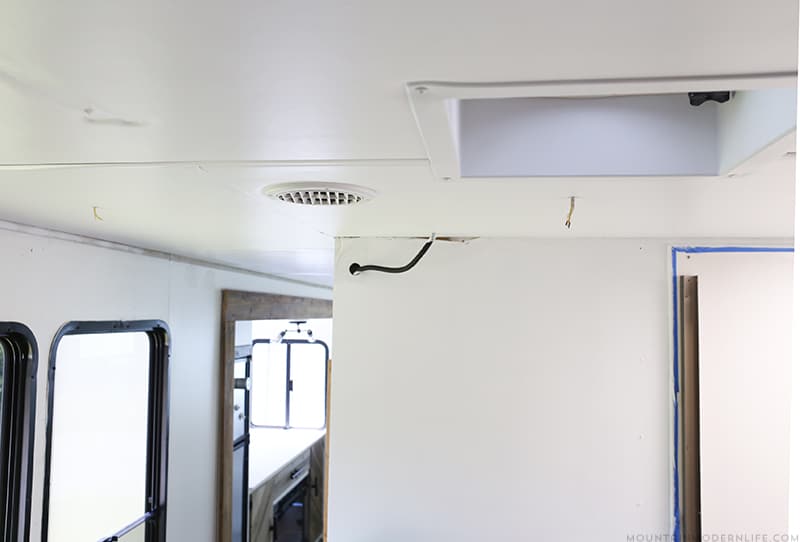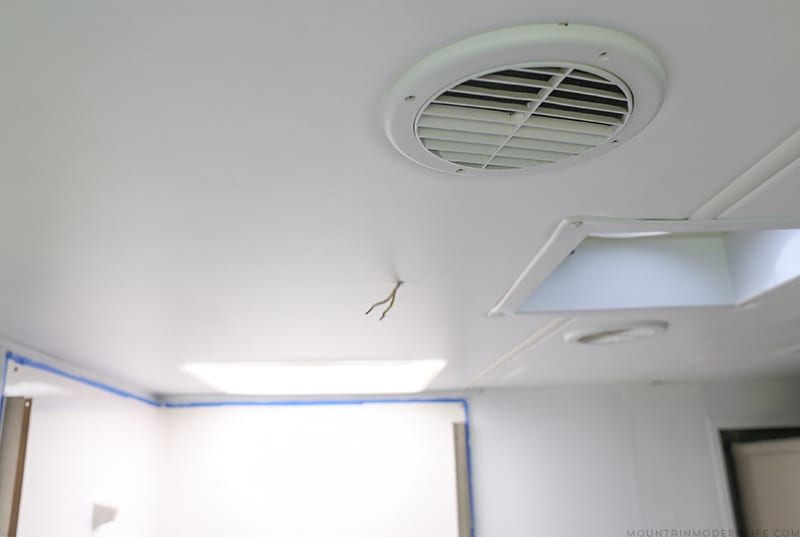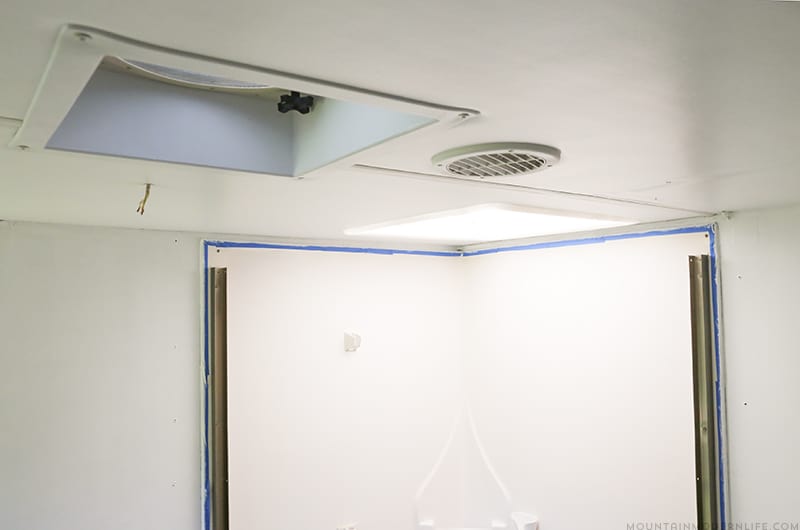 I hope this information was helpful in your project. If you have replaced the ceiling panel in your RV and have any tips to share we would love to hear about it below.
---
Looking for RV or travel inspiration? You can find all of our RV-related posts here and don't forget to check out our RV tours, Decor Resources, and YouTube Channel! Curious about how we make money on the road? Click here.
---