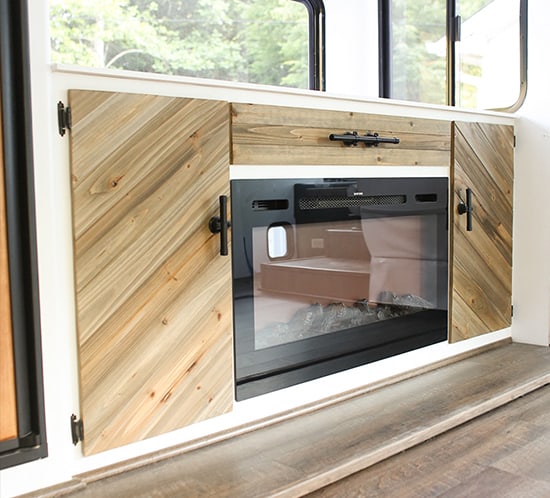 DIY Rustic Modern RV Media Cabinet with TV Lift
Disclaimer: This post may contain affiliate links, meaning, if you click through and make a purchase we may earn a commission. This is at no additional cost to you. View our full-disclosure here.
We officially have a new favorite project and it's our rustic modern cabinet with a TV lift. We've been sharing sneak peeks here and there but are so excited to finally share the finished cabinet with you, with the lift mechanism and electric fireplace in action.
It may be surrounded by unfinished projects, but it still looks oh-so-pretty. The TV lift is like magic and the fireplace makes the RV feel so warm and cozy.
Rustic Modern RV Media Cabinet with TV Lift
We teamed up with Touchstone for this project and they helped bring our vision to life. You can read more about why and how we built the media cabinet inside our motorhome here, but today we just want to sit back and stare at our multi-functional, rustic modern cabinet.
Whether you are looking for a clever way to hide your TV, an affordable way to add ambiance to your home, or just a really awesome multifunctional piece of furniture, we hope you can draw some inspiration from this cabinet.
Watch the Video:
Check out in the video below to see these components in action:

Here are the products we used for this project:
The Whisper Lift™ II PRO – Touchstone's Advanced TV Lift Mechanism
The Sideline36™ Touchstone's 36 inch Recessed Electric Fireplace with Heat in Black
---
Let's take a look at the before once again, as the media cabinet we built took the place of the dinette booth that was previously there: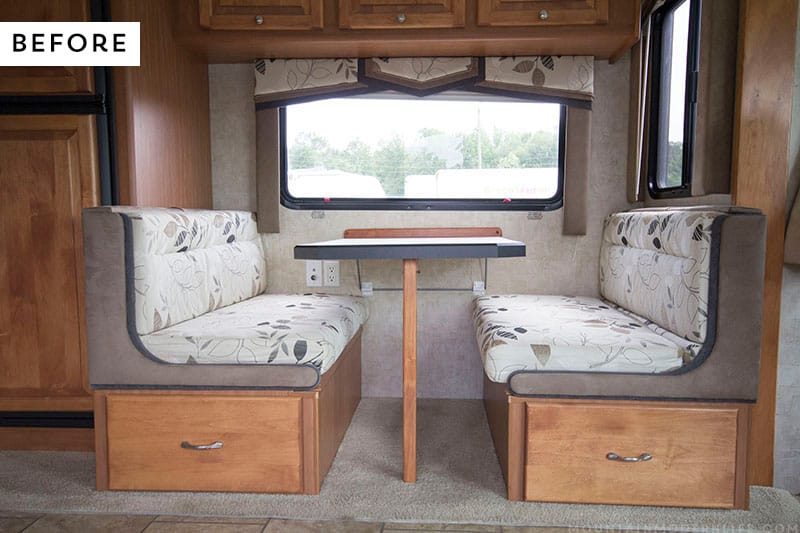 We won't be hitting the road until July 1st so we won't be officially moving the TV into the RV until then, but we went ahead and mounted it to the lift mechanism to show you how it will work and look.
Mounting the TV is super easy. All we had to do was install the mounting brackets that came with the lift onto out flatscreen. We then removed it from the stand and hooked it onto the brackets that we installed on the tv lift. There are also mounting clips included that will lock the TV into place. You will likely want to have someone help you when mounting or un-mounting it from the lift mechanism.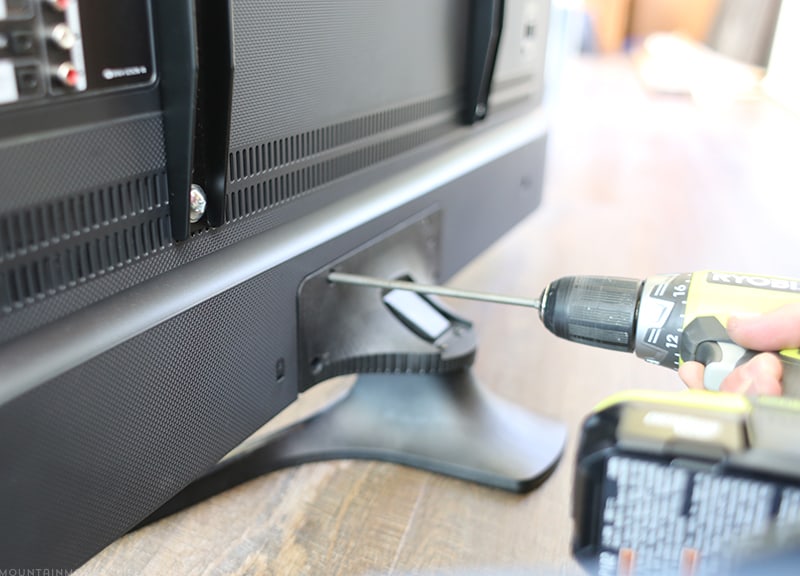 This is what the TV lift looks like raised out of the cabinet: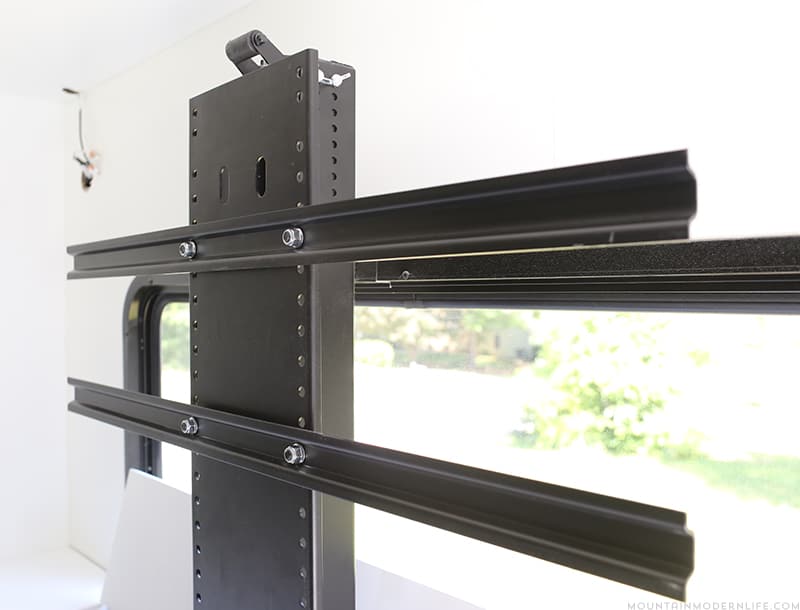 And here it is back inside the cabinet with our TV attached: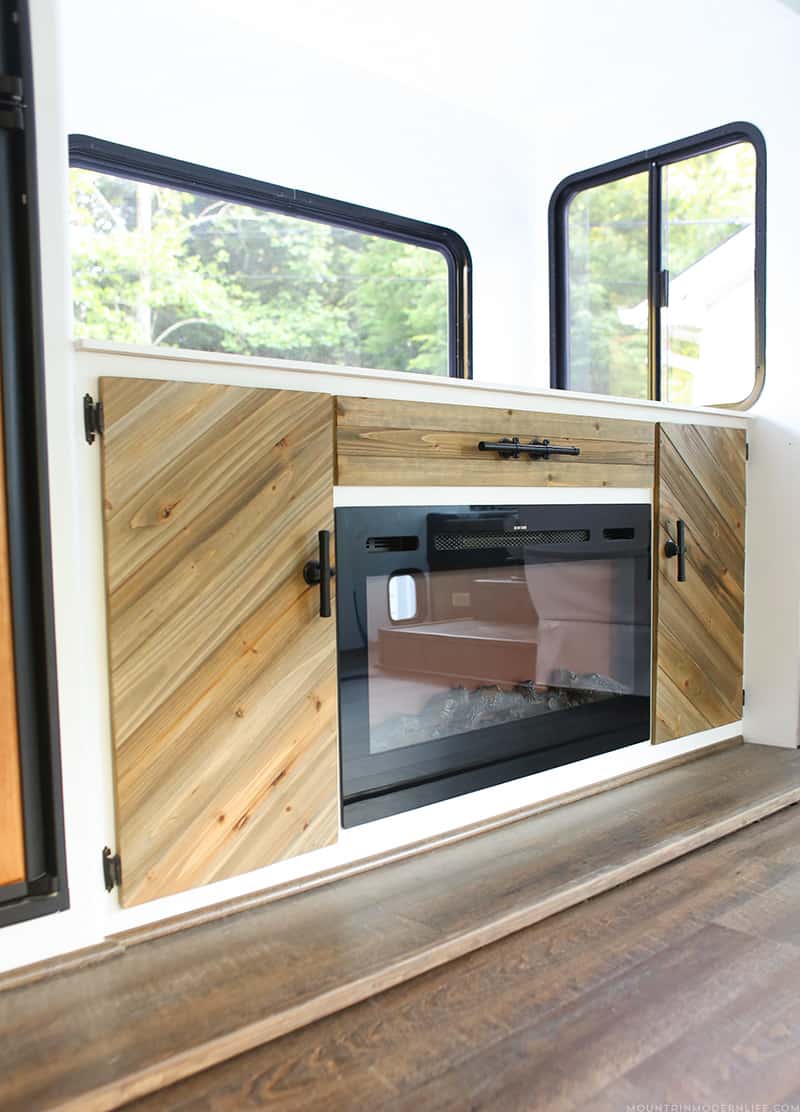 By the way, you don't have to use this lift mechanism for your TV. You can get the add-on component shelf and use the lift to raise just about anything like kitchen appliances, computers, etc.
We originally planned to use reclaimed wood for the cabinet doors but I had trouble finding some that were thin enough and in our budget. I actually purchased some wood online and paid extra for expedited shipping but didn't get it in time so I had to come up with an alternate plan, which I actually think worked out for the best.
The middle drawer opens up to an extended table/desk. Despite cutting the cabinets a bit crooked (oops), they were super easy to make.
After searching for the perfect drawer pulls I actually "borrowed" some from our nightstands and painted them black.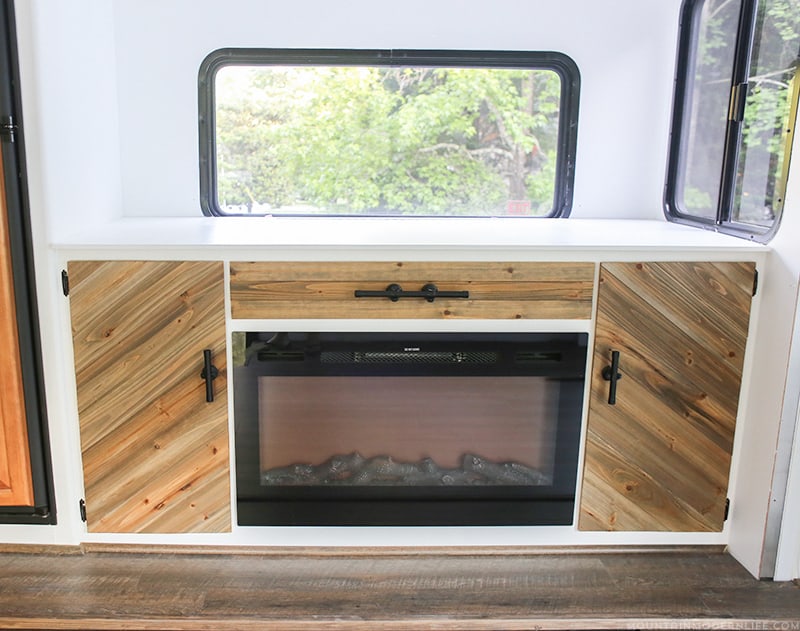 Here's the cabinet with our new fireplace turned on. It comes with a remote control which is pretty handy and you can choose to have it with or without heat.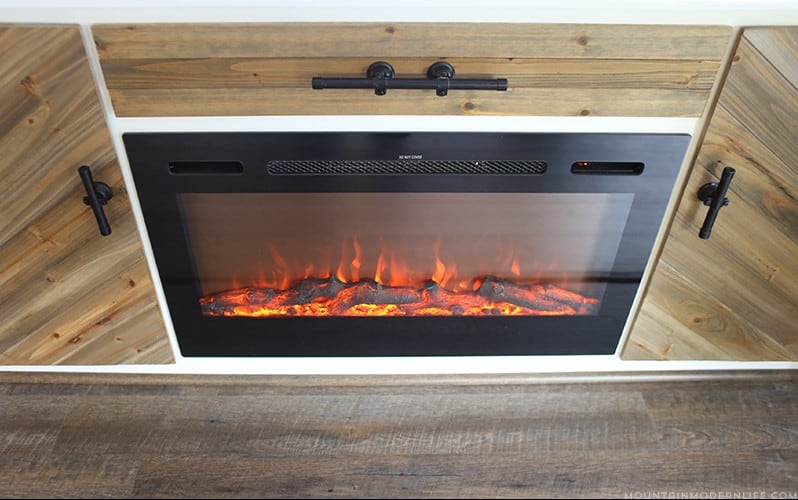 Then it was time to raise up the TV, which also comes with a remote. We went with the Whisper Lift II Pro Advanced and we used the memory height option so that it would stop exactly where we wanted it.
This specific lift also comes with an IR Repeater Kit so that we can use a remote for any audio/video components that are stored inside the cabinet. We haven't installed any of those components yet but will share an update once we do.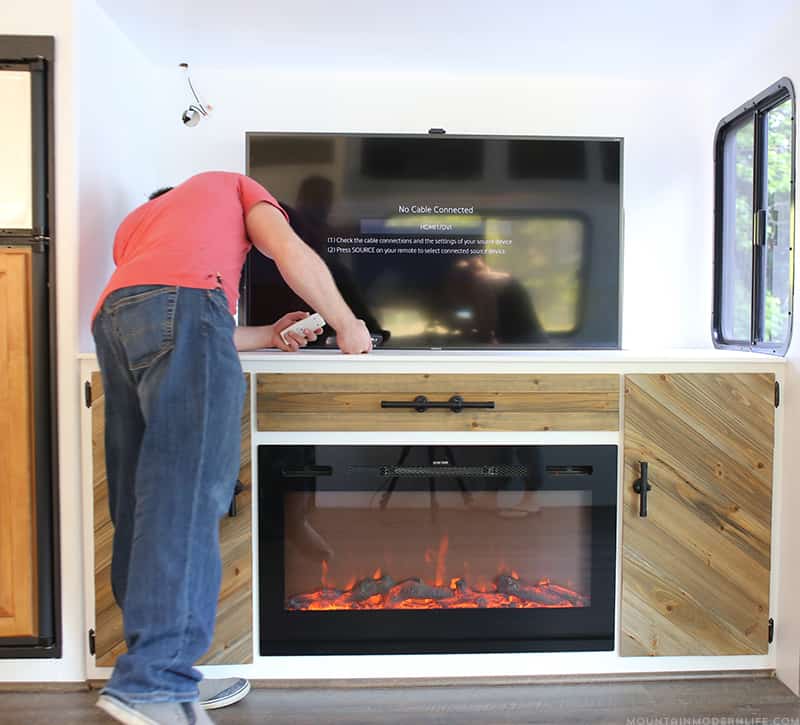 We thought it would be fun to pull the website up on the TV, and it looked awesome in person, but is kind of hard to see in the photo below.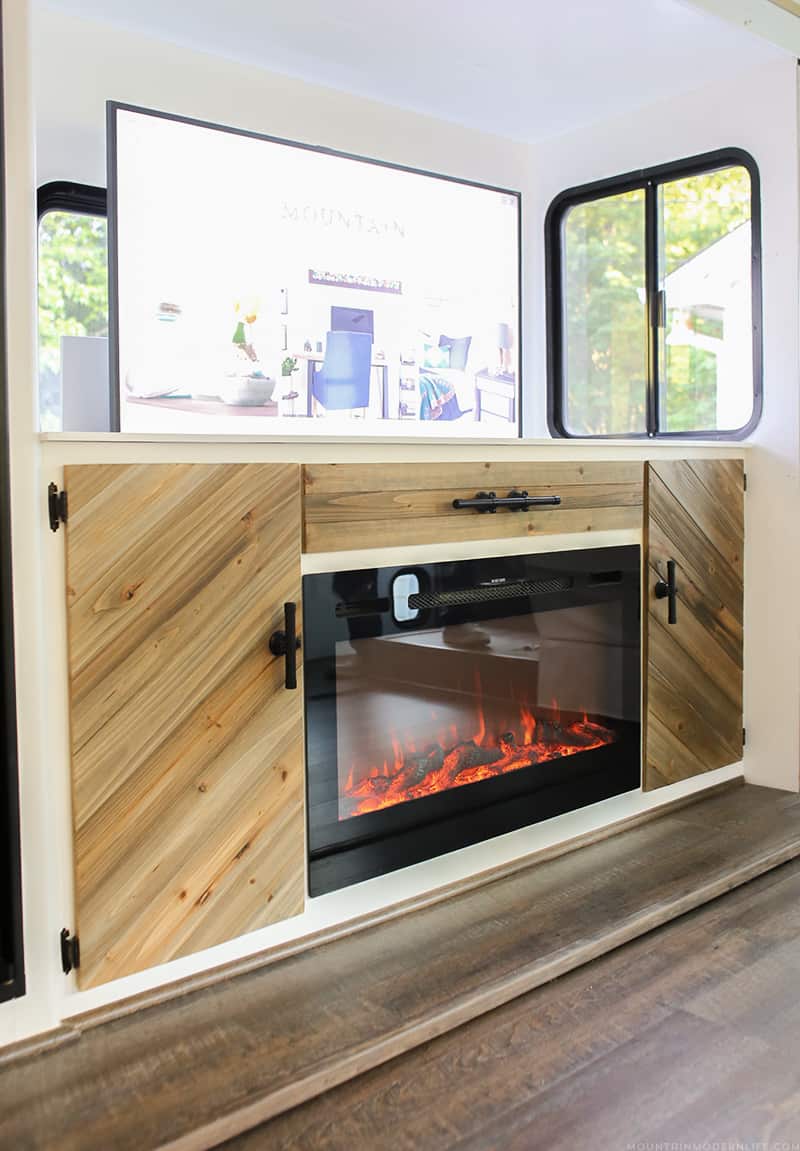 We are such dorks but have had so much fun showing our new cabinet off to family and friends, and everyone that comes over can't wait to check it out in person.
I'm super lucky to have Eric who really helped bring this idea to life. Despite all of the challenges, setbacks and moving parts, this project was incredibly rewarding.  Not to mention it's something we will be using on a daily basis, especially since our dining table and desk are hidden in there.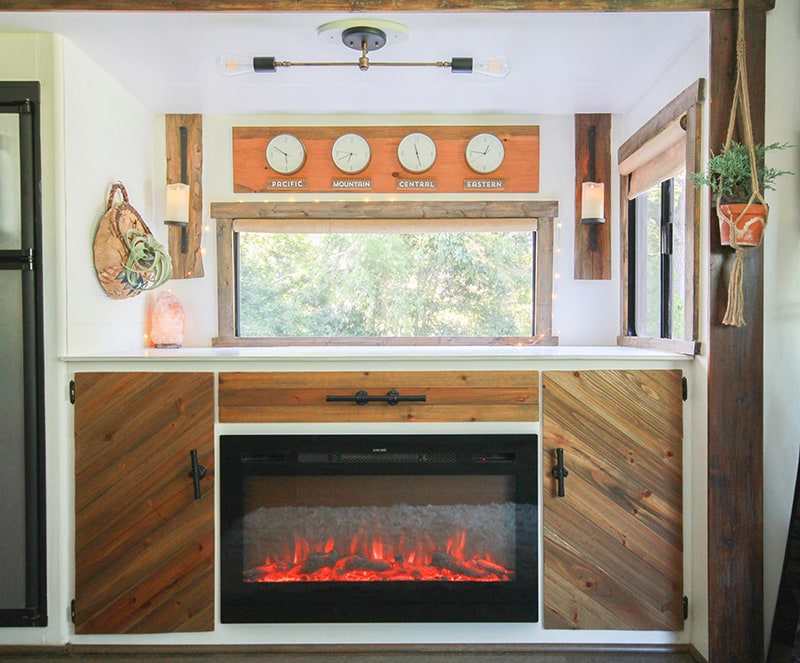 Are you are planning to add a TV lift or electric fireplace to your home, apartment, or RV? If so we would love to hear about it in the comments.
We really enjoyed working with Touchstone on this project and honestly can't say enough good things about their products and service. Back when we were doing research on TV lift mechanisms, they really stood out to us with their affordable products, warranty, and glowing reviews, which was really important to us.

Be sure to check out the posts below for additional information on how we built our custom RV media cabinet:
Be sure to visit them at the links below for more information on their products. They also have some really helpful videos on Youtube.
Touchstone's Website | Facebook | Youtube | Pinterest | Twitter | Houzz