How to install a TV Lift inside an RV (and an electric fireplace!)
Disclaimer: This post may contain affiliate links, meaning, if you click through and make a purchase we may earn a commission. This is at no additional cost to you. View our full-disclosure here.
If you've spent any amount of time looking at RV floor plans, then you know the TV set-up in many older models is awkward, to say the least, as you have to turn your neck just to see the tube. Sure we plan to spend a decent amount of time outdoors, but that doesn't mean we don't like to cozy up in front of the tv for a good movie, or an episode of Game of Thrones.
With that said, this would have been difficult with the layout of our motorhome, as the main TV is located above the windshield in between the driver and passenger seats.
How to install a TV Lift inside an RV (and an electric fireplace!)
That's why we decided to re-adjust the space planning to create a cozier environment with more of a living room vibe. What's funny is we knew we wanted this sort of setup back when we were researching RV's and narrowed down our search to models where the dinette was located across from the sofa. I even created an excel spreadsheet to keep track of which manufacturers and models had this type of floor plan within our budget.
If you are looking at newer coaches, you are likely to find this type of set-up as it's a bit more popular these days, but it's a bit trickier to find in older models.
Another reason we chose our RV, a 2008 Tiffin Allegro Openroad 32La, was because of the amazing amount of windows it has throughout.
However, with limited wall space and natural light at a premium, we came to realize that the best option would be to install the TV on a lift.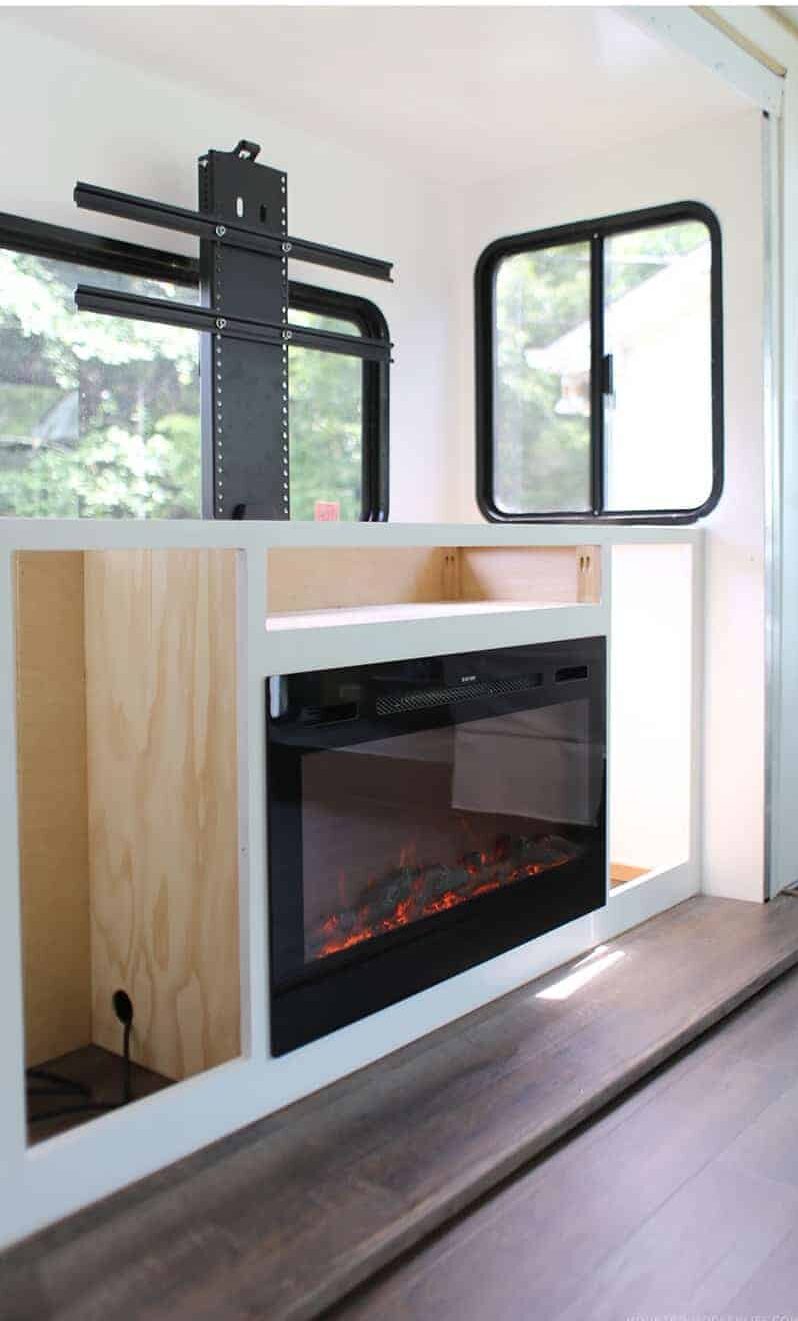 This way it won't block any windows when not in use, can be securely hidden, and will allow us to create a multi-functional area for lounging, working and eating.
Removing the Dinette Booth
To do this we first removed the dining booth that came stock in our RV and designed a custom-built media cabinet in its place. You may have caught some sneak peeks of our custom media cabinet if you are following along with our One Room Challenge.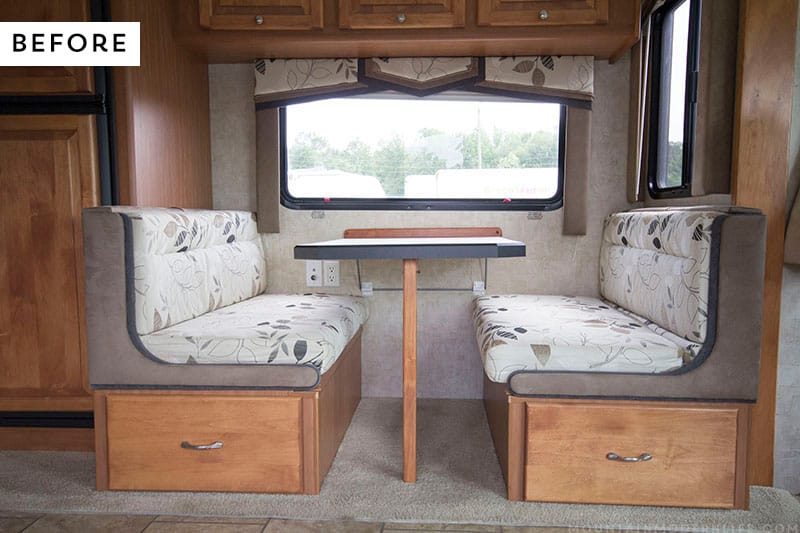 Here's a photo showing the booth removed and new flooring installed. We had also removed the cabinet above it to provide more clearance for the TV (Eric wanted as big of a TV as we could fit, haha).
Once we made the decision to build a custom media cabinet for our TV Lift, we figured we might as well include an electric fireplace. I mean that will really make it feel like home, don't you think?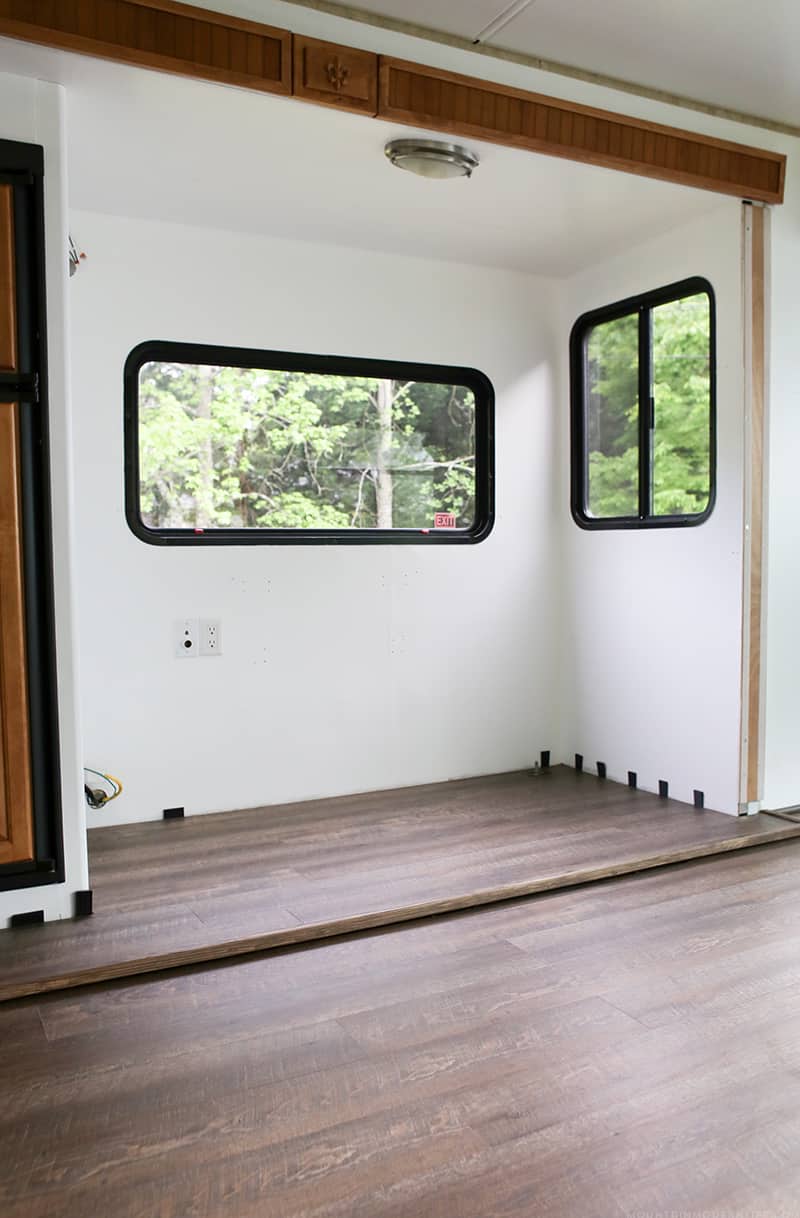 We are super excited to have teamed up with Touchstone for this project and honestly can't say enough good things about their products and service. Back when we were doing research on TV lift mechanisms, they really stood out to us with their affordable products, warranty, and glowing reviews, which was really important to us. They even had one of their lifts featured on House Crashers.
I played more of the design/assistant role in this project so I'll let Eric explain how we installed these components in our motorhome.
If you're looking for some ideas on installing a TV lift or electric fireplace inside your RV, we hope the information below will help guide you along the way or at least provide some inspiration on where to start.
Installing a TV Lift and Electric Fireplace in Our RV
Today I'm going to share some information on how we installed a TV lift and an electric fireplace in our RV. We wanted to show you the frame of the cabinet to give you a better sense of how we built it and how the components fit inside. However, we will be sharing the finished cabinet with you this weekend so be sure to check back then.
You can also watch a quick video I made that highlights how the TV lift and electric fireplace were installed in our cabinet.

Here are the specific products we used for this project:
---
Every motorhome is different so keep in mind that the sizes along with voltage and weight restrictions can vary from one to the next. With that said, this is more of an inspiration post to give you some ideas on how you can create a custom media cabinet with a TV lift and/or electric fireplace inside your home or RV.
If you are going to install either of these components in your sticks and bricks home then you won't have nearly as many challenges as we did since you won't have to deal with weight restrictions.
Installing the lift and fireplace is a fairly easy job so anyone can do this. If you have any questions during the installation process you can always contact Touchstone and they can help you along as well.
Build vs. Buy
If you'd rather skip the building process you could retrofit the lift or fireplace into an existing cabinet or even purchase a cabinet from Touchstone with one or both of these items already installed.
TV Lift Mechanism out of the Box
As you can see, the TV lift comes pretty much assembled out of the box. All you have to do is attach the tv mounting brackets and connect the power cables.
We went with the Whisper Lift II Pro Advanced which comes with an IR Repeater Kit so that we can use a remote for any audio/video components that are stored inside the cabinet. It also has height memory so we can customize the height we want it to stop at, which is pretty awesome.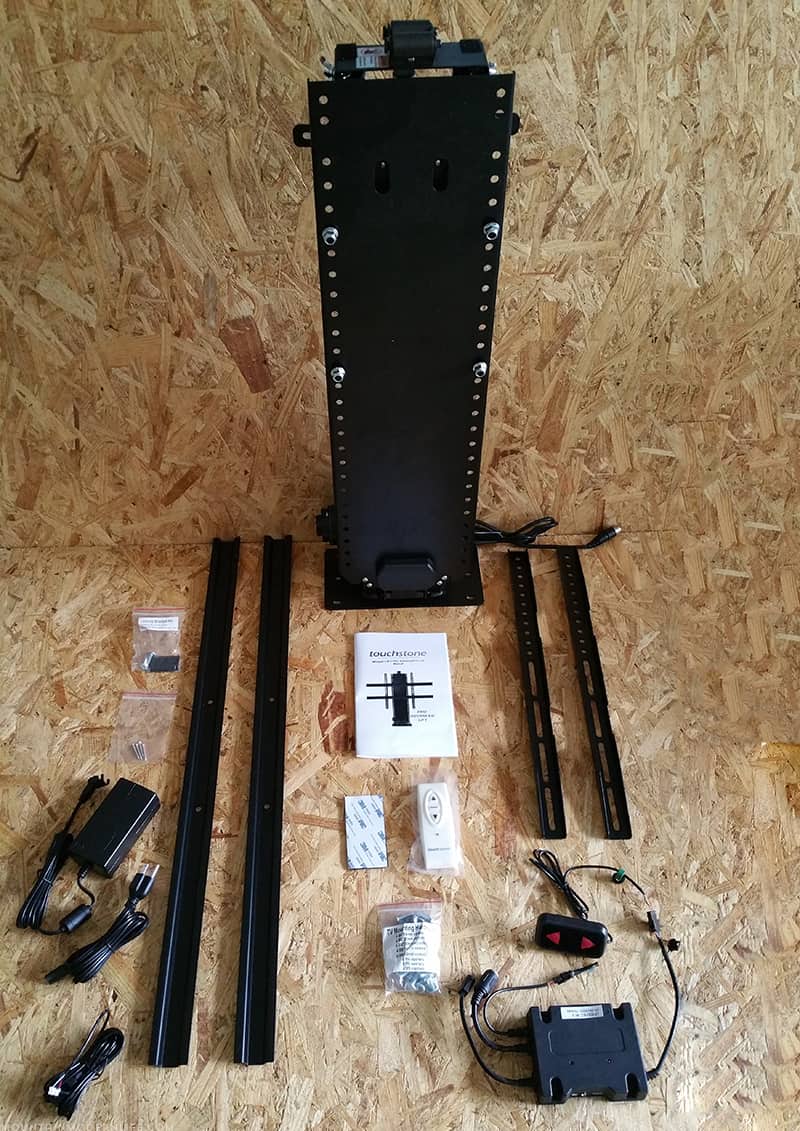 Drop Down or Pop Up
This TV lift can actually be used as a drop-down or pop up. We used it as a pop-up, but depending on your situation you may prefer to have it come down from a cabinet instead.
Coming up with a plan
Once we had our design sketched out on paper,  I came up with a plan on how to build the frame. Having never built anything like this before, I thought it would be best to create a to-scale sketch-up plan using the garage floor and some chalk.
I made sure my drawing was the same size as the finished product would be. The white outline of chalk I drew is 3/4 of an inch thick because that is the thickness of our wood. From this point, I brought out the TV Lift.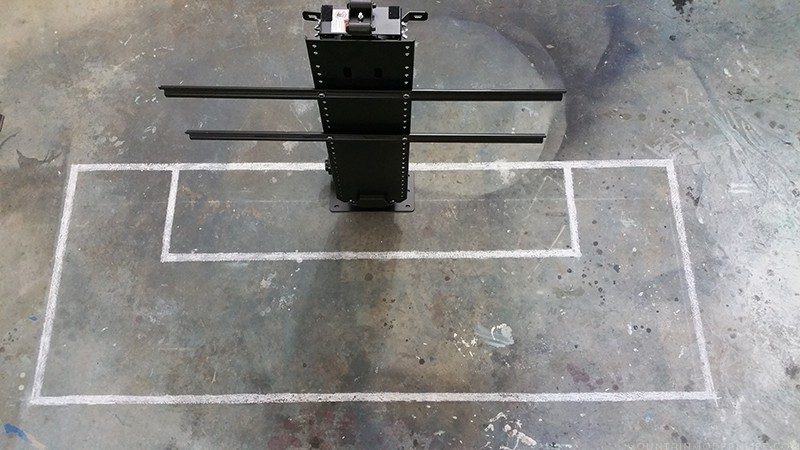 Once I had the lift in place I created a rough outline of the space I would need with the TV installed on the lift.
Now it was time to bring the fireplace into the equation.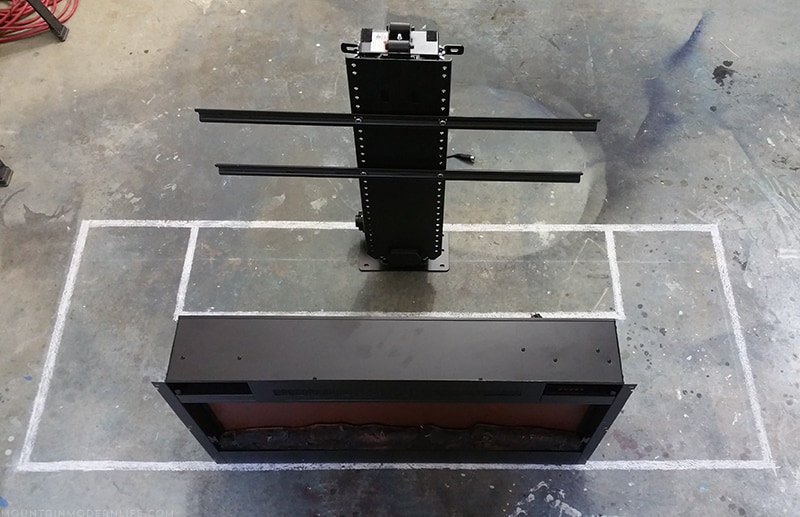 Since we now had an exact replica of the cabinet drawn in chalk on our garage floor it was time to begin the construction.
When weight matters
With us building our media cabinet in the slide-out of our RV it was extremely important to keep an eye on the weight we were going to be putting in the slide-out (you should consult your owner's manual or your manufacturer if you have any questions, considering all RVs are different).
In order to keep the weight down as much as possible, we decided to use cedar 1X2's to make up the majority of the cabinet frame. Cedar is a really lightweight wood but also has some strength to it.
Make sure you pre-drill any holes first since cedar is a softer wood and more prone to cracking.
We also used a couple of common board 1X4's to add strength and keep both weight and cost down. I got this idea from looking at the kitchen cabinets in our RV. As many of you may know we are in the middle of a remodel in our coach and currently do not have a countertop on our kitchen cabinets. This made it easy for me to look and see how they created the support in the kitchen.
We built our cabinet into the walls of the slide-out in an effort to use as little material as possible. This way we didn't have to build exterior walls and could keep the weight down. However, if you are building a cabinet for you home instead of your RV you can use the same principles, you may want to consider the finished outside a bit more than I had thought.
Using the 1×2's I built two side frames. Next, I constructed the back wall of the cabinet using a combination of the cedar 1X2's and the common board 1X4's. If you haven't heard of the Kreg Jig you should definitely check it out. It has made building furniture like our dining table and desk possible for us. It is extremely easy to use and creates an extremely stronghold.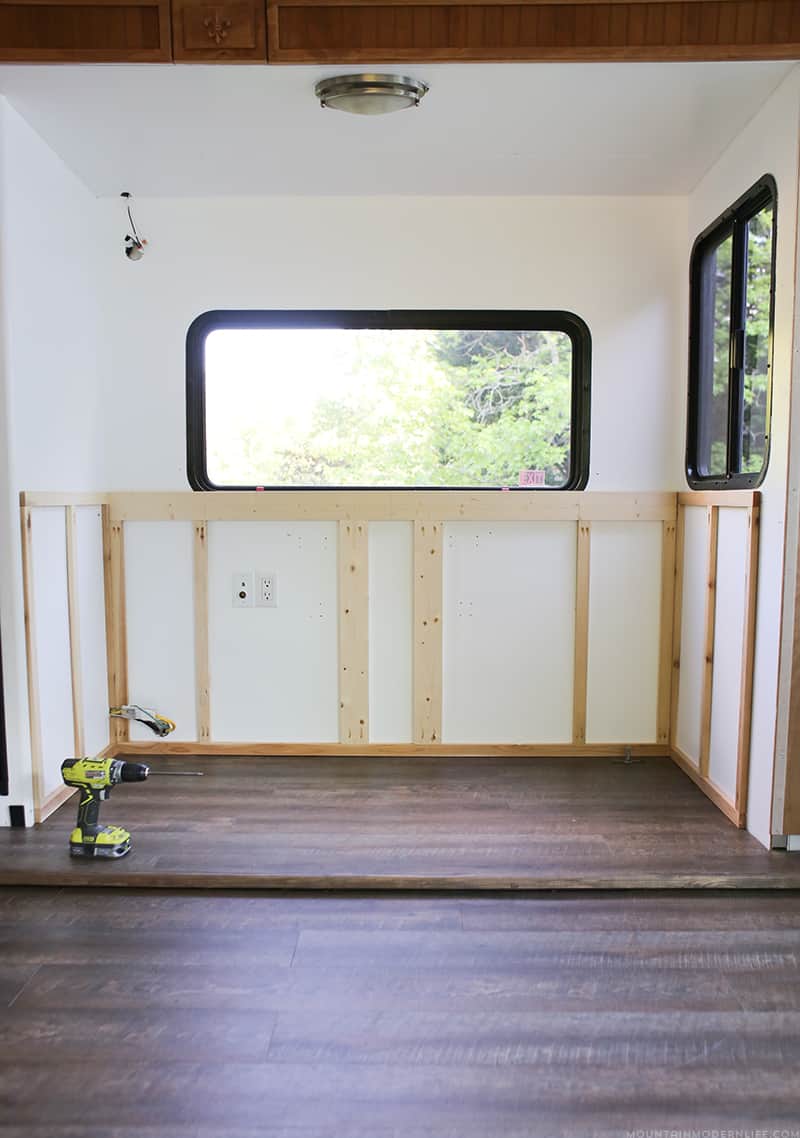 As you can see in the picture above, the frame is around the three walls that will help act as support. While it doesn't look anything like a cabinet, it is time for the TV lift. Once I had the lift on the slide-out I found the center of the back wall I had just created and matched it up with the center of the TV lift.
The Touchstone Whisper Lift II Pro Advanced is extremely easy to install from this point. It is literally a matter of 6-8 screws, depending on if you use 4 or 6 at the base. Reading the instruction manual provided with the lift will help you decide which is best.
I chose to use all eight screw holes, when doing so I screwed all eight screws in about halfway. This includes the braces on the back of the lift as well as the holes on the bottom. Once I had all screws halfway in I went around and tightened them down. Now the tv lift is in place and secure.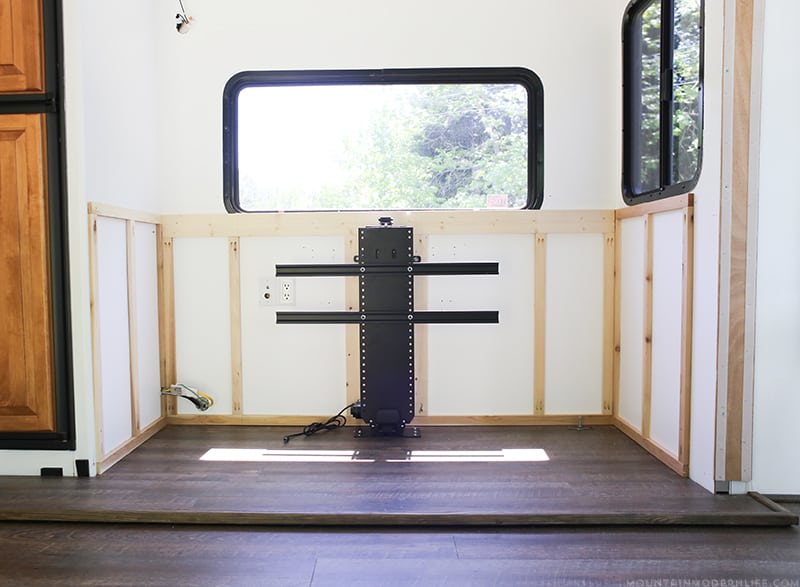 Seeing this made me feel really good because it finally felt like it was all coming together.
Framing around the TV and lift mechanism
Using the distance I had created on the garage floor in the chalk outline I created two more walls that would attach to the back wall of the media cabinet and surround the TV on the left and right sides. I then constructed the wall that would connect those two pieces in the front, creating a box around the lift and the TV.
After I had constructed this box I realized the left wall I had created actually leaned in toward the lift. This, in turn, made it so the distance from side wall to side wall was different in the back than it was in the front. As it turns out, our slide-out isn't completely square which didn't help the situation. In order to avoid this, I would suggest spending a little extra time and measure, measure, measure.
Once you have the two side walls of the tv lift box attached to the rear wall I would measure that distance at the back then create the front wall accordingly. Alright, enough of that mistake, this is what it looks like with the frame around the lift.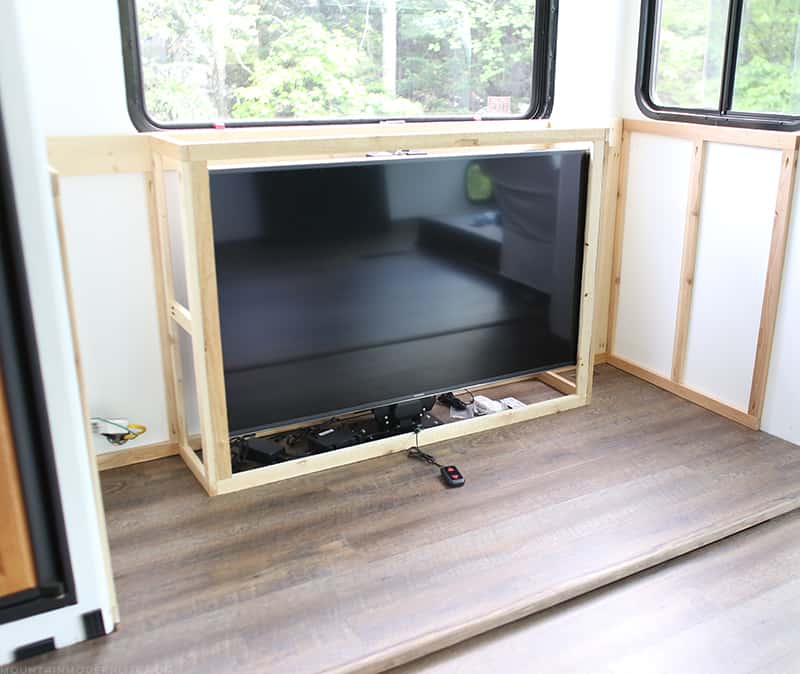 I decided to mount our TV onto the lift to ensure it would fit and work properly before moving forward with the rest of the build.
Attaching the Front Frame
At this point, I turned my attention to the front wall of the custom media cabinet. I knew going in that we needed two cabinet openings on the sides, in addition to an opening for the fireplace and our slide out table just above the fireplace.
My first step was to measure the box of the fireplace from right to left, considering I already knew the height of the front piece (it needed to match the rest I had already built, which was 33 inches). By measuring right to left I was able to create my support beams.
After creating the rectangle for the front piece I put in the support beams that would stratal the fireplace, next I measured top to bottom and placed the top piece in. I then attached two more 1X2's directly next to the fireplace frame because I wanted it to be secured to its own frame.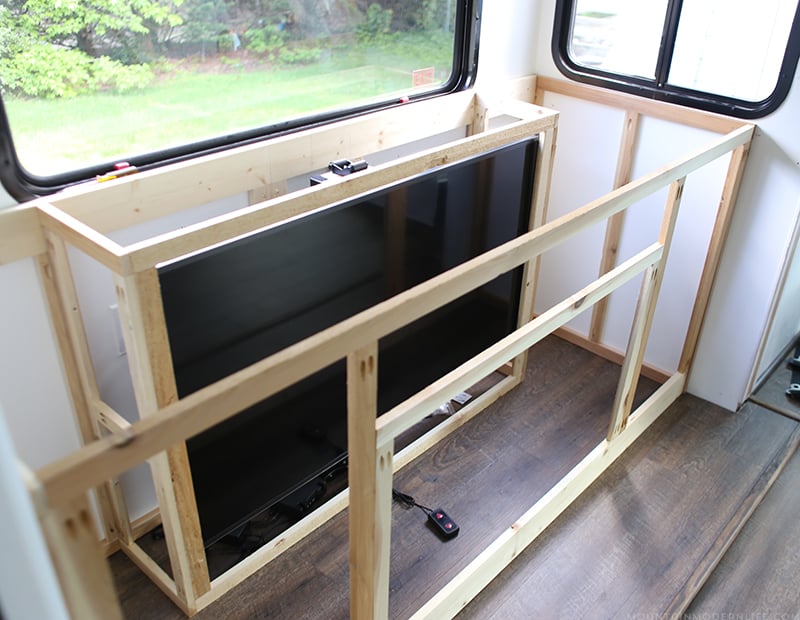 Strengthening the Frame
We had picked up a 4X8 piece of 1/4 inch birch plywood to attach to the front of the frame, creating a more finished look. Since I didn't plan on attaching the plywood until after the frame was fully in place, I went ahead and placed the frame on top of the plywood and traced the openings. That way once I had it attached I could cut the plywood to fit right over the front.
So, at this point we have all four outer walls created along with the frame surrounding the tv and lift, so we just need to connect it all.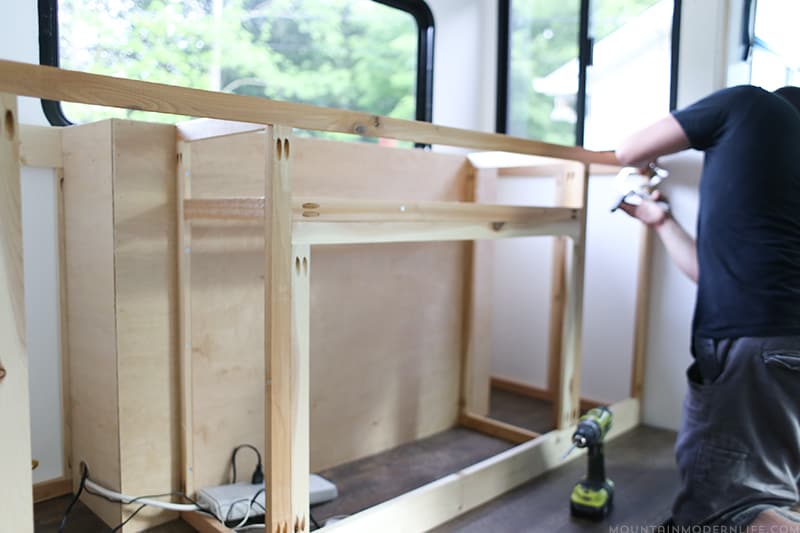 As you can see from the picture above, we created two walls that would attach to both the tv lift box and the front wall. Once these two walls were put into place the whole media cabinet became secure, like won't move at all, which is especially important since we'll be driving it down the road.
You can also see the shelf coming together in between those two newly created sidewalls. In order to create the shelf, I measured the height we wanted then placed a couple of 1X2's across the middle creating a brace.
An important tip to note is that the middle braces I put in there ride 1/4 of an inch lower than the top of the side walls. This will allow me to place a piece of the 1/4 inch plywood on top. In the picture below you can see the 1/4 difference I am talking about.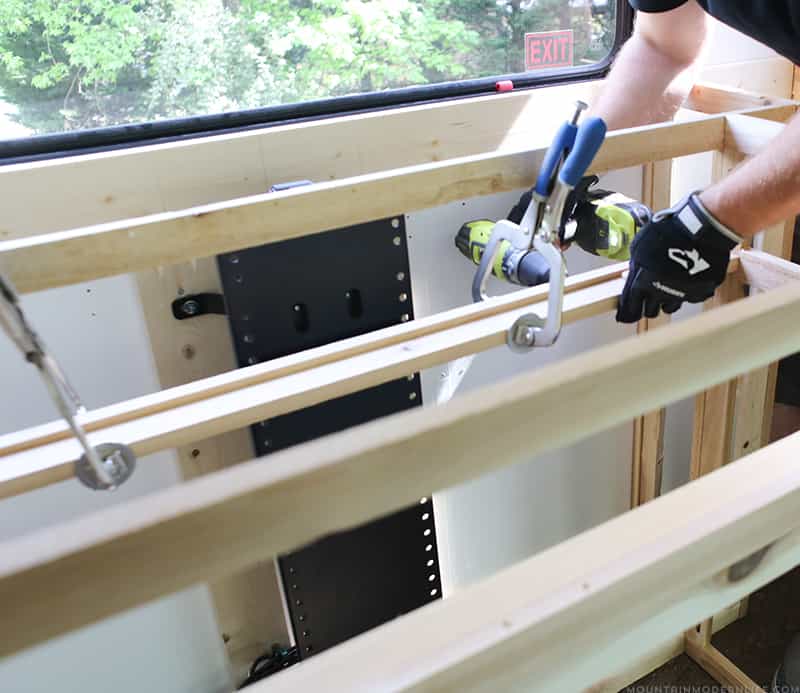 We used our brad nailer to attach the rest of the plywood, which gave the cabinet more strength and a more finished look.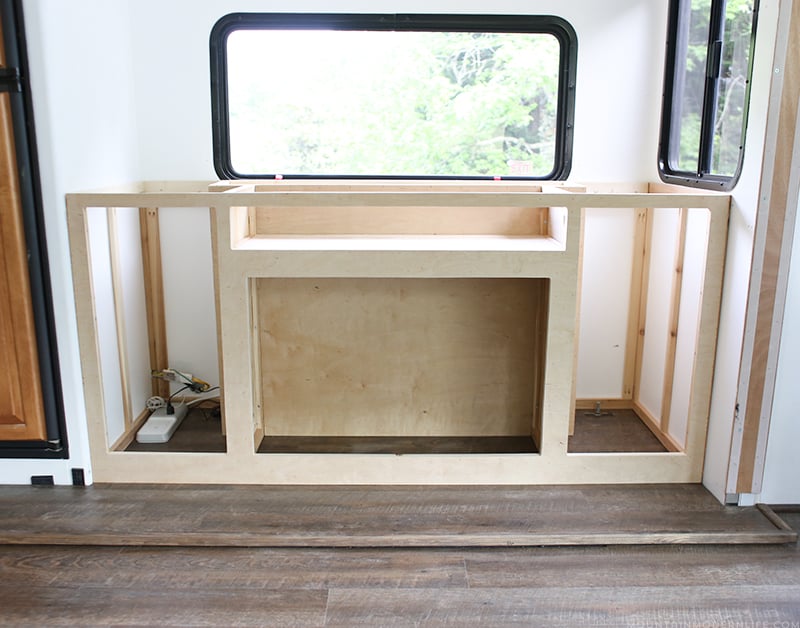 Prepare for Wires and Cables
When placing the plywood on the interior frames, try to think ahead and decide where you will want your wires to go. I cut out two 2 inch circles on the bottom left of both the side panel of the tv lift box, as well as the side panel of the fireplace box.
This is what it looked like after a couple of coats of white paint: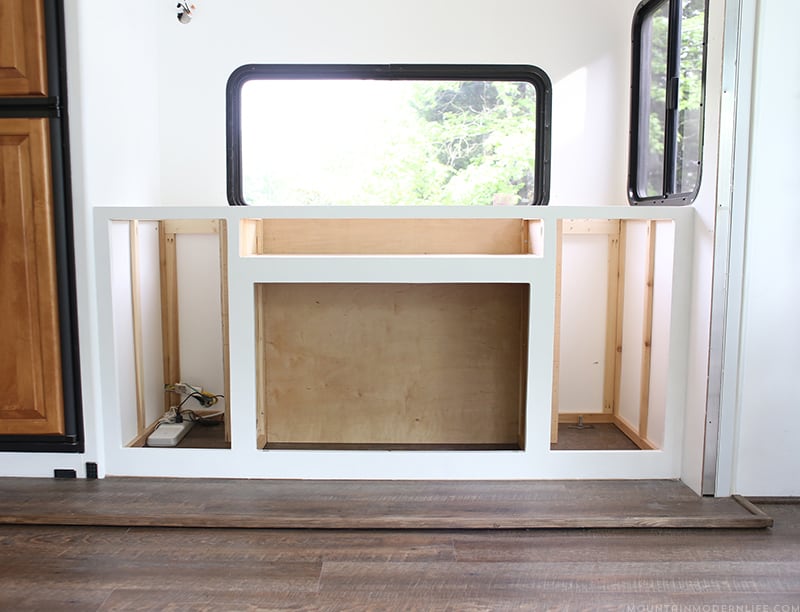 Installing the Electric Fireplace
Now with the base finished it's time to install our 36″ Sideline Recessed Fireplace.
Just like with the Whisper Lift II Pro Advanced, the fireplace is extremely easy to install. If you are installing a fireplace and tv lift, make sure you reference the manual for how much space you need in between them. The heat from the fireplace comes from the back so that's something to keep in mind.
When you receive the fireplace it will come fully assembled with the front glass piece in place. Before you install it you will need to remove two screws and lift the glass piece off.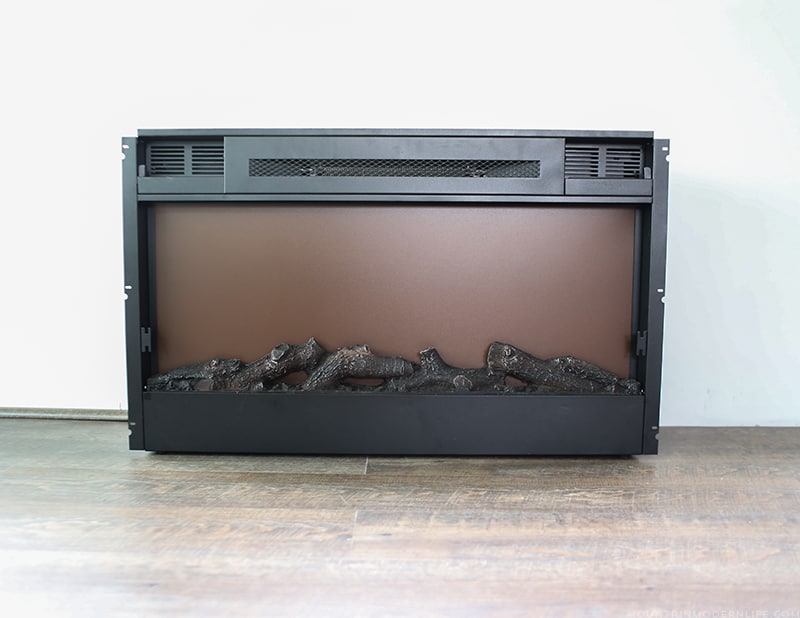 We decided to use the faux logs for our fireplace, but Touchstone does include the crystals and mirror so you can use whichever you prefer.
Side note: Before we attached the front piece of the media cabinet frame we made sure the fireplace would fit inside. 
We now used the six screws provided with the fireplace and secured it to the media cabinet.
Now you slide the glass piece back into its slots and replace the two little screws you previously removed from it.
TV Lift and Electric Fireplace Installed
This is what it looks like with our new fireplace and tv lift installed inside the cabinet.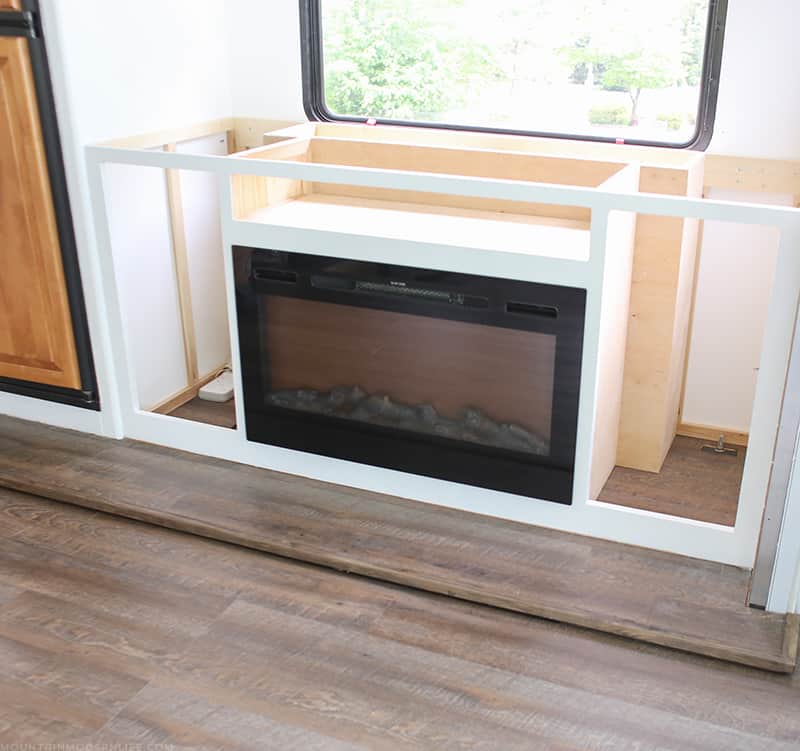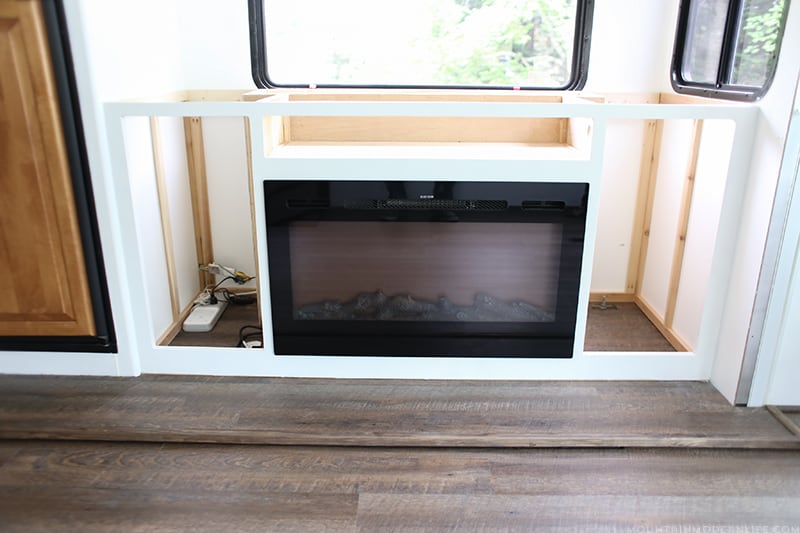 Here it is with the TV lift up and the fireplace turned on: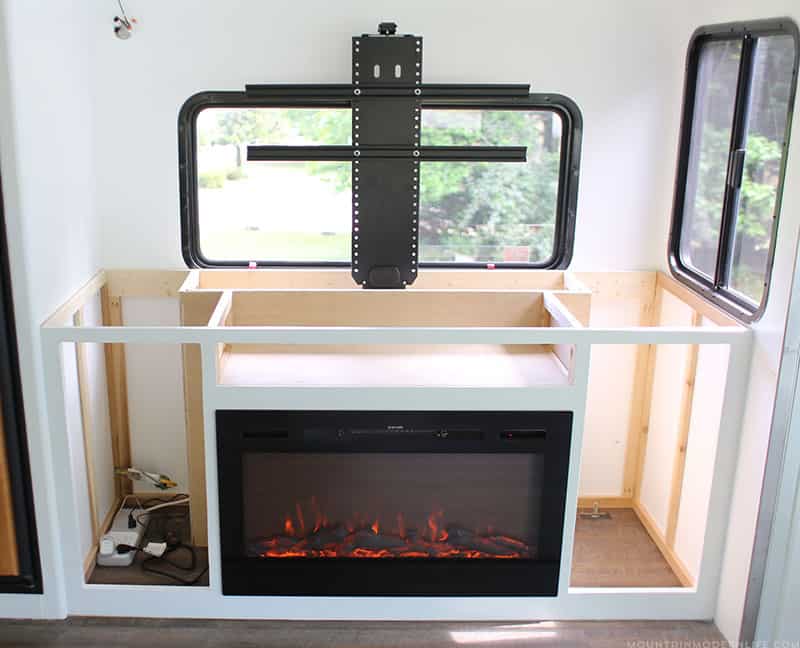 Doesn't it look awesome? We are pretty excited about it, and it's not even finished. Haha.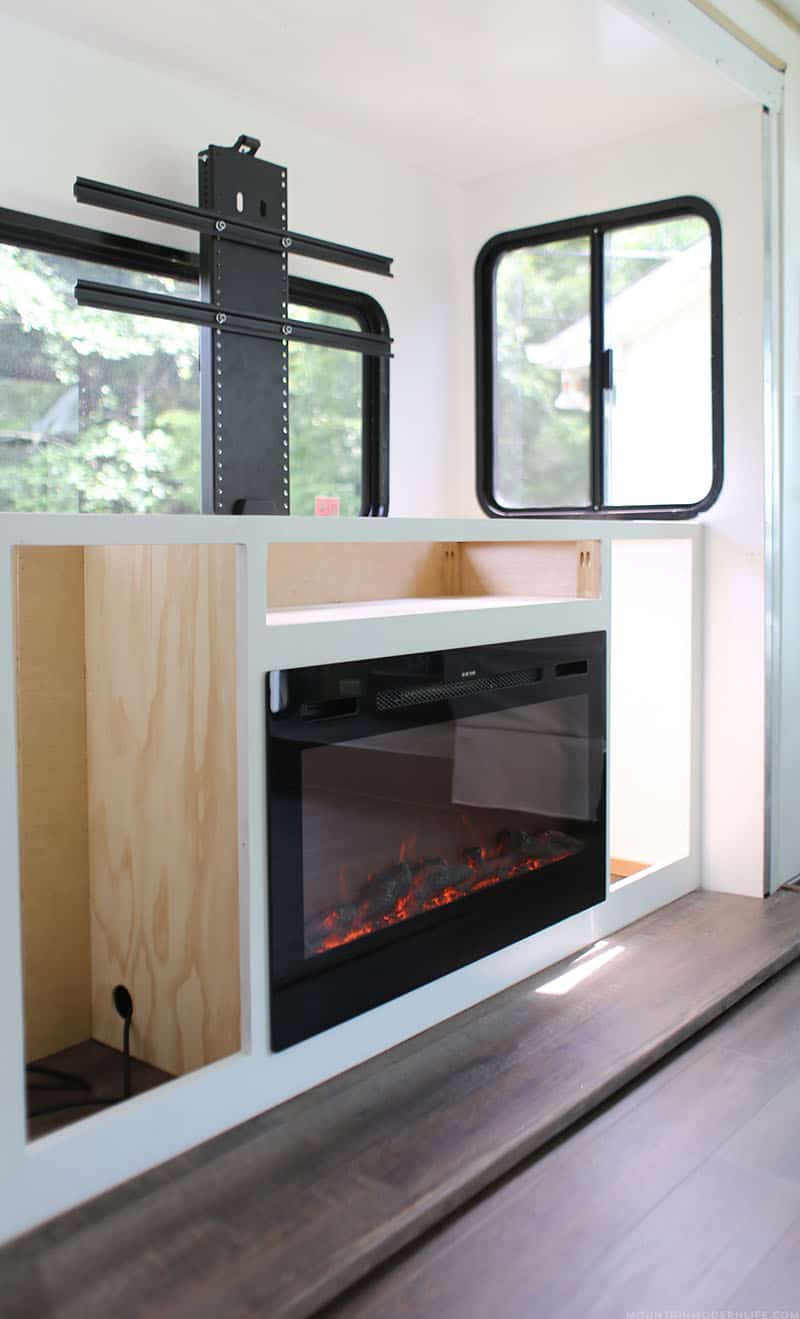 I built a hinged lid for the top out of 1/2 inch plywood. I found it easier to cut out the gap for the lid, and then use a template and another piece of plywood to cut out the actual lid.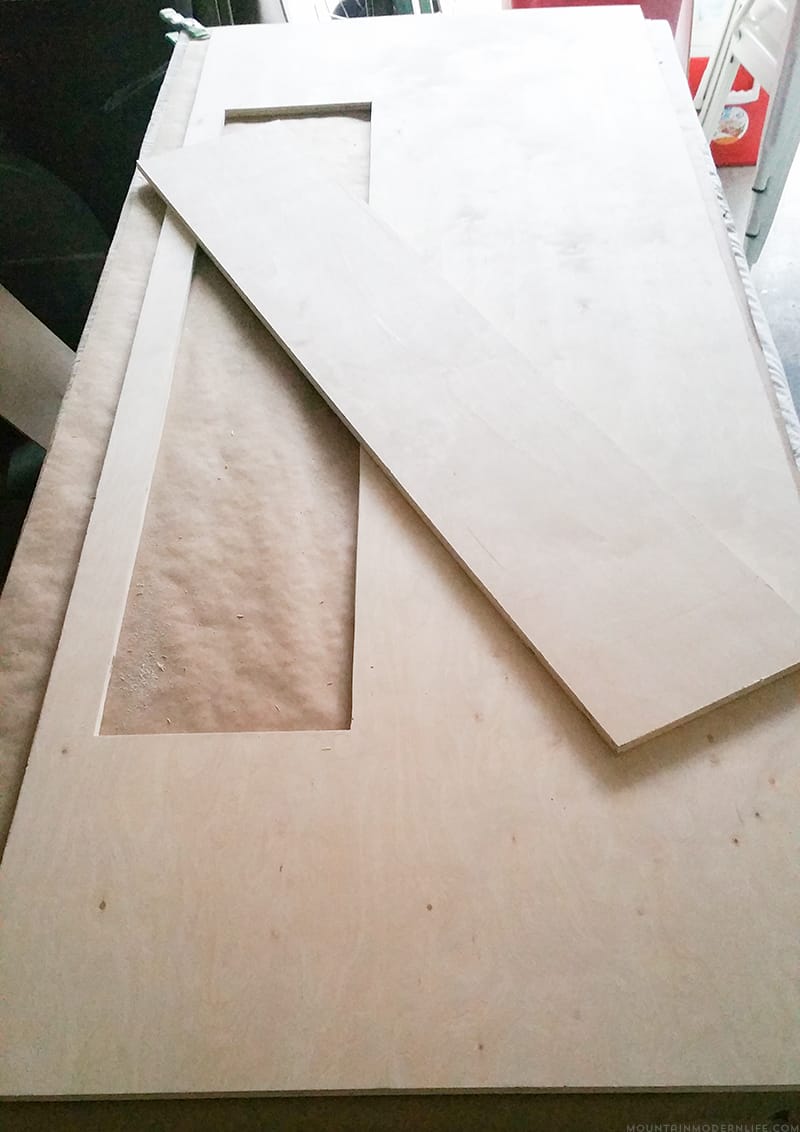 A 30 inch piano hinge was then added:
This is what it looked like before we painted it white and installed it on top of the cabinet: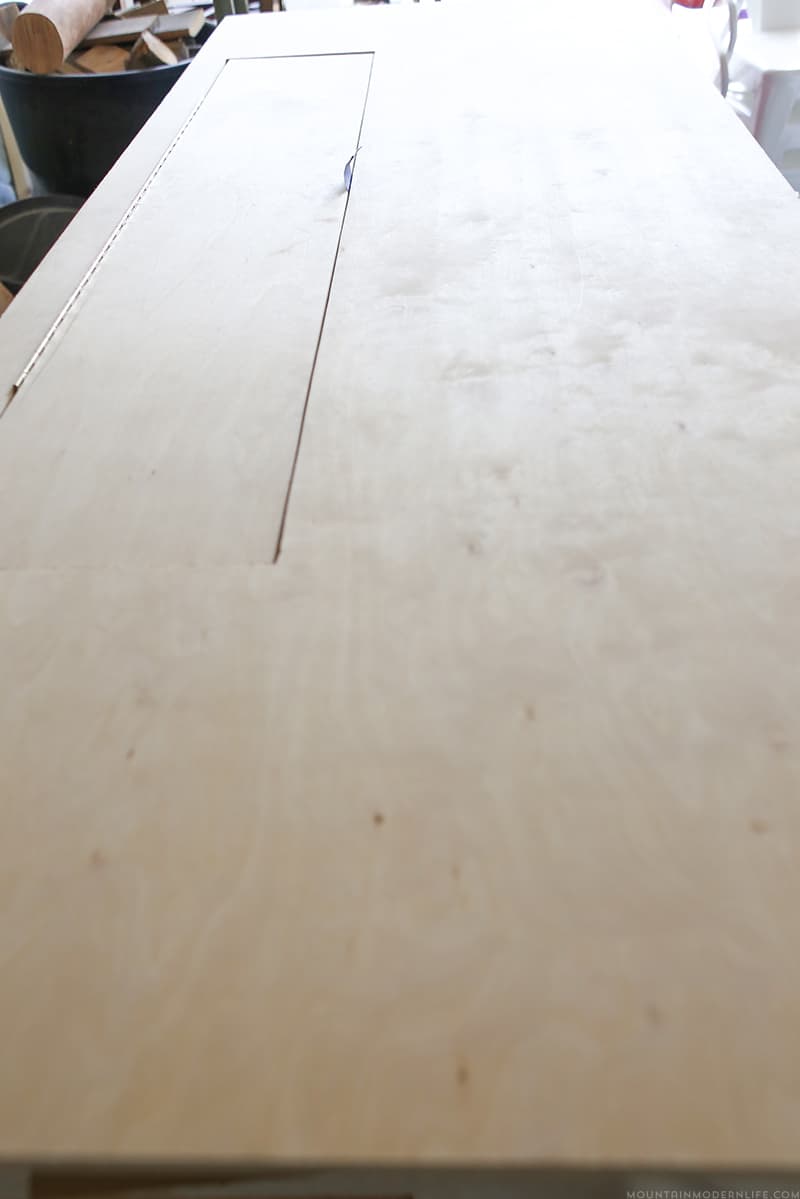 This was my first experience building a custom media cabinet with no exact plans to go off of, and while I can't say it was easy, it was fun and challenging and I think the results turned out great.
Here's a sneak peek of our extending table. We have a few things to do before it's completely finished but we'll be sharing a post on that soon.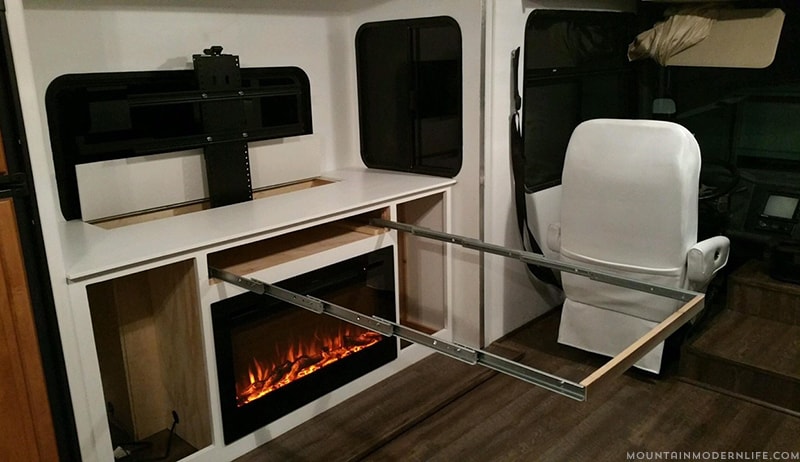 Update: You can now see our finished media cabinet and hidden able at the links below:
Be sure to visit Touchstone at the links below for more information on their products. They also have some really helpful videos on Youtube.
---
Touchstone Website | Facebook | Youtube | Pinterest | Twitter | Houzz
---
Are you are planning to replace your dining booth with something different? Let us know in the comments!
Thank you so much to Touchstone for providing us with the TV lift and fireplace for this project. As always, all opinions are 100% ours and we only share products we use and recommend.