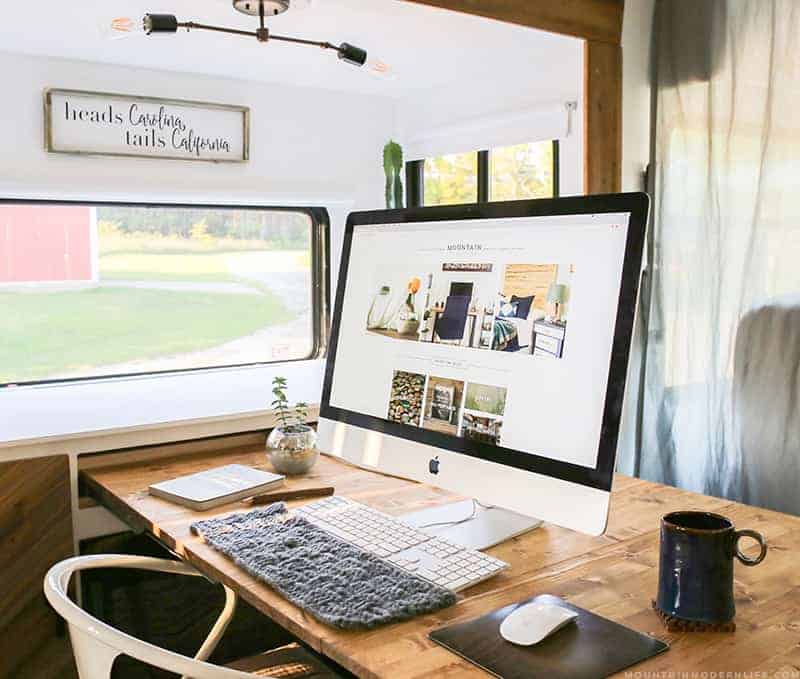 We're obsessed with this space-saving DIY expandable table
Disclaimer: This post may contain affiliate links, meaning, if you click through and make a purchase we may earn a commission. This is at no additional cost to you. View our full-disclosure here.
If there's one project we get asked about the most, it definitely has to be the DIY expandable table we designed for our RV. Whether you live in a small space, or just want some space-saving ideas, then we hope you can find some inspiration from this post.
Although we created this transforming table inside our motorhome, it could easily be re-created in a home office, guest room, apartment, or small nook where you need some extra workspace.
DIY expandable table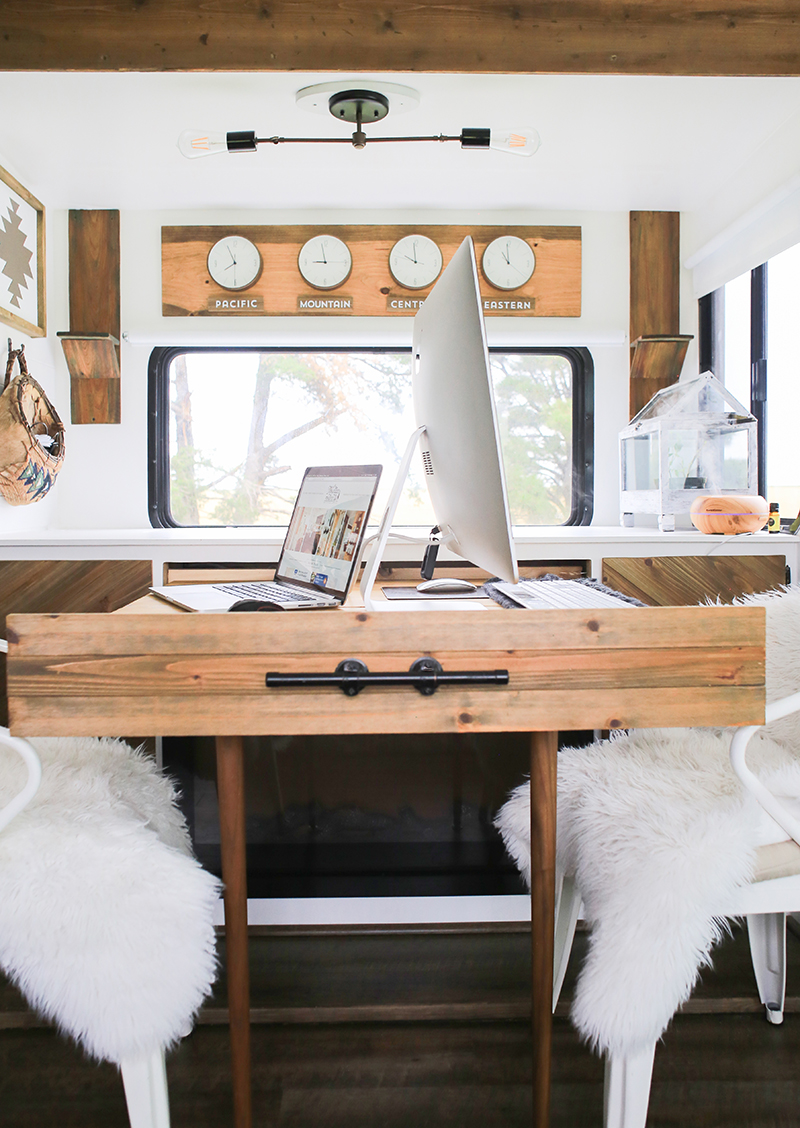 This was a project we had planned for a while, but despite building the media cabinet and installing the telescoping slides before hitting the road, we didn't get around to building out the tabletop until after.
Thankfully, Eric's extended family in Wisconsin has a shop on the farm and let us use it while we were visiting them for a few months.
Replacing the RV Dinette Booth
Ever since we brought our RV home, we knew we would replace the dinette booth with a custom media cabinet. The plan was to create a custom cabinet that would not only hide our TV and include a fireplace, but would also hide an expandable table we could eat or work at.
Here's a before photo of our RV dinette booth area, so you can see what we were working with.
Unfortunately, I struggled finding any information that could help guide our DIY expandable table build or tell us what products to purchase. Ultimately, we sorta just figured it out on our own. With that said, we're pretty excited about how it turned out.
That's not to say improvements couldn't be made to the design (some of which I'll share at the bottom of this post), but we hope to give you a starting off point to create something similar. There are lots of custom variations that can be made depending on your needs and space limitations.
The Inspiration
If you live in a small space then you know just how important it is for furniture to serve multiple purposes. Our DIY expandable table was originally inspired by this pull-out drawer table and the Goliath table from Resource Furniture I originally saw in this youtube video. Both show innovative furniture designs that transform from a narrow console table into a massive dining table in less than a minute.
Update: Here's a more recent video showing the Goliath table in action:
View this post on Instagram
Before long I was obsessed with space-saving table designs that could expand, fold, collapse, or transform in one way or another. They were so innovative and beautiful. However, I also discovered styles were limited and price-points high.
In fact, the only expanding tables I could find at the time were designed in Europe and cost thousands of dollars, which wasn't in our budget. Not to mention we would need something custom and lightweight. I imagine more designs will continue to become accessible in the US as time passes and the tiny house movement grows.
Interlocking leaf extensions
We planned to use table locks to connect the table leaf extensions to one another, but Eric wanted to play around with wooden dowels so he purchased a kit. This worked well but if you use the table locks it's not necessary, and honestly creates more work.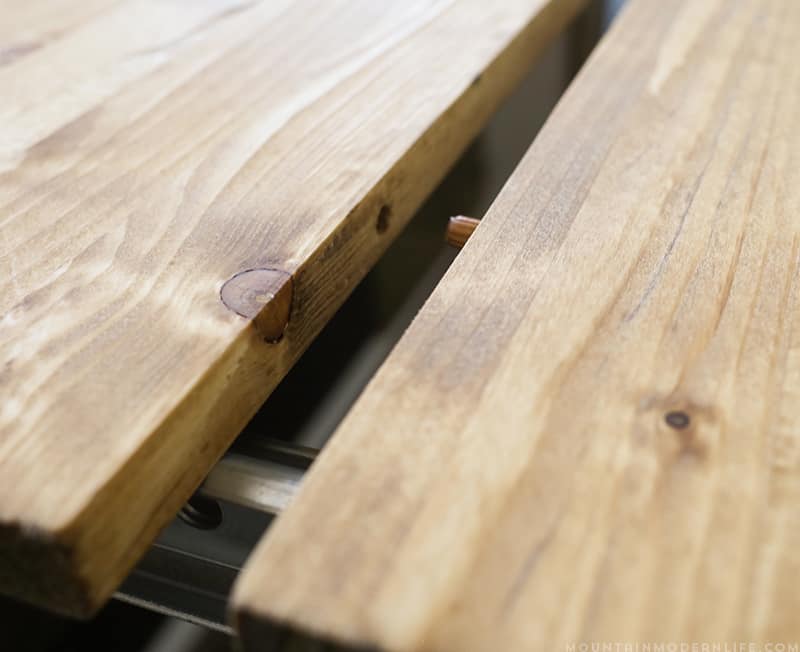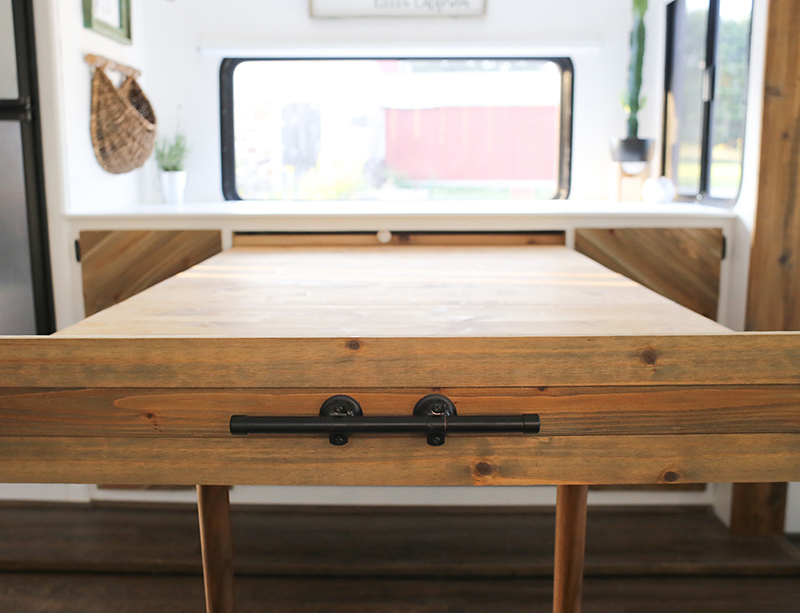 We later added table locks to each table leaf anyway since our cats jumping up and off the table was causing the dowels to be less effective than we hoped. Now they lock in place and don't move unless we unlock them.

We actually installed sash locks meant for windows since that's all we could find locally at the time, and they work well, but I still recommend using actual table locks or level latch locks. We've used them for other projects and they are my preference if given a choice.
DIY ExpandableTable Setup
I love how this table is hidden when not in use, but takes just 3 steps to set it up.
Pull out drawer
Attach wooden legs
Place and lock table leaf extensions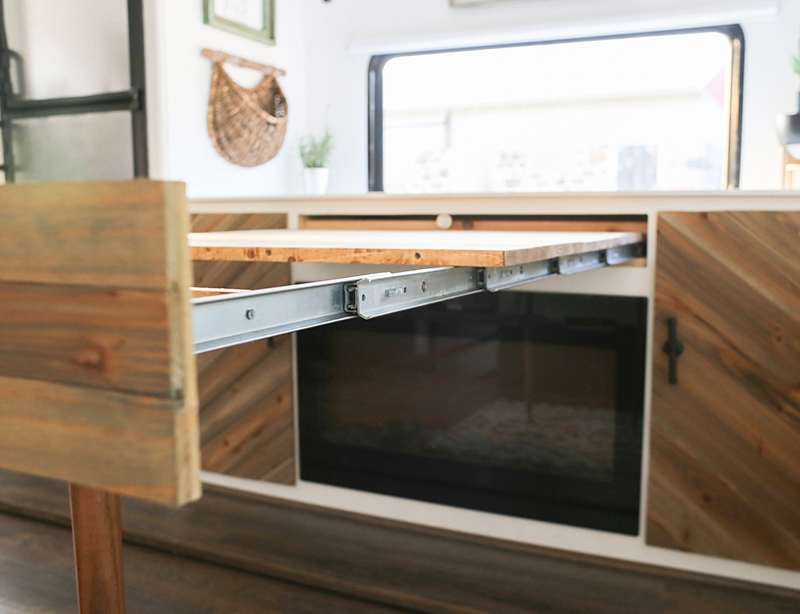 It's like Magic
Every time we pull the drawer out it feels like magic.
We drilled a hole inside the inner wall of the left cabinet that goes into the top drawer compartment. Our surge protector/extension cord is in there and this is where we have my computer plugged in. This way we can just feed the cord on top of the desk and skip cables on the floor.
Eric and I have both been working at this table for a week now and LOVE it! There's more than enough space for me to be on my computer while he works on his laptop. It has definitely made working in the RV a lot more manageable.

Watch the video
I was worried about the amount of time it would take to get this table set up, but it literally takes less than a minute! Eric even made a video showing how easy it is to put together or takedown, which you can watch below. (This was before we added our table locks underneath.)
Table Leaf Panels and Leg Storage
We originally planned to store the leaf extensions and legs inside the custom storage we built behind the storage. While this works, it can become inconvenient. Instead, we end up storing them beside the sofa or between the captain's chair and window. It keeps them out of the way yet easy to access.
Here's the before and after of our dining booth area: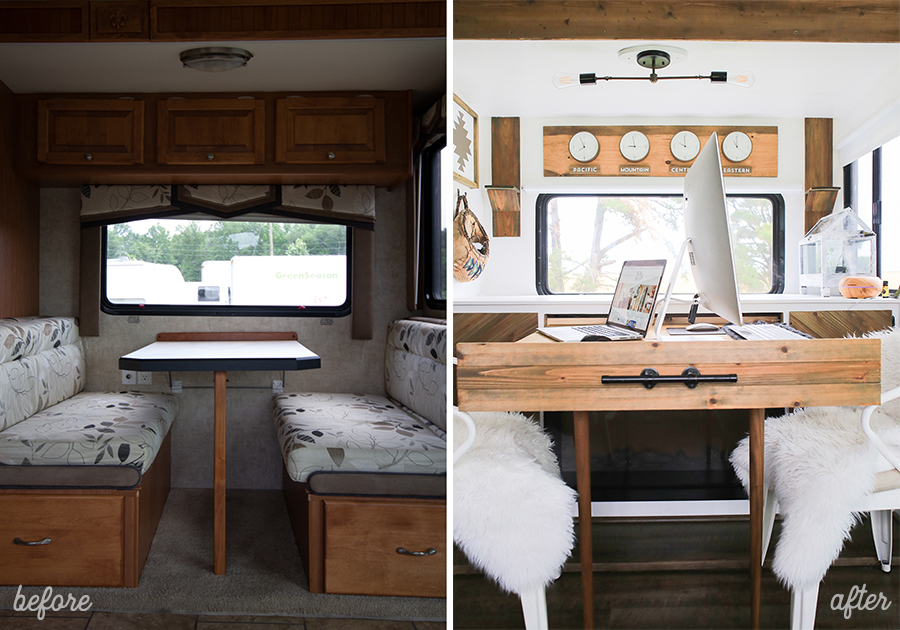 Updated Photos of our transforming table:
Here are some updated photos of our DIY expandable table after 3+ years: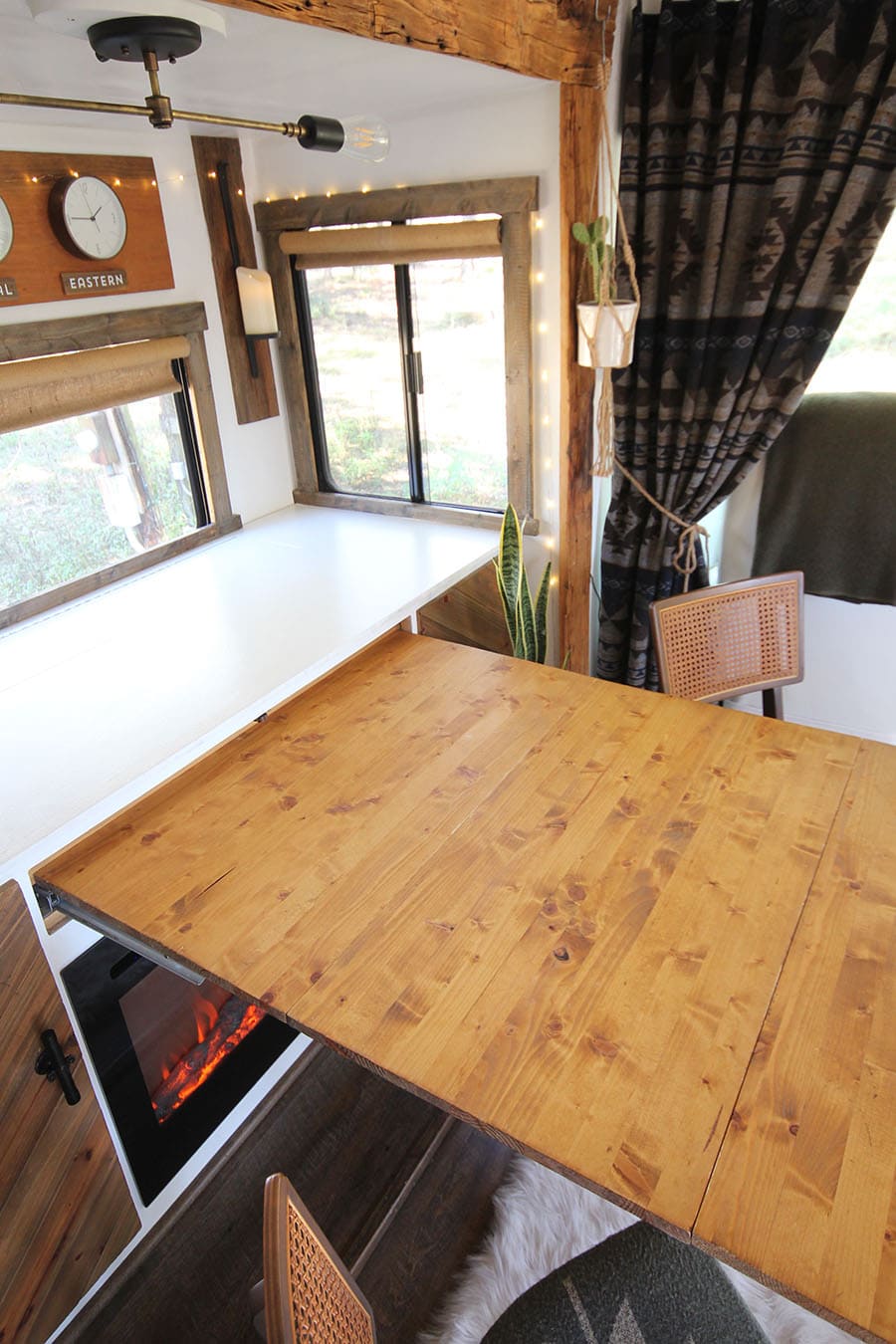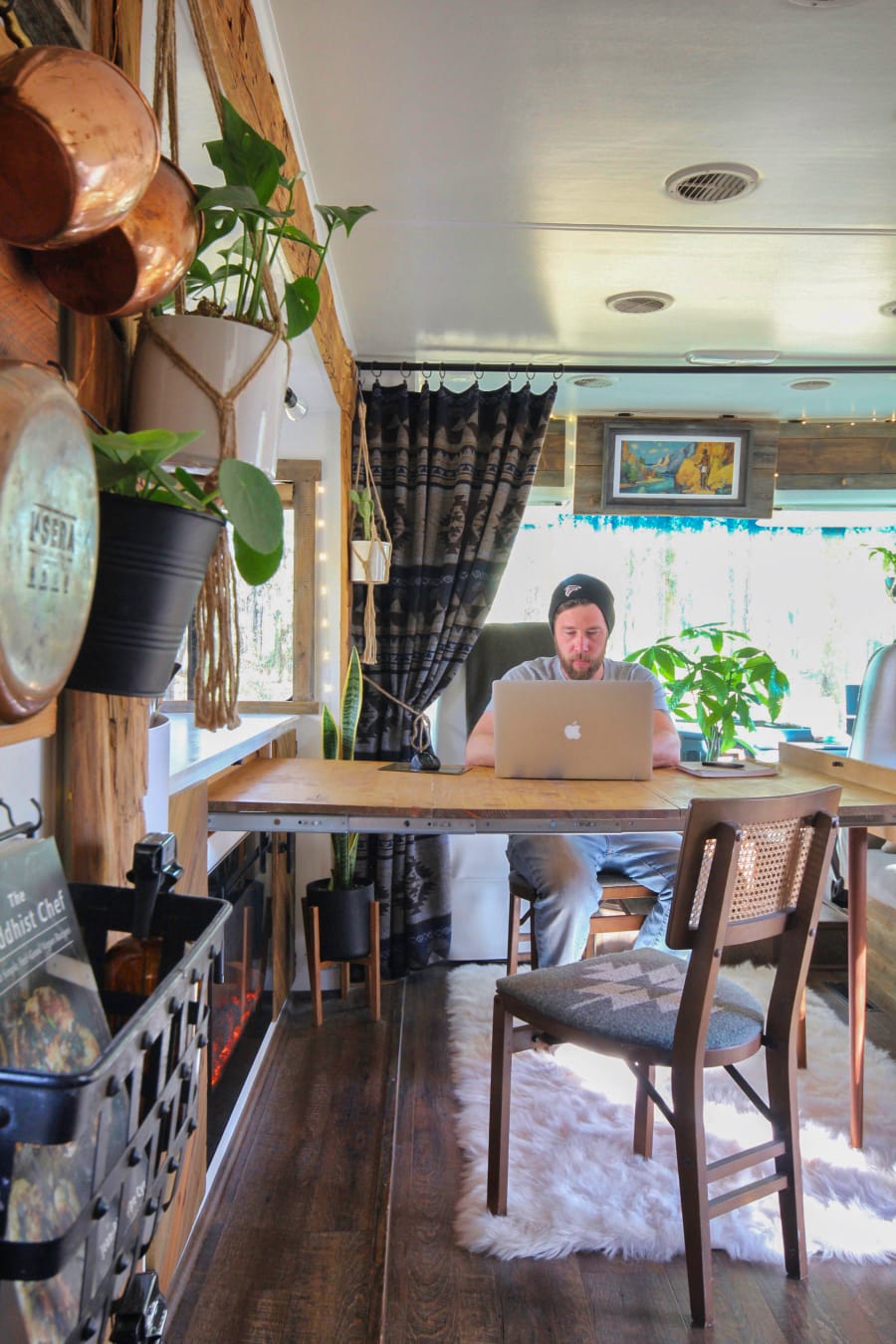 This transforming table has been AWESOME, but here are a few things we've learned over the last 3+ years…
1. Definitely add table locks. We waited because we used the wooden dowel method, but the locks work so much better, especially with pets that like to jump up on our desk when least expected. We use the dowels too, but they aren't necessary with locks.
2. Consider adding a lip or edge to each table leaf. The metal extension slides have gotten caught on my pajama pants on multiple occasions. A lip would cover that area up, and be safer, especially if you have little ones around. It would also give the table a more finished look.
3. Install the slides closer together. This may help them not stand out so much and prevent snagged pajamas.
4. Depending on the length of your table, adding an additional table leg (or two) in the center can add more support and help prevent warping.
5. See if there is a way to store folding legs or the table leaf panels inside the desk/table. While this didn't work for our specific situation because of the overall dimensions of the cabinet (and fireplace/tv inside), it's definitely worth brainstorming over before beginning your build.
DIY Expandable Table – Alternative Designs:
To make this DIY expandable table more usable we could have attached the faux drawer front to the media cabinet instead of the actual sliding drawer mechanism. Then it could have flipped down (staying attached to the cabinet) before sliding the table out, and the end of our table would be flush with the rest of it. This would allow us to use the table when sitting on the sofa, or sit at the end of the table and eat without a funky drawer front in the way.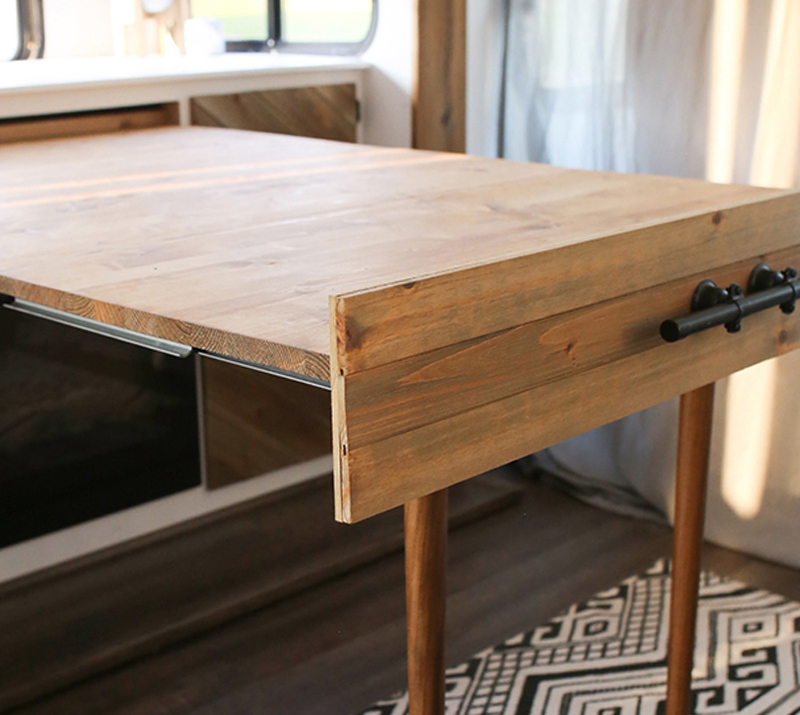 We may have needed to make some additional tweaks because the drawer front would likely hang over our fireplace a little when the table is out, but it still may have been worth it. The drawer front and cabinet pull take up a couple of inches of dead space (and visual space) that could be better utilized if they weren't there.
And in case you're wondering, the main reason we created an expanding table in the first place was to have enough space for both my desktop computer and Eric's laptop since we work on the road. Our media cabinet is installed on our RV slide-out, which has a lip and there wasn't enough space for our chairs on the slide-out. Sitting on the main flooring and using the media cabinet as a desk or table would have been awkward because our knees would hit the cabinet.
With that said, a completely different design option I wish we would have considered is to have the top of the media cabinet slide out and become our desk/table – similar to this desk. Then we wouldn't need to store table legs or table leaf extensions (although that's not a huge deal). However, it also would have allowed us to keep a big chunk of our living room and could be set up or put away in even less time.
Anyway, those are just some ideas to think about if you're looking for space-saving solutions or plan to create a table or desk in an RV slide-out.
Overall, this DIY expandable table is super functional and we love it!

Rustic Modern Media Cabinet with TV lift
How to install a TV Lift inside an RV (and an electric fireplace!)
DIY Rustic Modern Cabinet Pulls
'20 Mobile Office Solutions Created by Digital Nomads
---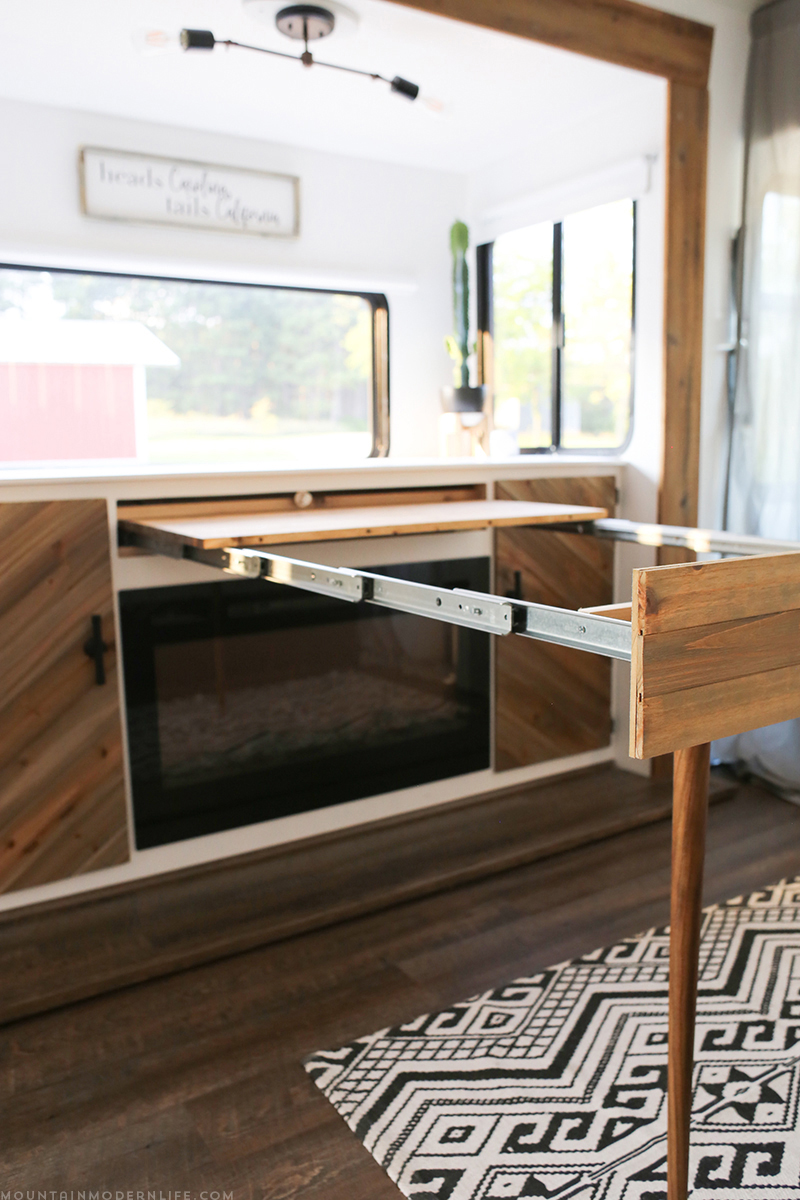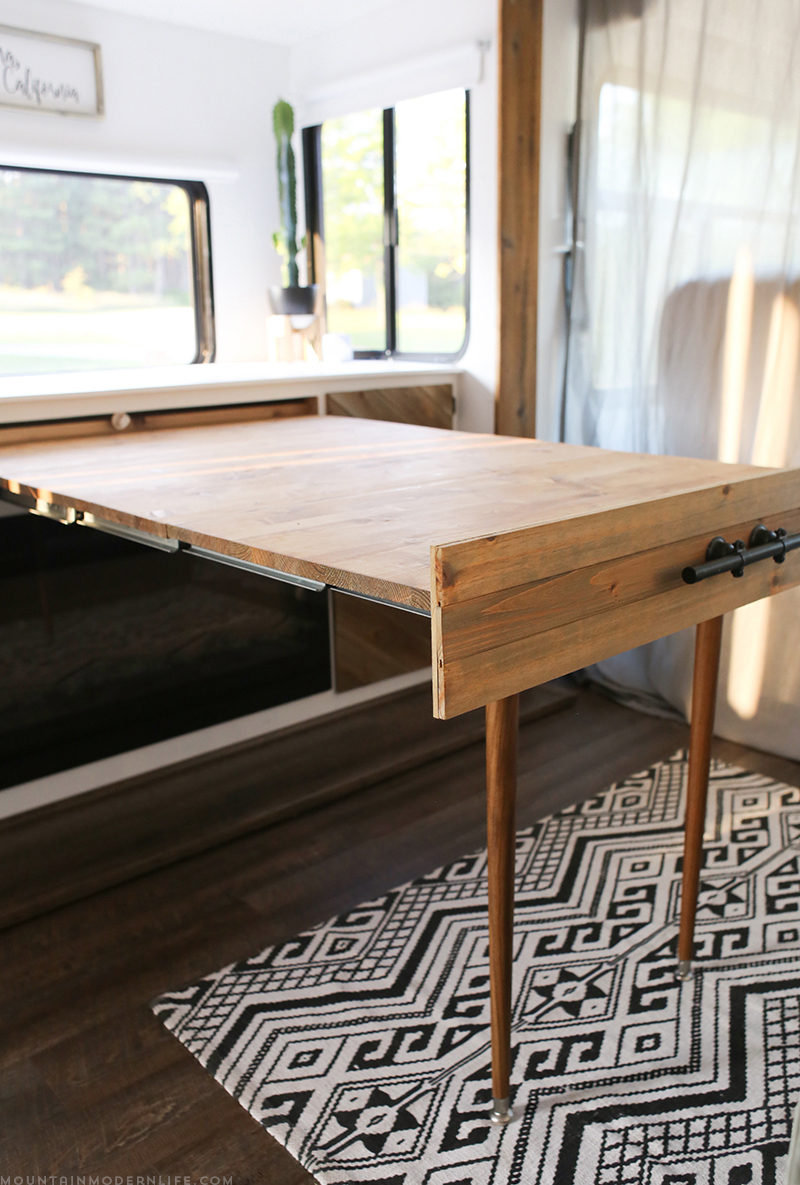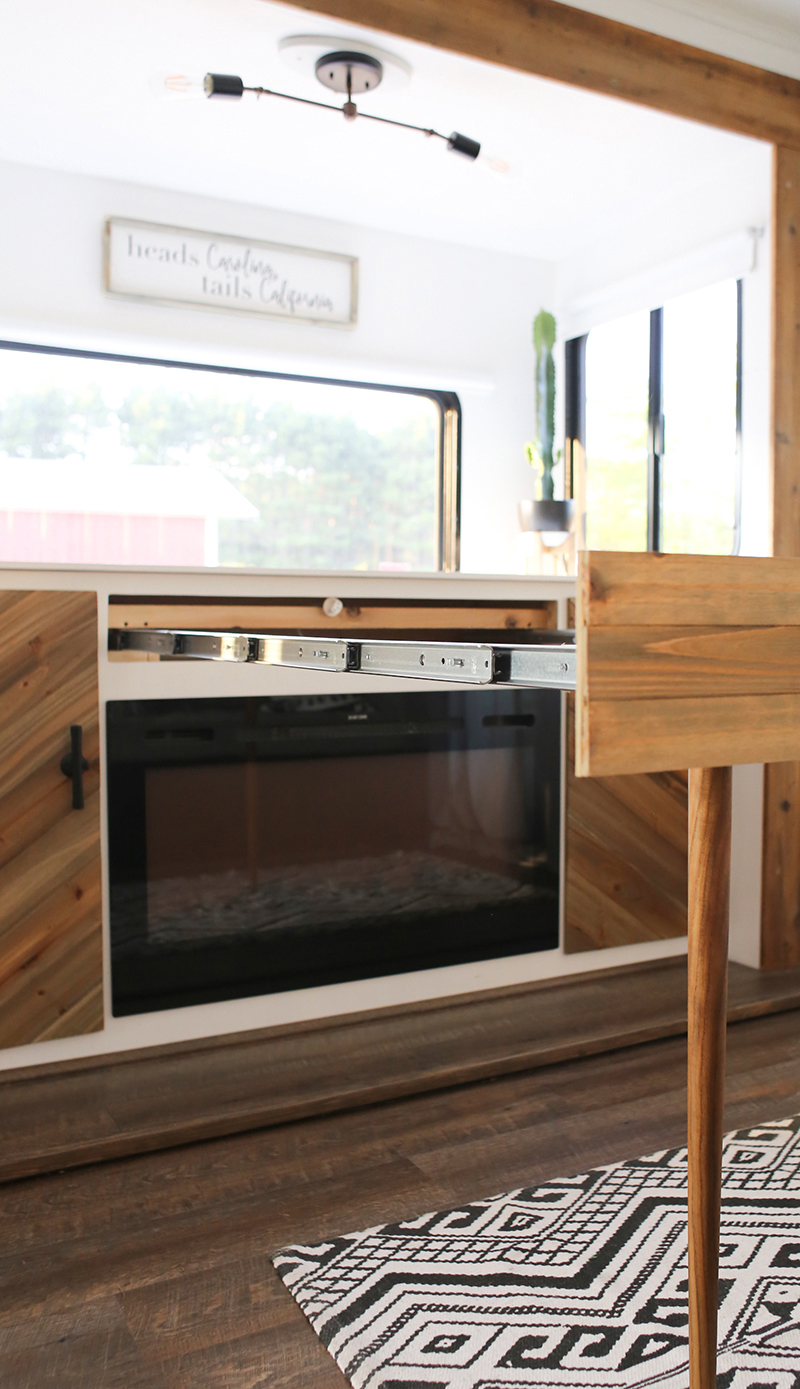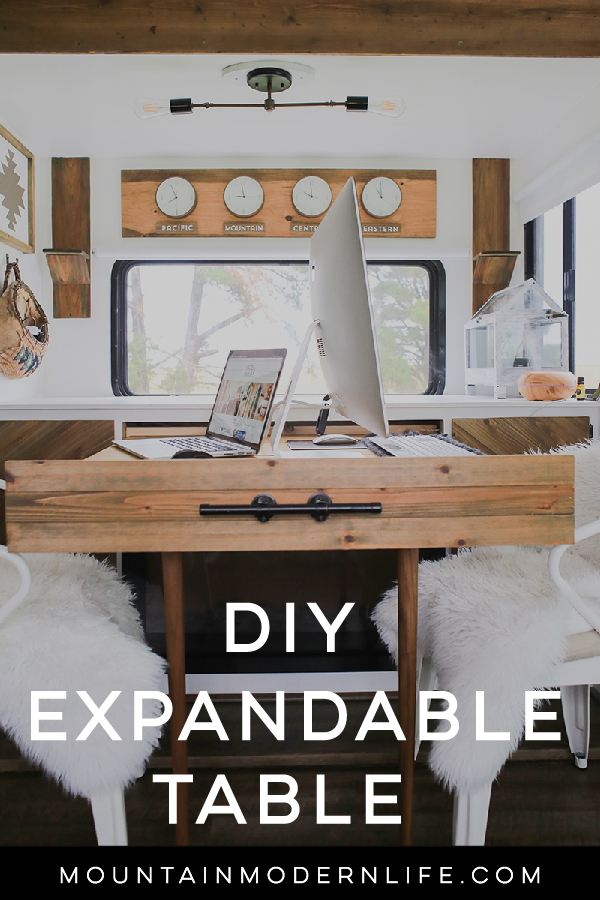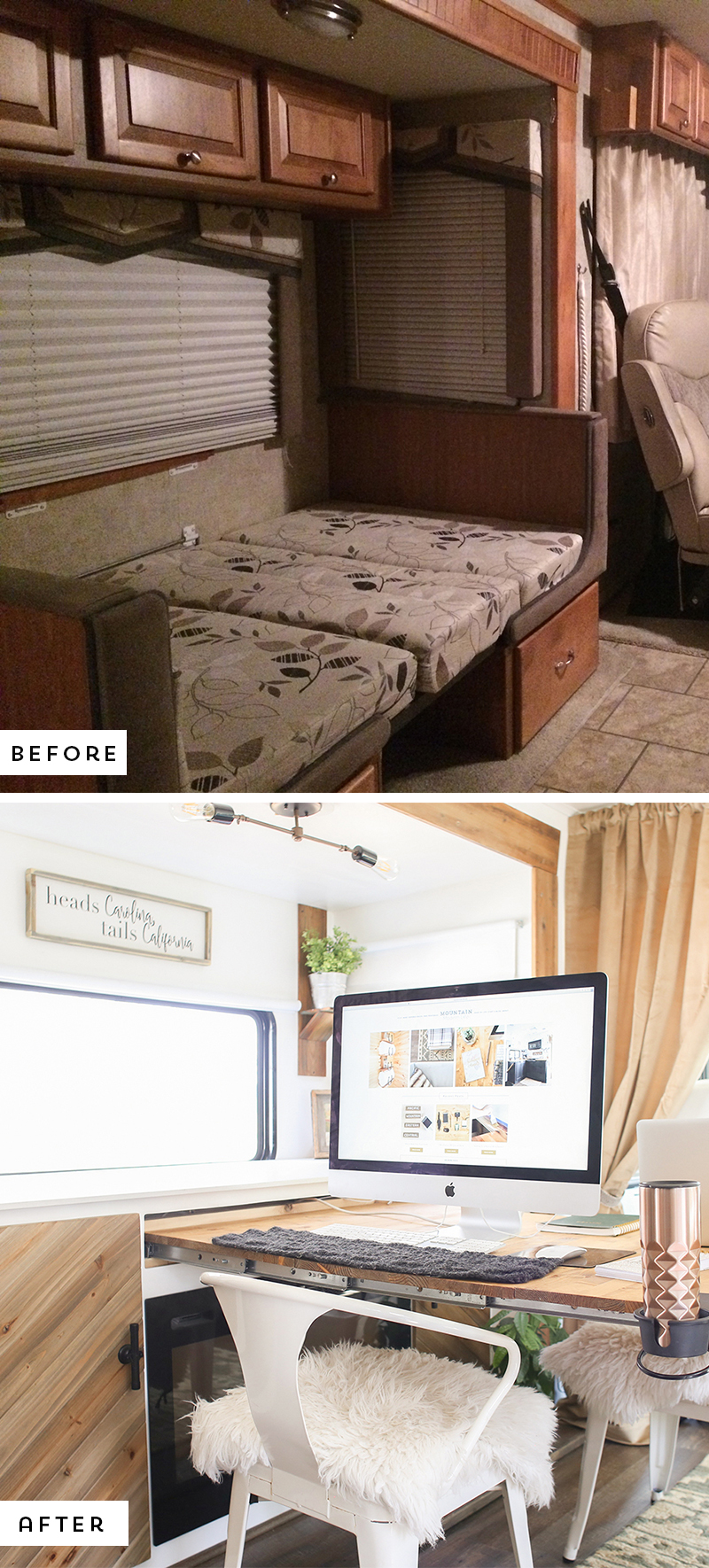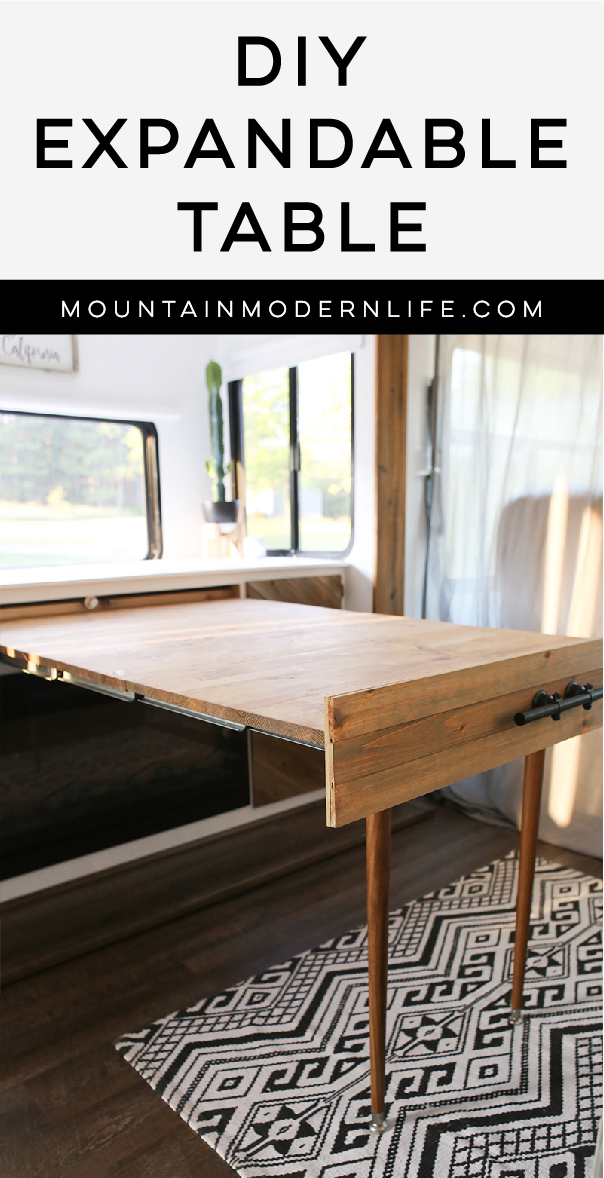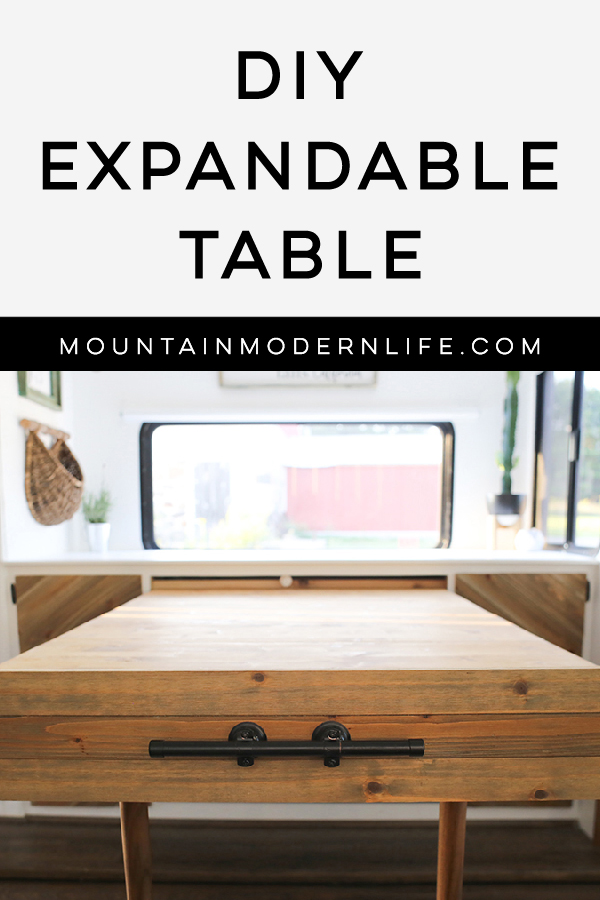 We hope this post has inspired or encouraged you to think of creative ways to make tiny living more efficient. Have you created or purchased space-saving furniture you couldn't live without?