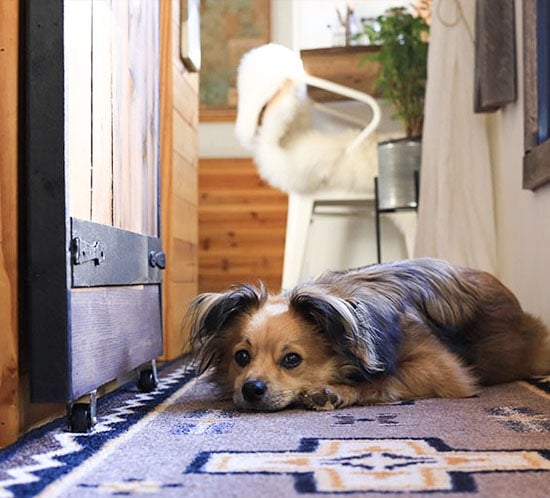 10 Southwestern Rug Runners that will add Cabin Vibes to your Home or RV
I recently reached out to Southwestern Rugs Depot to see if they would be interested in working together after I became obsessed with their amazing Southwestern Rug Collection. So while this post is sponsored by them, the content and opinions are our 100% our own. 
Southwestern Rug Runners that add Cabin Vibes
Are you searching for the perfect rug to add cabin vibes to your home or RV? Southwestern designs are the perfect way to add rustic style without using the cliche of bears or moose at every corner. Aside from looking awesome in rustic modern homes and cabins, they also go well with eclectic, boho decor.
Today I'm sharing a few photos of our new Southwestern hallway runner along with a few other design favorites from Southwestern Rugs Depot.
Not gonna lie, I was surprised at how challenging it was to find the perfect rug for our RV hallway. All I wanted was a rug I loved with a rustic design, in the colors I was looking for, with the dimensions I needed, for under $200. I really didn't think I was asking for much but what seemed like an easy feat, turned out to be extremely time-consuming.
I began my search exploring local shops to see if I could find something that would work, including big box stores. I was impatient and wanted something "now!". Instead, I wasted time running all over town and came home empty handed… on multiple occasions.
While I found rugs that could maybe work, I didn't love any of them. Or they were much pricier but with 3 messy pets, I'm not quite ready to risk a more expensive, vintage rug. On top of that, our hallway is pretty narrow at 2 feet (just under including the trim against the wall), which made my search even more challenging. I even considered purchasing two smaller rugs and attaching them to one another. When searching online I'd feel my eyes glaze over and my hand cramp up from searching page after page of rugs that didn't always fit the description I was searching for.
Then I came across Southwestern Rugs Depot.
I loved that all of their rugs are Western, Southwestern and Native-American Style designs, and while they have a huge selection, it wasn't overwhelming to go through each of them.
Plus they are a company I felt I could stand behind. This is something I look for more as I try to be more intentional with my purchases. 
Here are some of the reasons why I think Southwestern Rugs Depot is so awesome:
They only sell Western, Southwestern and Native-American Style Designs
All rugs are made in the U.S.A
They offer a 60-Day in home trial
All rugs are Durable and Easy to Clean
Made from EnduraStran nylon so they are anti-microbial and fire resistant
Commercial-Grade Rating
Made to Order
Zero Waste to Landfills! They recycle everything!
The company is located out of Dalton, Georgia and Connor, the owner, is awesome and will answer any questions you have. I just got a good vibe from him and felt like he genuinely wanted to help.
My challenge then shifted to, which rug do I love most?
Ultimately, I decided to go with the Saint Cross 2 x 6 Runner, and I absolutely love it! I feel like it really helps tie everything together in our RV and makes our tiny home feel more complete. More like home.
The pets love it too, which is both a blessing and a curse because they create traffic jams in the hallway, ha! On the plus side, we've had more space in bed at night because they tend to take turns sleeping on the rug. It's really soft, so I'm not surprised.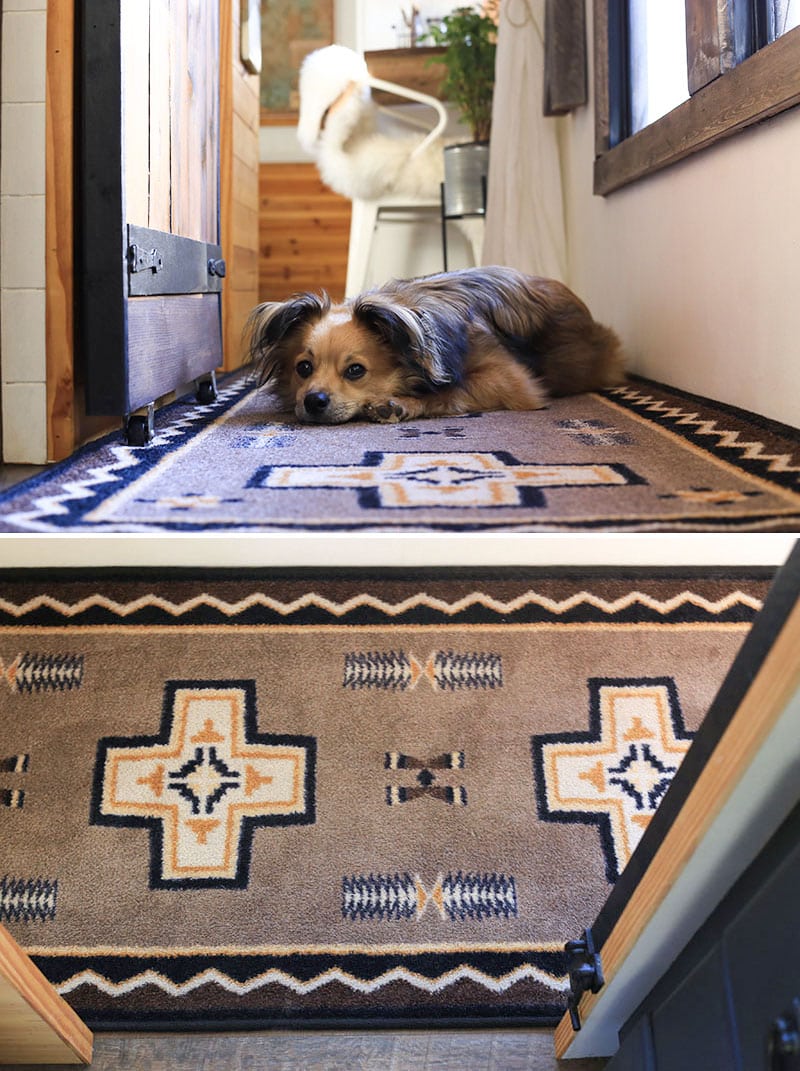 At 2 feet wide I knew it was gonna be pretty snug in our hallway, but I was okay with that, and unless you're inspecting the floor, you can barely tell that it's just slightly on the floor trim.
The rug also looks awesome with our new lower kitchen cabinets. You can catch a sneak peek in these photos, but we'll be sharing the reveal here soon!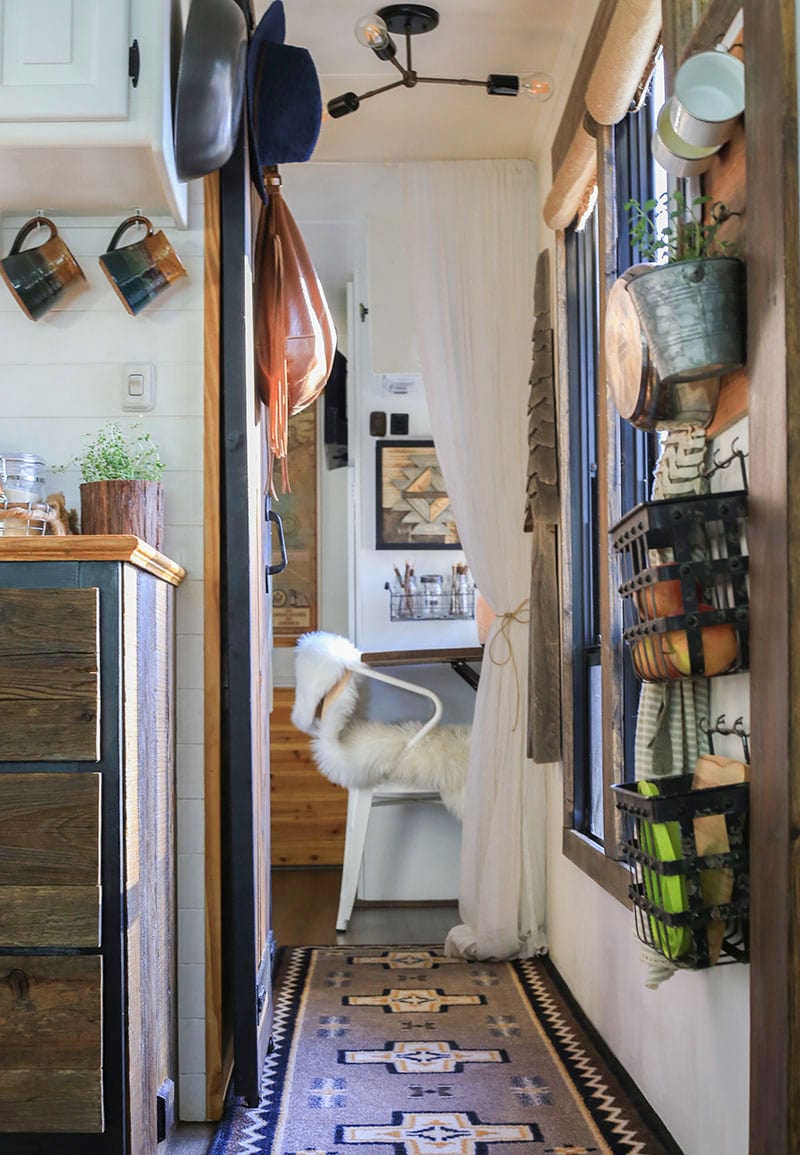 10 Southwestern Rug Runners
We honestly couldn't be happier with our new runner – it's even better than we had anticipated!  If you're looking for the perfect rug runner for your home or RV, here are 10 awesome rug runners from Southwestern Rugs Depot you may want to consider. Be sure to swing over to their website to check out the rest of their designs and various rug sizes.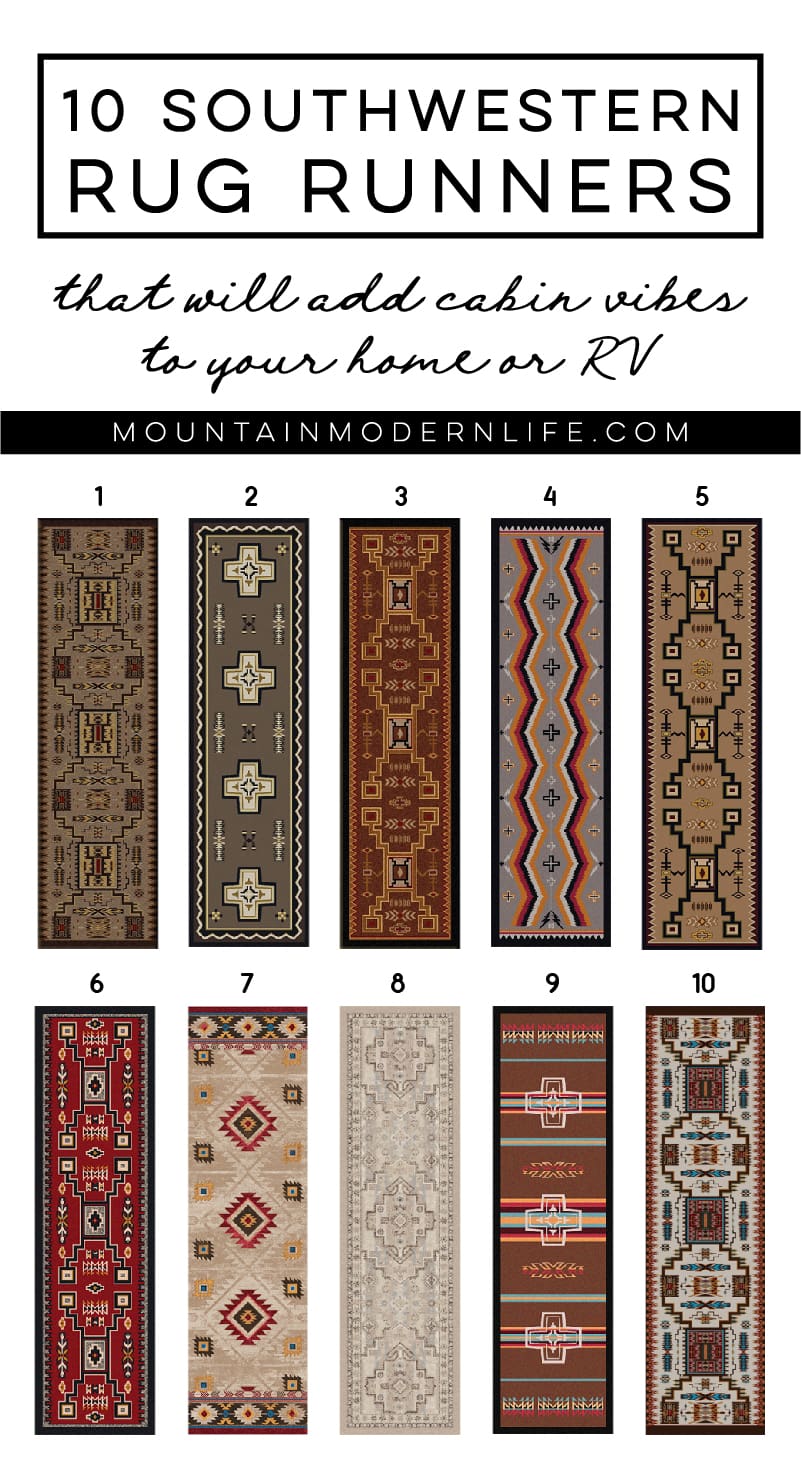 1. Storm Catcher – Chestnut / 2. Saint Cross – Taupe / 3. Thunderstorm – Brown / 4. Fury Peaks – Black Frame / 5. Thunderstorm – Mid / 6. Old Crowe – Red / 7. Whiskey River – Natural / 8. Torn – Natural / 9. Canyon Cross – Sunset / 10. Storm Catcher – Rust
Are you looking to add cabin vibes to your home or RV? Tell us which Southwestern rug runner is your favorite!
---
(Giveaway has ended)
GIVEAWAY: Win a Rug from Southwestern Rugs Depot!
---
Looking for RV or travel inspiration? You can find all of our RV-related posts here and don't forget to check out our RV tours, Decor Resources, and YouTube Channel! Curious about how we make money on the road? Click here.