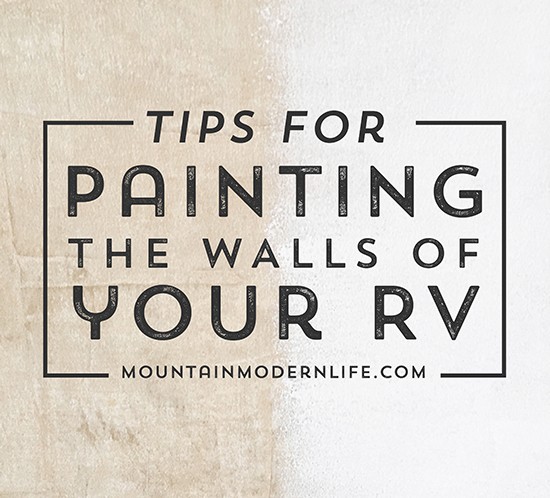 How to Paint the Walls of Your RV
Disclaimer: This post may contain affiliate links, meaning, if you click through and make a purchase we may earn a commission. This is at no additional cost to you. View our full-disclosure here.
Not gonna lie, painting the interior of our RV pretty much SUCKED.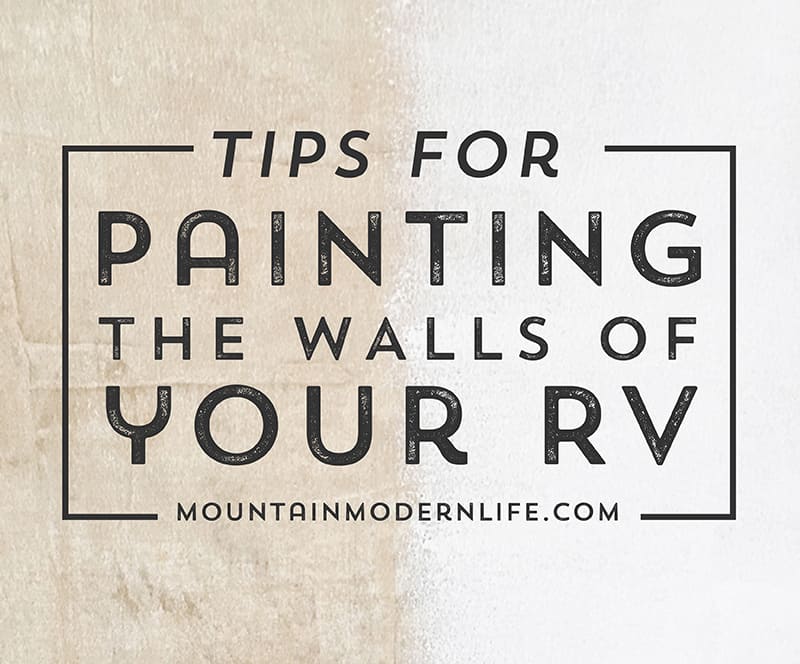 I think there were numerous times that I told Eric if we ever have to paint the inside of an RV again, we'll pay someone to do it.
Yeah, it sucked that much. Then again we painted all of the cabinets too and some of them more than once after discovering the water leak in the ceiling.
But you know what? We would probably still paint the interior ourselves because as much work as it was, the payoff was soooooo worth it!
In fact, I would say painting the RV walls, ceiling, vents, and cabinets gave us the biggest bang for our buck, being that it completely changed the overall feel of the space.
How to Paint the Walls of your RV
Painting the walls wasn't nearly as time-consuming as painting the cabinets, but they did require some extra prep. If you're looking to update your RV with paint (and patience), here are some tips to help you along the way.

Sandpaper (optional)
Cleaner + Container + Sponge – This is important for cleaning/degreasing the walls before you paint. You can use TSP, Simple Green cleaner, a water/vinegar combo, or another natural cleaning alternative)
Gloves + Eye Protection – if you plan to use TSP or TSP substitute
Painter's Tape – Frog Tape is hand's down my favorite and worth the extra couple bucks if you ask me.
Bonding Primer: We used Kilz Low-VOC Primer because we already had some in our garage and thankfully it worked out, but bonding primer is the way to go! Kilz Bonding Primer, Stix Bonding primer, PPG Gripper Primer, and Glidden Gripper Primer seem to be most popular due to their adhesion properties.
Latex Paint in the Sheen you want: I wanted white paint with no yellow or blue undertones so we used BEHR Marquee Ultra Pure White in Satin finish. I had a healthy supply of paint provided to me by BEHR because I had previously worked with them.
Foam Paint Rollers, Tray, and Brushes: I HATE getting bristles or little furries in my paint – Purdy and Wooster Brushes and Rollers are my favorite.
---
Before you do any of the steps below, I recommend getting your favorite music station or podcast station set-up, as well as your beverage of choice. It makes the painting process so much more enjoyable.
Step 1:
First thing's first, remove any wallpaper borders you don't want to keep up. However, keep in mind that there's a MAJOR difference between the wallpaper texture all of the walls have, and the bordered wallpaper added on top of that. The interior walls of your motorhome are likely made of some sort of luan plywood that has a wallpaper texture adhered to them which is NOT removable, at least as far as I know. We just painted over ours using the steps below.
This seems to be the case in most RV's and campers, but I've seen some with wallpapered accent walls, so I would just look closely before attempting to pry it off. We removed the borders, but not the actual "wallpaper" that's adhered to the walls of the RV — you don't want to try and tear that off. This is why bonding primer comes in handy, but we'll get to that in a minute. You can read about how we removed the wallpaper borders here.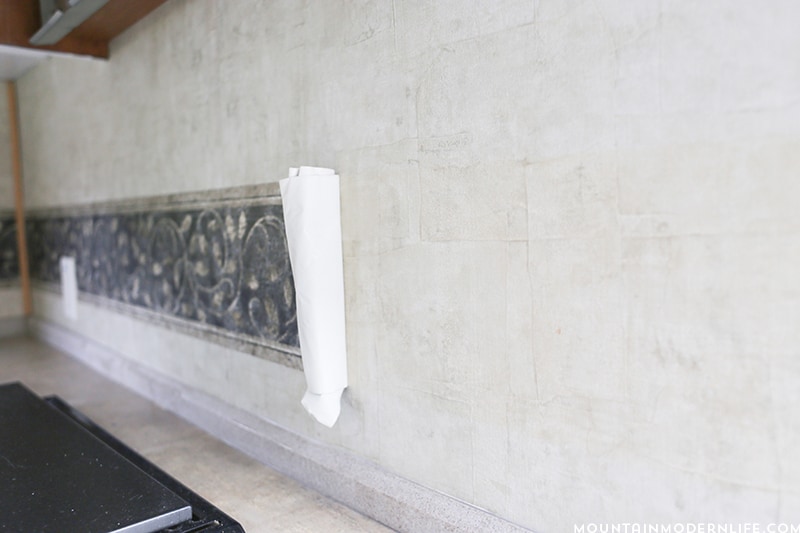 Step 2:
If you haven't done so already, make sure you've removed anything you don't want painted, like outlet covers, trim, etc. and tape around edges you don't want painted, such as window frames. True confession, we were super lazy about taping around our window frames because we planned to add wooden frames around them anyway (ummm still hasn't happened), and some paint got on the black metal window trim. You may even catch some glimpses of it in photos or videos, woops. It actually comes off fairly easy, especially if you wipe it off right away, otherwise, a magic eraser will do the trick. Even so, taping these types of things off now will mean less work later.
Don't forget to cover the flooring with tarps, or any furniture you don't want to accidentally splatter with paint.
Step 3:
Lightly sand the walls. I can't remember where I first read this, but it was probably in an RV group forum. I don't know if this step is all that necessary, but it certainly doesn't hurt. I don't think you need to overthink this either. I just went around and lightly sanded down the walls in our RV with a few swipes of 120 grit sandpaper.
I later read that this should be done AFTER you clean the walls, but at the time I thought it made more sense to sand and then clean the walls. Would it have worked better the other way? Maybe. Either way, it seemed to work for us. 🙂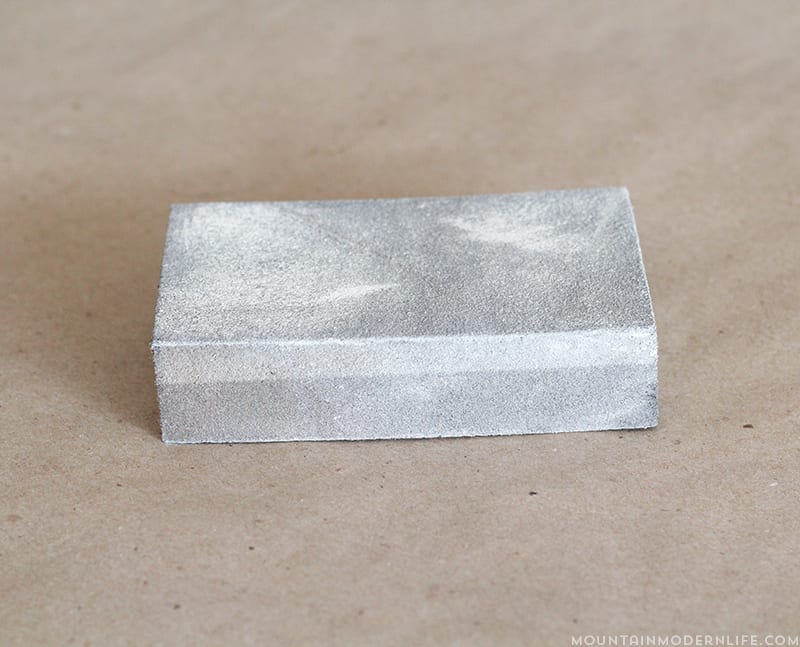 Step 4:
Next, you'll want to clean the walls to prepare them for paint. The most popular option for this seems to be TSP or TSP substitute, which is a degreaser and cleaning agent often used to prep walls before painting.
However, both are pretty toxic so be sure to wear gloves and eye protection if you go this direction.
To be honest, I had never used either of these products prior to owning an RV, but we went with TSP substitute because that's what I kept reading about. I later realized that there are a ton of natural alternatives that you can use instead, including water/vinegar mixtures or even Simple Green Cleaning solution. If I were to do this again, I'd probably go that route.
Basically, you'll want to clean the walls and let them dry fully before painting. I'd wait a day to paint just to be safe, otherwise, your paint may not adhere properly.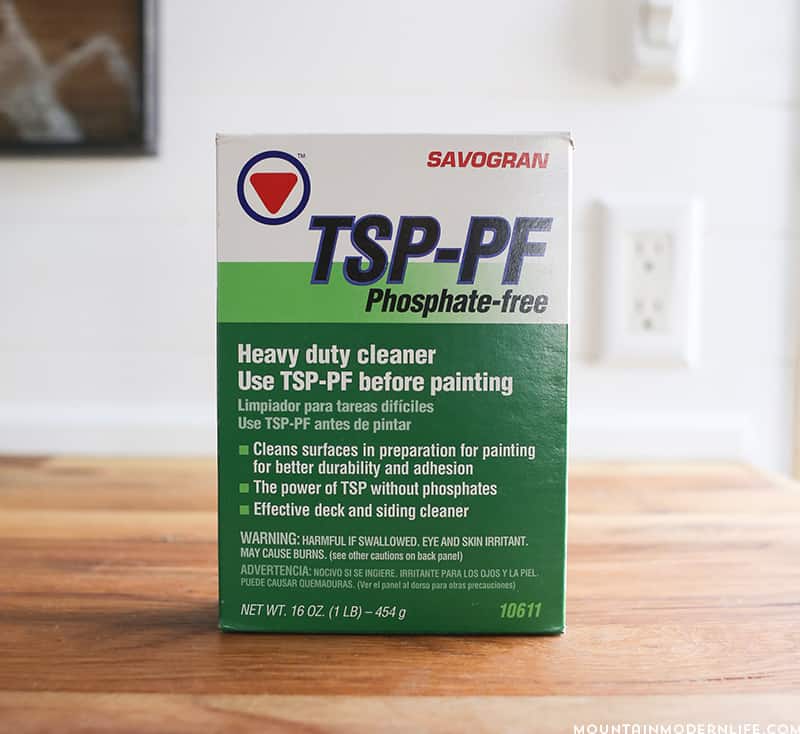 Step 5:
Once your walls are clean and dry it's time to prime. We used leftover low-VOC Kilz primer, which worked great for us, but it's recommended you use a bonding primer. Again, Kilz Bonding Primer, Stix Bonding primer, PPG Gripper Primer, and Glidden Gripper Primer seem to be most popular due to their adhesion properties
This can be used on top of the thin wallpaper attached to the luan plywood found in most RVs, and on other hard to paint surfaces like laminate. It can also help neutralize any sticky residue left behind after removing wallpaper (like those pesky borders), although I haven't tried it before.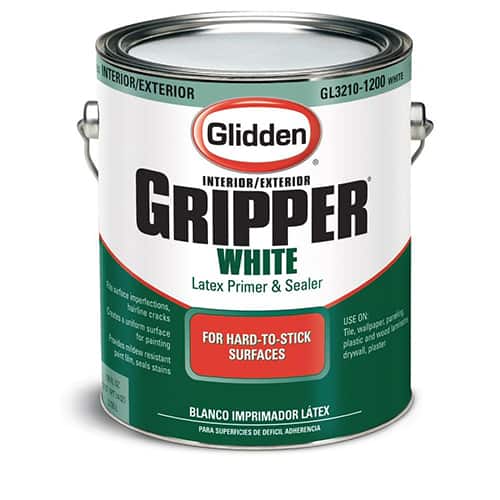 We used 2 coats of primer on the walls of our RV, and let it dry overnight before adding our latex paint on top. I think you technically want to wait 24 hours though.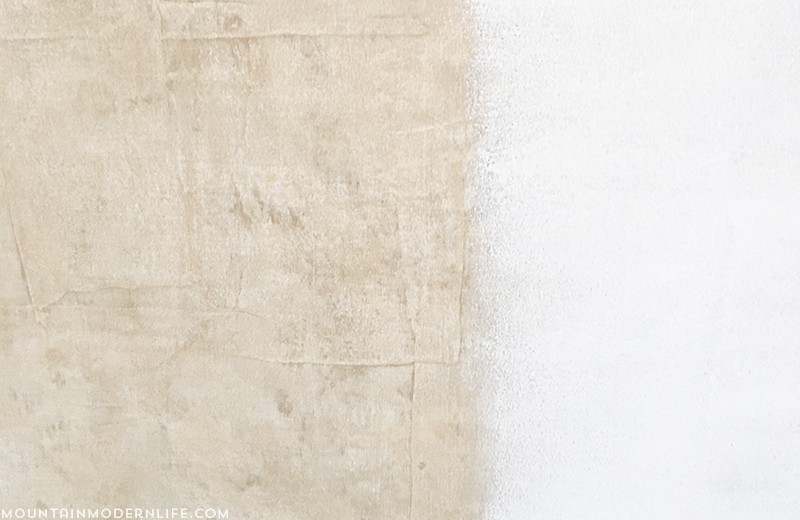 Step 6:
It's finally time to paint, yay! If you're using a darker color you may only need one coat, but we went with Ultra Pure White in satin and did two coats.
Side note: If you plan to paint your walls white you may want to consider painting your ceiling white as well. Once our walls and cabinets were painted it looked like our ceiling, which seemed white before, now looked more beige. So we painted the ceiling using the same steps as above, and it made a HUGE difference in brightening up the space!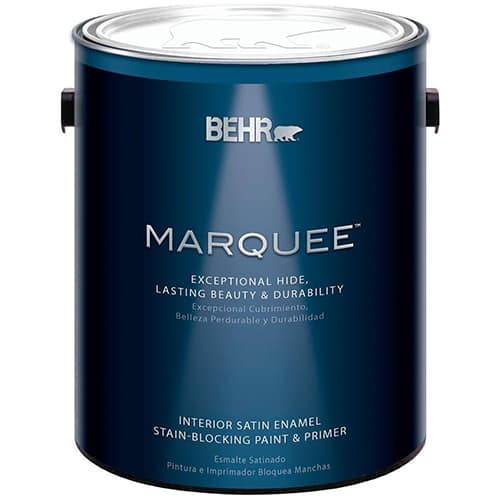 That's pretty much it! I had no idea painting the walls in our RV was going to be a bigger task than painting the walls in our previous homes, especially considering how much smaller it is. I blame it on the need for extra coats of primer and getting into all the awkward nooks and crannies. The good news is everything has held up great since we painted and it was soooooooo worth it!
If you're looking for an affordable way to make a HUGE impact in your RV, painting will definitely do just that!

I've received a lot of questions about this, so I want to mention that we used vinyl spackling to fill in any holes, which we then lightly sanded and painted over.
As far as tips go, if you're using a water-based paint I'd recommend keeping a magic eraser or wet rag/paper towel handy for any areas you may accidentally get paint on. I've also found adding rubbing alcohol to q-tips or cotton balls to be super helpful when removing paint slipups, especially when we may or may not have gotten paint on the frame of our windows, woops.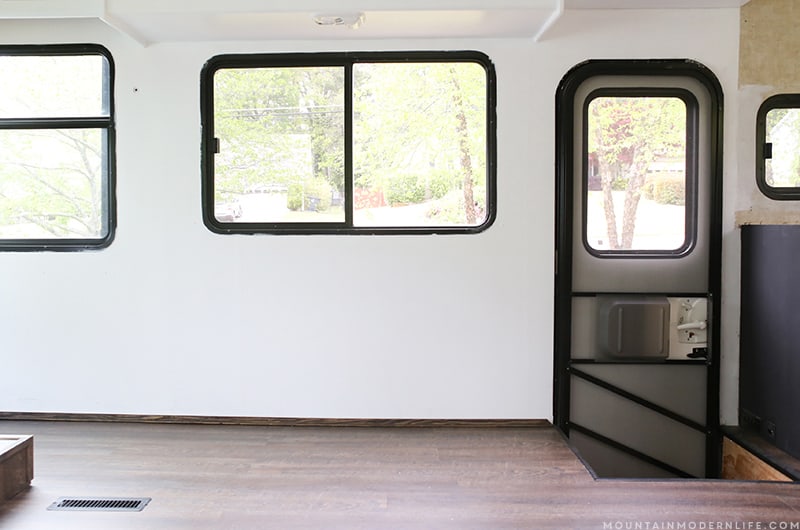 What would we do differently?
If we ever find ourselves needing to paint the interior of a camper in the future there is one major thing I would do differently…I would use a paint sprayer.
Yup. We even had two on hand during our reno, but to be honest, I was too lazy to cover everything up and didn't realize painting was going to be so time-consuming. If you don't have a sprayer and are looking for recommendations, we've used a couple from Homeright and Wagner and both have great options. You can check out one of our posts about using a sprayer here or here.
Also, I've been hearing good things about Beyond Paint, which is similar to chalk paint, where you can skip the sanding/priming process but it apparently has a sealer mixed in so it doesn't have the "chalky" look. You may want to consider paint like this but I would just say to do your research, read reviews, try samples, etc. if you're unsure.
If you're planning to paint the inside of your RV I hope you found this post helpful! And if you have any tips you'd like to share, we'd love to hear about them in the comments below!