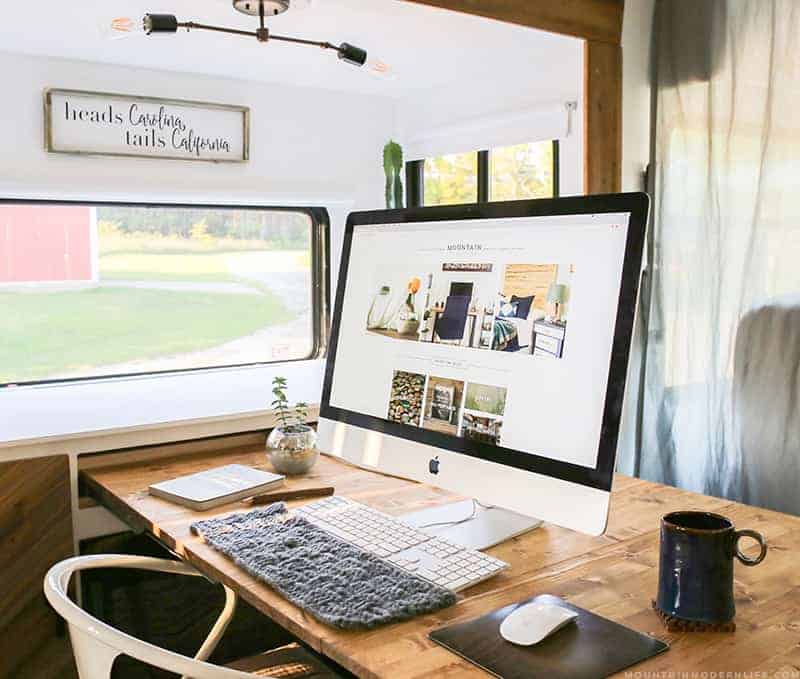 Space Saving DIY Pull-Out Table
Disclaimer: This post may contain affiliate links, meaning, if you click through and make a purchase we may earn a commission. This is at no additional cost to you. View our full-disclosure here.
If there's one project we get asked about the most, it definitely has to be the DIY pull-out table we designed for our RV. Whether you live in a small space, or just want some space-saving ideas, then we hope you can find some inspiration from this post.
Although we created this expanding table for the inside of our motorhome, it could easily be re-created in a home office, guest room or even a small nook where you need some extra crafting space.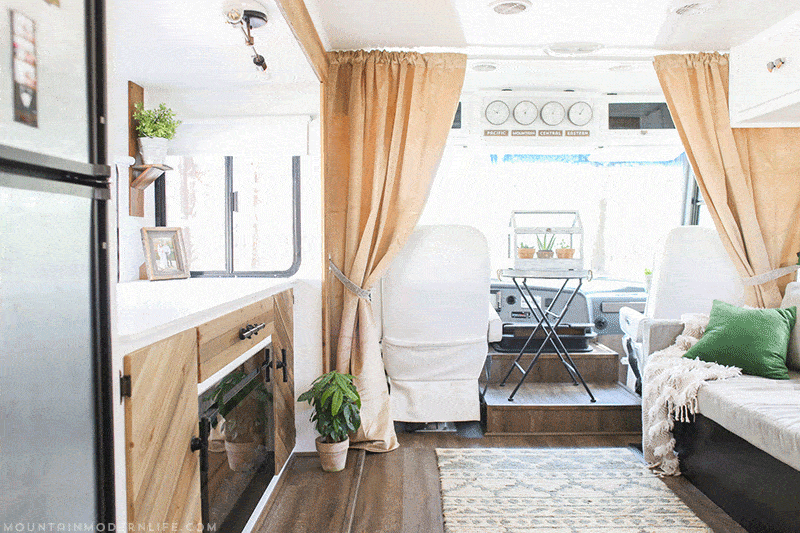 We did a lot of research prior to building this hidden desk/dining table but couldn't find any plans out there that would encompass everything we needed, so we sorta just figured it out on our own. With that said, we're pretty excited about how it turned out.
There's also a video towards the bottom of the post where Eric demonstrates how easy it is to set up.
Space Saving DIY Pull-Out Table
If you live in a small space then you know just how important it is for furniture to serve multiple purposes. There are so many creative expanding, hidden and transforming tables out there and I can only see the designs getting better and becoming more accessible as time passes.
Our main challenge when it came to building this pull-out table (and the media cabinet in general) was making sure we could fit the TV lift, electric fireplace, AND the expanding table, without adding too much weight to our RV.
In case you missed it, be sure to check out our post on the rustic modern cabinet build, which gives a bit more detail on how Eric added the TV lift and fireplace into a space that used to be occupied by a dinette booth, which we removed.
Here's a before photo of our RV and you can see the dinette booth/bed that was previously where our media cabinet is now located: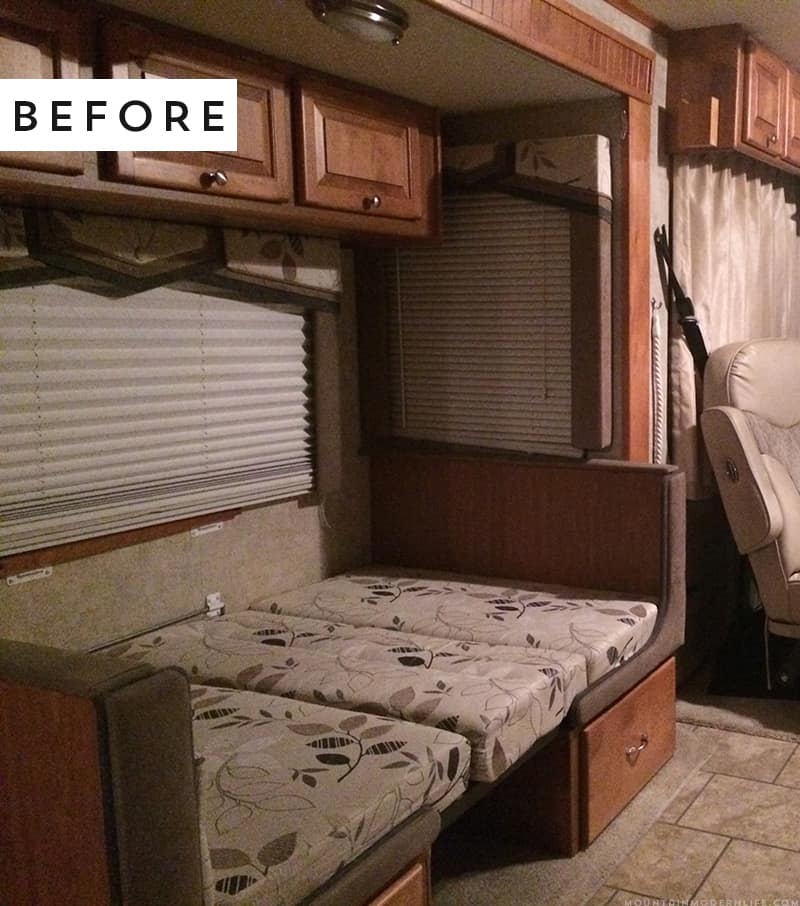 Finding the perfect table slides
After spending countless hours looking at telescoping table and drawer slides, I realized they were either too big for the space they needed to be hidden in or were a bit more expensive then we wanted to spend.
Then when I did find a pair of extension slides I thought would be perfect the company wasn't getting back to me, which was really frustrating. I sent a couple more emails and then called and was told (rather rudely) that they only sold wholesale. It would have been nice if they would have emailed me this, but on the plus side, they did give me the contact number for a company that sold the same slides, yay!
When I called the company the owner answered and was so nice and helpful that as soon as we hung up I ordered the metal console extension slides from his website. <–, not an affiliate link, I really just liked the vibe I got from this company and can definitely recommend them 🙂 I had also ordered the folding table leg hinges, but we decided not to go that route.
What's great about these slides is that they are made for a console table and are only 14″ closed, yet they extend up to 64″, meaning there is 54″ of space available for table leaves. We installed the slides into the cabinet but with life and other projects piling up, it wasn't until recently that we actually built the tabletop.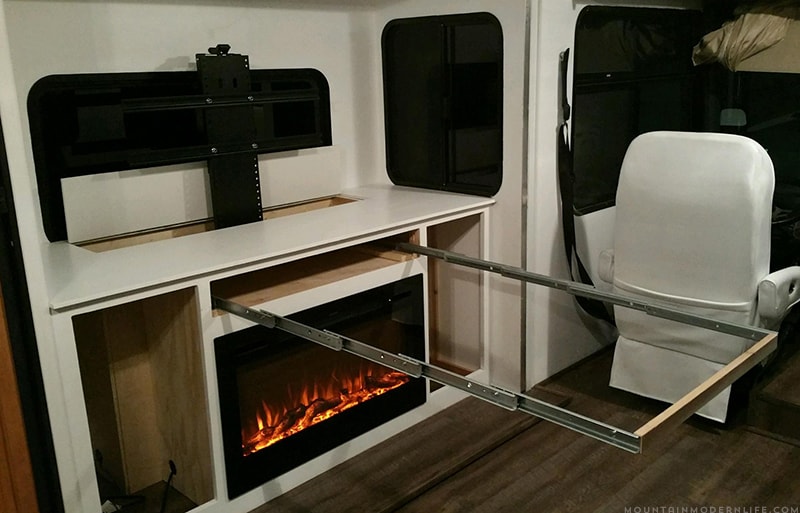 Table Legs… Metal or Wood?
One of the other aspects of our space saving table that I spent WAY too much time researching was how we would attach the table legs. I originally wanted telescoping legs like the ones I've seen in modern European designs like this one, but I just couldn't find any companies that sold them locally or at a reasonable price. Most of the ones I did find were either too big even when collapsed, or too bulky and not exactly what I wanted design-wise. I knew we could attach wooden legs but wanted to see what other options were out there first.
At this point, I wish I knew how to weld, or knew someone that could make them for me, ha. I then moved onto other table leg designs and quickly became obsessed with more industrial style table legs that could easily be attached to any surface to create a table or desk.
It was a bit of a rabbit hole and I'd like to share a post in the future with all of the creative, portable leg designs I discovered because I honestly became #tablelegobsessed. I was especially drawn to the clamp style metal table legs and even ordered two from a company in France since it was the only company that I didn't have to buy them in a set of 4 (which turns out wasn't much more than 4 legs from this US company). Shipping was going to take a while but I had waited this long, so I figured it wasn't a big deal.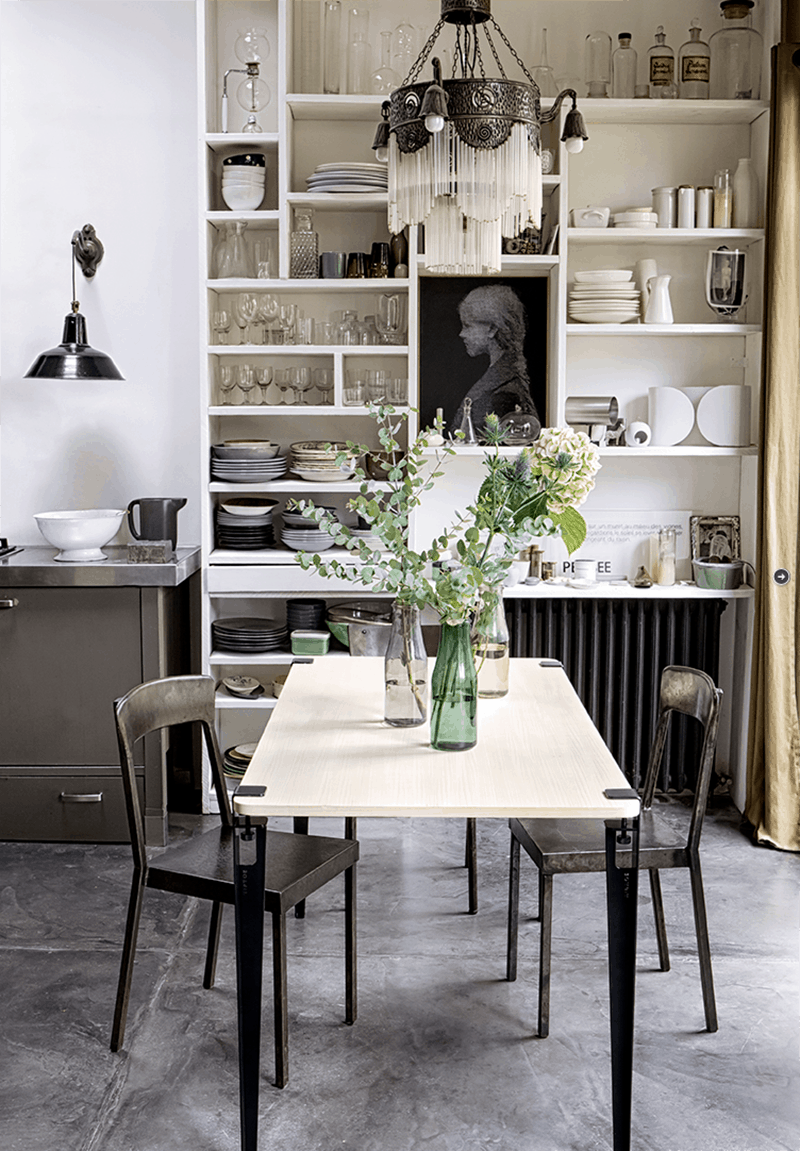 I decided to have them shipped to my dad's house out of state since I knew we would be stopping there once we began our journey, and this way they could wait for me there vs. somehow getting shipped to our address AFTER we had left. Well, it didn't matter because as it turns out they got lost in the mail and we were ready to hit the road, so I canceled the order.
I loved the design of those legs, but honestly think the route we ended up going is better for now anyway. It was WAY cheaper and they are easy to attach and put away. Everything happens for a reason, right? 🙂
Keeping it Simple
We picked up two 28″ wooden legs and attachment plates at the local(ish) hardware store here in Wisconsin. While there we also picked up 3 edge-glued spruce boards for $16 each. We considered plywood and other wood options, but now that we don't have all of our tools with us, we decided the spruce panels would be the best plan of attack. Luckily, Eric's aunt and uncle are awesome and letting us use their shop to work on projects, while we're staying here on their farm.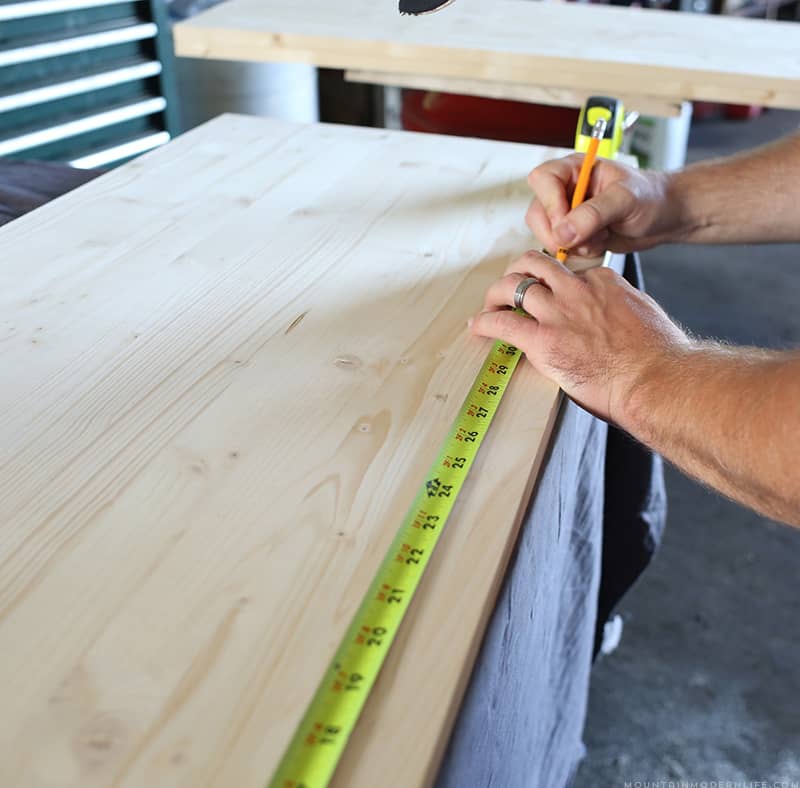 Each project panel was 1 x 18 x 48 so we had to cut them down to 1 x 18 x 34.5.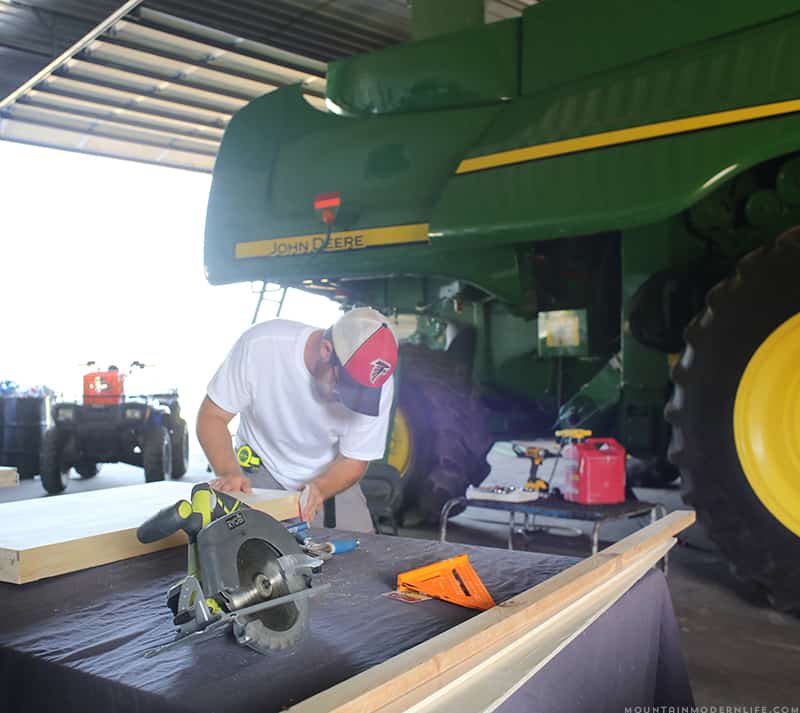 Eric wanted to play around with using wooden dowels to connect the leaves so he picked up a couple of wooden dowel kits and now the table leaves easily connect and disconnect to one another. Another option you may also want to consider is using table locks <— they are awesome!
Update: We later added sash locks to each table leaf since our cats jumping up and off the table was causing the dowels to be less effective than we hoped. Now they lock in place and don't move unless we unlock them. We definitely recommend adding them to your table leaves. We used some meant for windows since that's all we could find locally at the time we did the update, but they do make some specifically for locking table leaves, which we have since used for other projects and I definitely recommend using them first!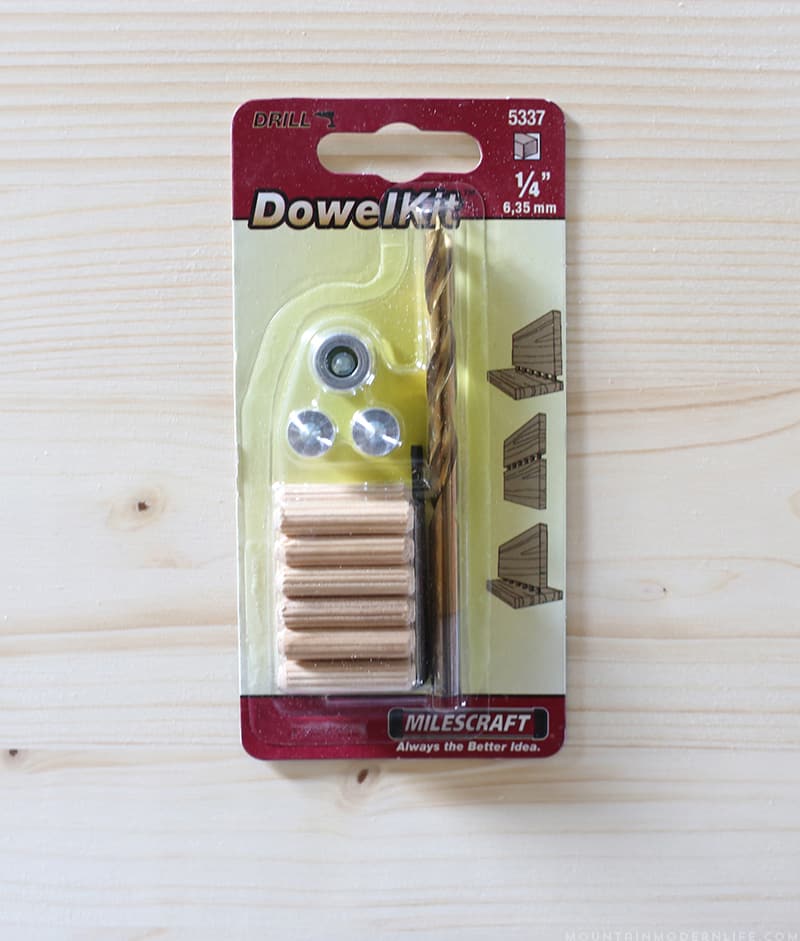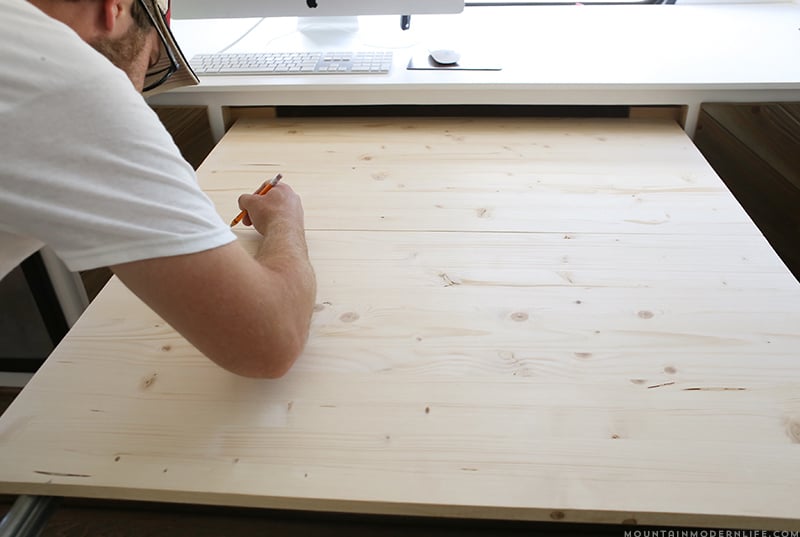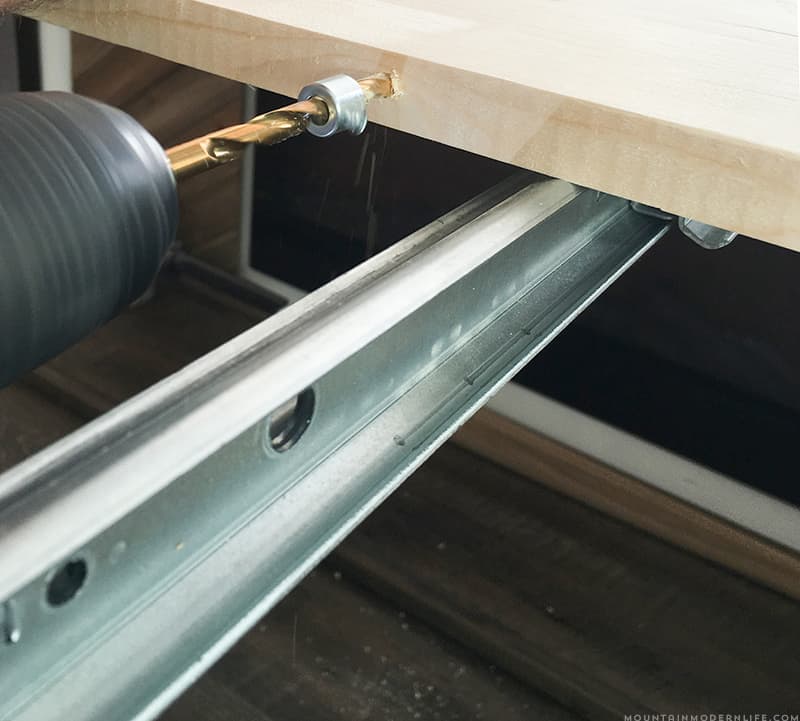 Once our tabletop was cut to size we decided to give it a test to see how sturdy it would be. It passed the test. You may have caught this sneak peek if you follow us on Instagram: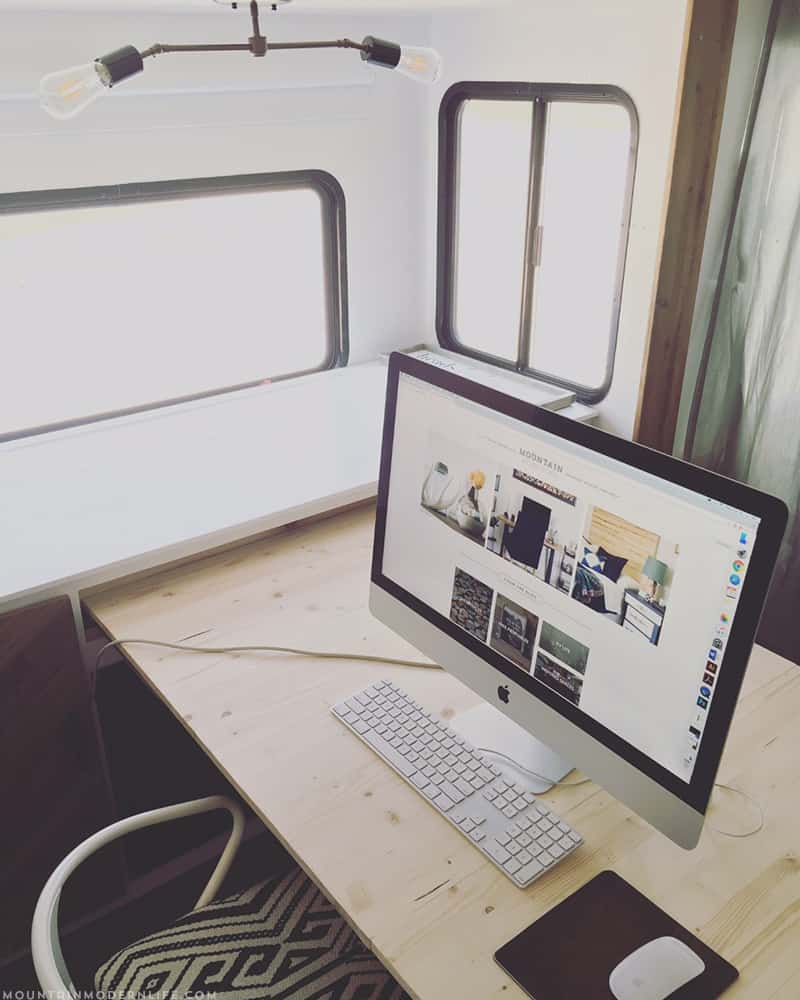 We then stained the wood and table legs with Dark Tung Oil leftover from when we sealed our bathroom counter (you can see how we used Tung Oil on our kitchen counters here). The Real Milk Paint Company had sent it to us and we are now pretty much hooked on tung oil. It does require a bit more time to fully cure but we love how it brings out the character in the wood.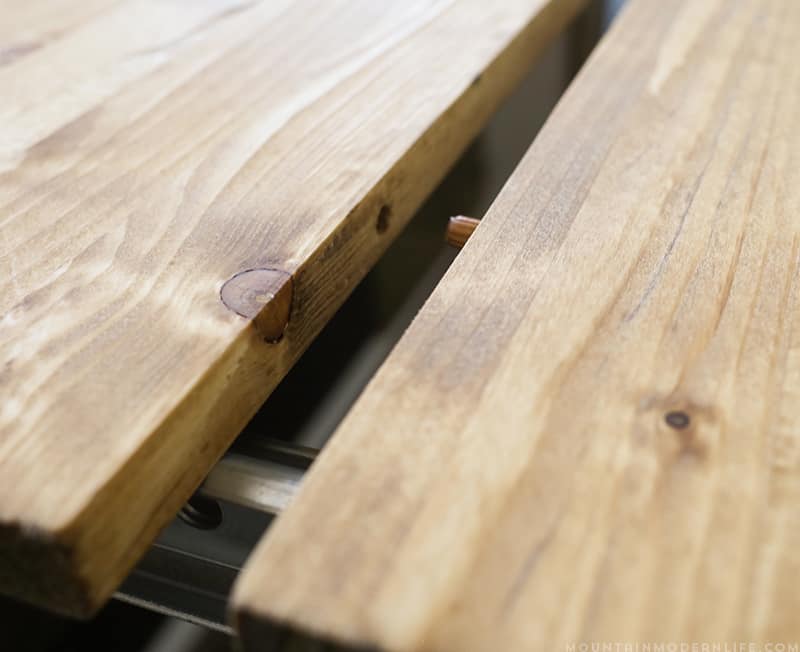 When it comes to setting up our table, the first thing we do is screw in the wooden legs.
This way the table has support before we add the table leaves. Eric created a brace next to the drawer front so that he could screw in the table leg attachment plates: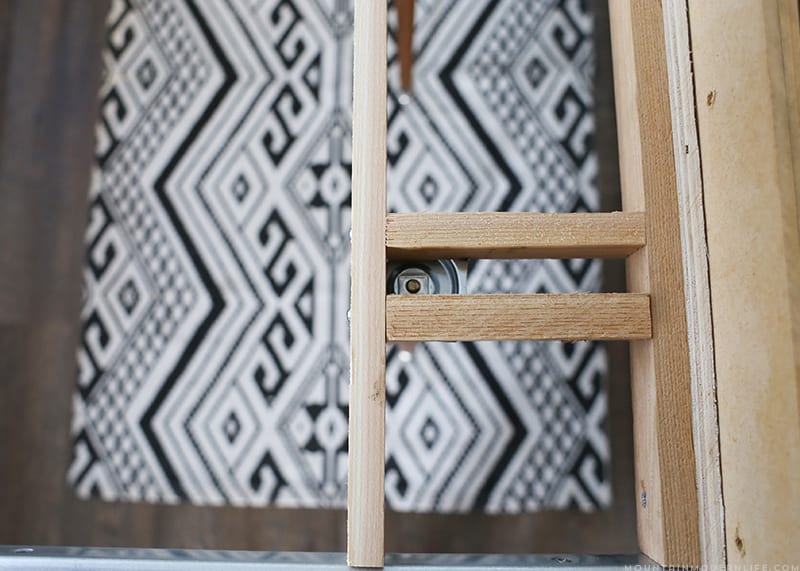 He drilled holes into the brace inside the media cabinet as well as on the back of the drawer front so that the dowels can connect on all sides and create more support.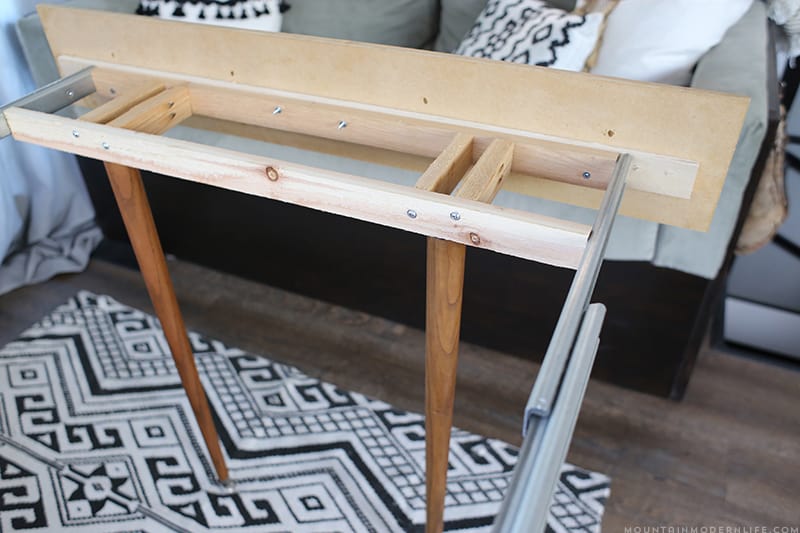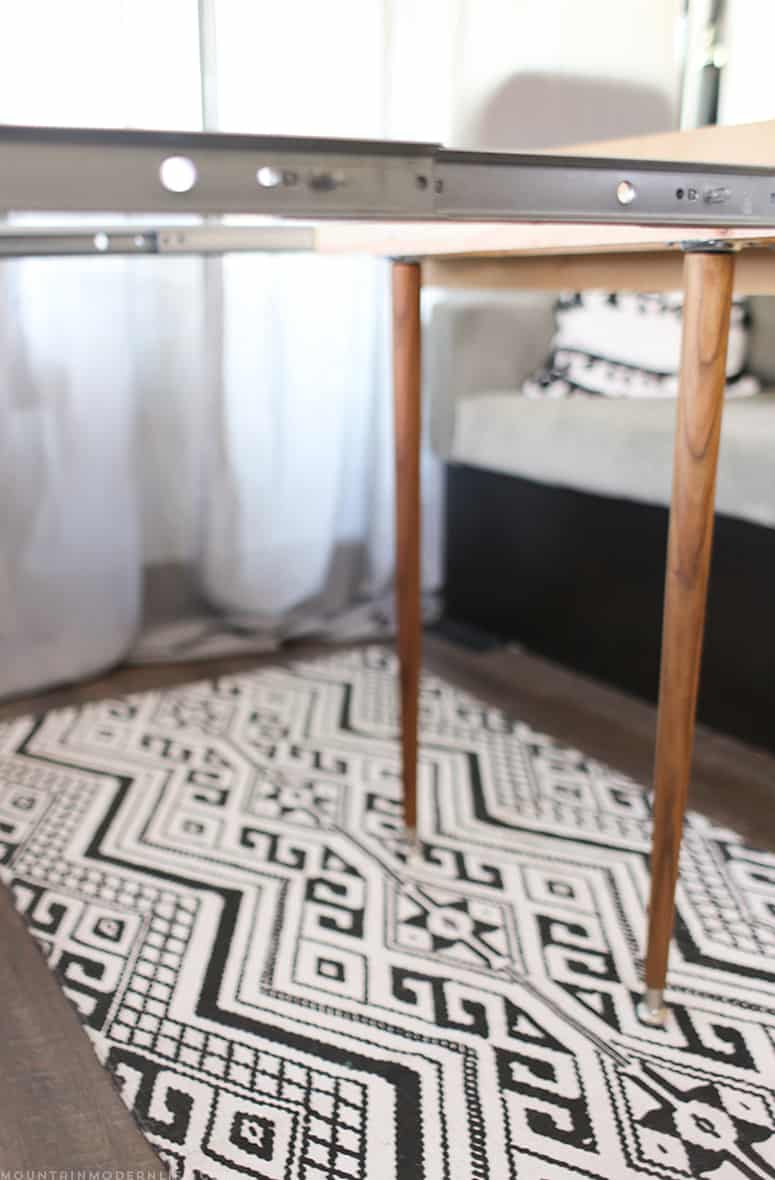 Here's what the table looks like fully extended, with the two legs attached but before we add the table leaves on top, followed by one leaf, then two, then three:

It's like Magic
Every time we pull the drawer out it feels like magic, haha. It comes out about 15″ from our sofa, so there's still enough space to walk through on the other side.
We originally planned to add a lip to the edges of the wood so you don't see the metal slides underneath, but unless you are bent down or sitting on the floor you can't see the metal slides. We decided to hold off for now, but we may add them in the future. I'm also considering giving the legs a dipped paint look.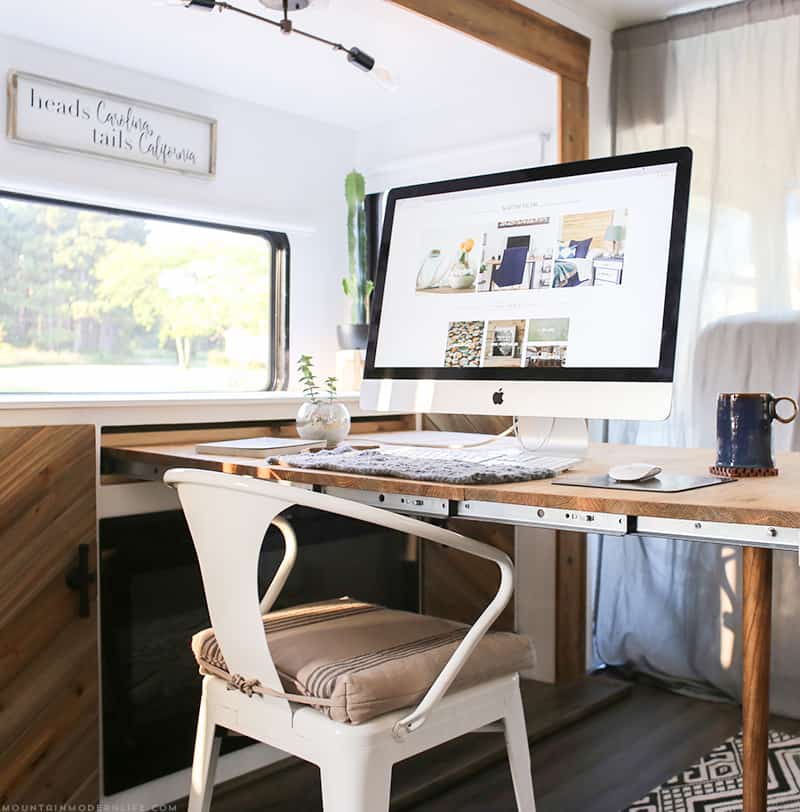 We also drilled a hole inside the inner wall of the left cabinet that goes into the top drawer compartment. Our surge protector/extension cord is in there and this is where we have my computer plugged in. This way we can just feed the cord on top of the desk and skip cables on the floor.
My computer monitor is pretty big so it doesn't fit on the pull-out passenger desk, or on the drop-down desk we built in the bedroom, but now I can use the media cabinet as a stand-up desk, or set up the pull-out table and have a big desk, work area, or dining table for 2-5 people 🙂
Eric and I have both been working at this table for a week now and LOVE it! There's more than enough space for me to be on my computer while he works on his laptop. It has definitely made working in the RV a lot more manageable.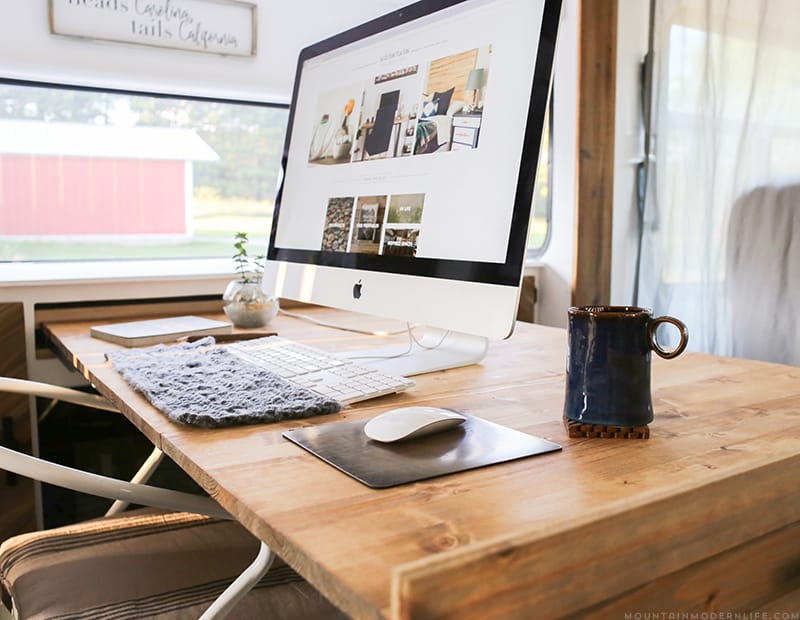 Not to mention it's fun to look out the window while I type away or edit photos, and I can only imagine the wide spectrum of views I'll see from this spot…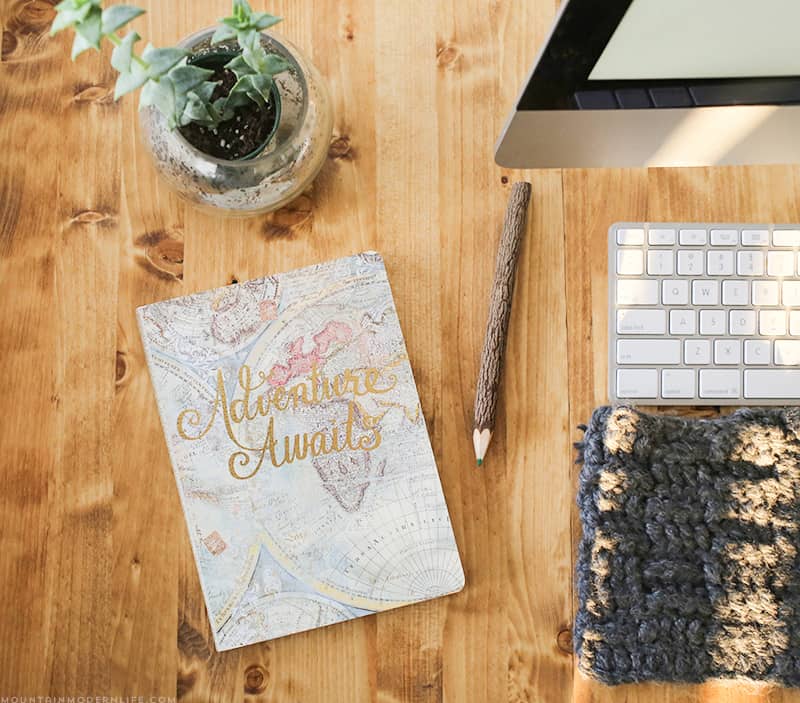 See it in action!
Watch Eric set up our table in less than a minute! I was worried about the amount of time it would take to get this table set up, but it literally takes less than a minute! Eric even made a video showing how easy it is to put together or takedown, which you can watch below:
I love that this DIY pull-out table serves multiple purposes, which is especially important when you live and work in a tiny space. Best of all, the table leaves and legs can be hidden inside our sofa table when not in use, and the extending drawer tucks nice and neat inside the media cabinet.
We still have a few little projects to finish up around the media cabinet, but overall it's coming together and feeling more like our home than an RV.
This DIY pull-out table is just one way to save room in a tiny space by creating a piece of furniture that serves multiple purposes, and it's one of our favorite projects in the RV. We definitely don't miss the dinette booth that was previously there.
Update:
This table has been AWESOME over the last 4 months! A couple of things…
We recommend using the table leaf brackets or these table locks for added security. Our cats jumping up and off the table was causing the dowels to be less effective than we hoped. Now they lock in place and don't move unless we unlock them. We definitely recommend adding them to your table leaves. We used some meant for windows since that's all we could find locally at the time we did the update, but I'd recommend getting the locks specifically for tables if you can.
Also, we didn't add a wooden edge/lip to the tabletops because we liked them fine without them, but the metal extension slides have gotten caught on my pajama pants on multiple occasions. A lip would cover that area up, and be safer, especially if you have little ones around. Other than that, this table is super functional and we love it!
Would you have guessed there's a TV hidden in there?
Oh, we LOVE our electric fireplace, which is coming in pretty handy as we head into winter weather. The TV lift is still one of our favorite features too. You can read about how we installed both of those into our custom media cabinet here.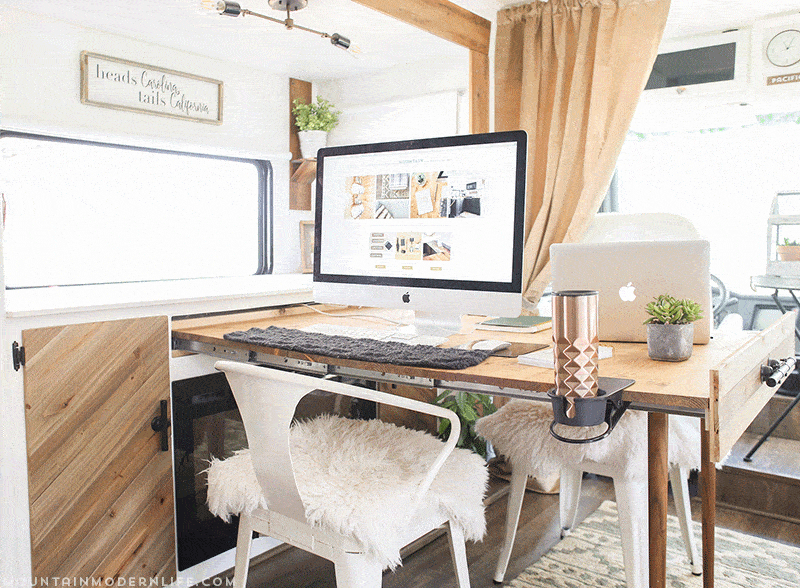 Do you plan to replace the booth in your RV or have any creative desk/table ideas?